Created in 1843 by a man named Georg Carstensen, Tivoli Gardens is the world's second-oldest amusement park (the oldest being Dyrehavsbakken, or Bakken, located just 10 km. to the north). Its main entrance is located on Vesterbrogade, just past the train station, and entry was included in our Copenhagen Cards, so there was never really any question that we would eventually visit the place.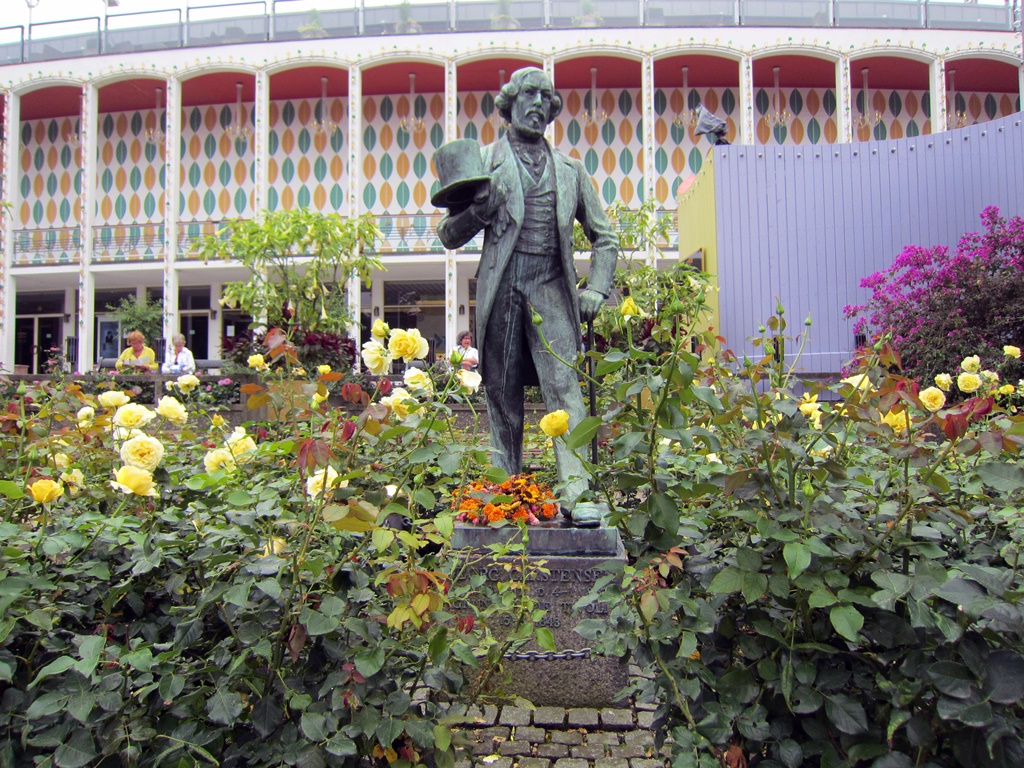 But our first order of business for the day, after getting ourselves fed and otherwise prepared for appearing in public, was a reunion. Connie had arranged for a meeting with one of her fellow students from her studies in England the previous summer, a young man from the Netherlands named Niels. Niels happened to be studying in Sweden during this particular summer, and his school was not far from Copenhagen. We met him at Tivoli's main entrance, but killed some time at a coffee shop before going in, as the park's gates were not yet open for the day.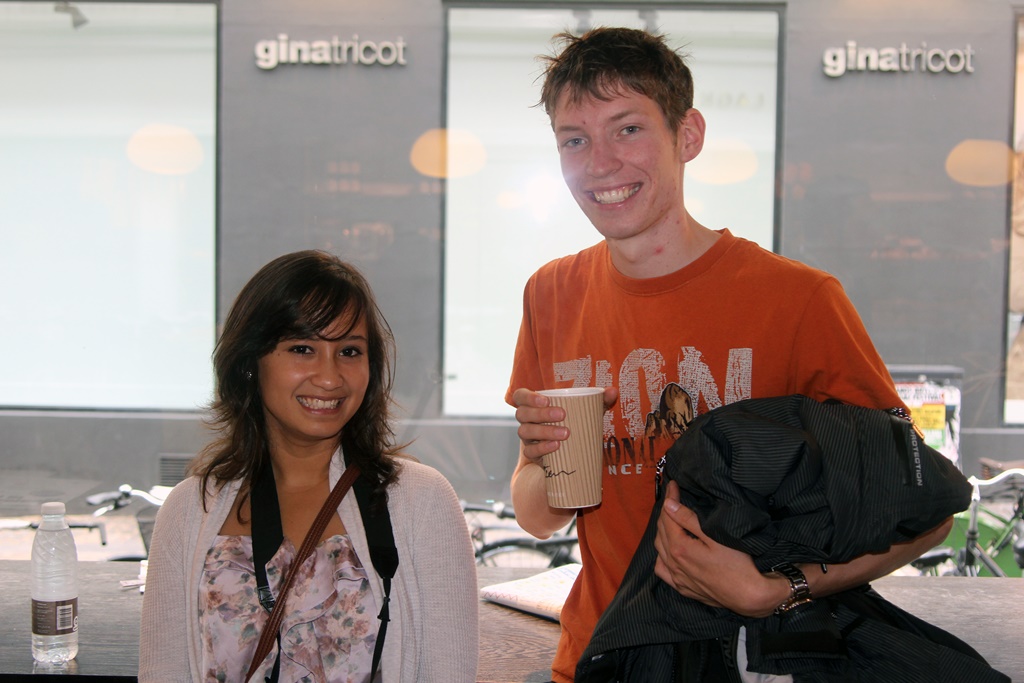 Tivoli Gardens was originally called Tivoli & Vauxhall, after two beautiful European points of interest (Jardin de Tivoli in Paris and Vauxhall Gardens in London). Landscaping remains a priority at Tivoli, as we found when we entered the gate.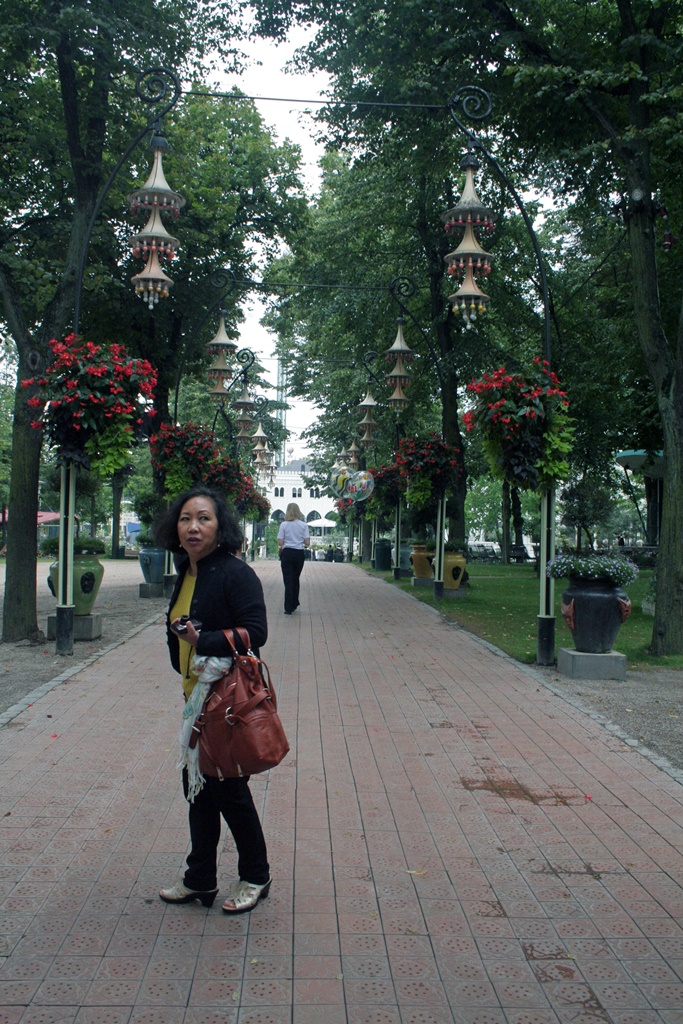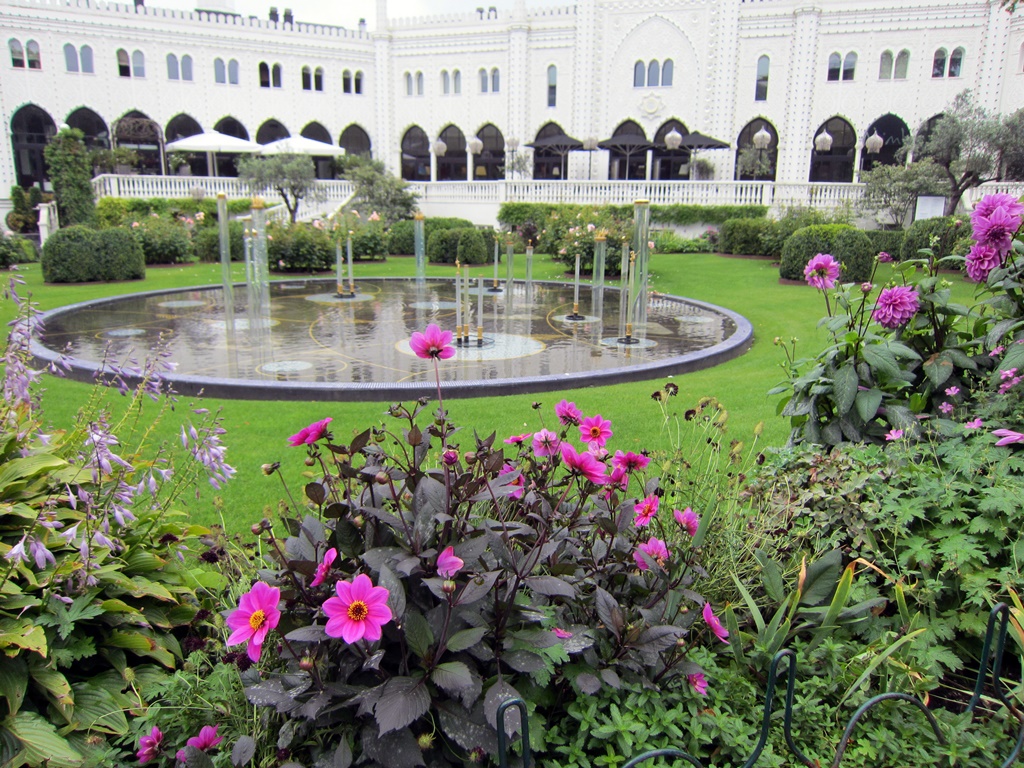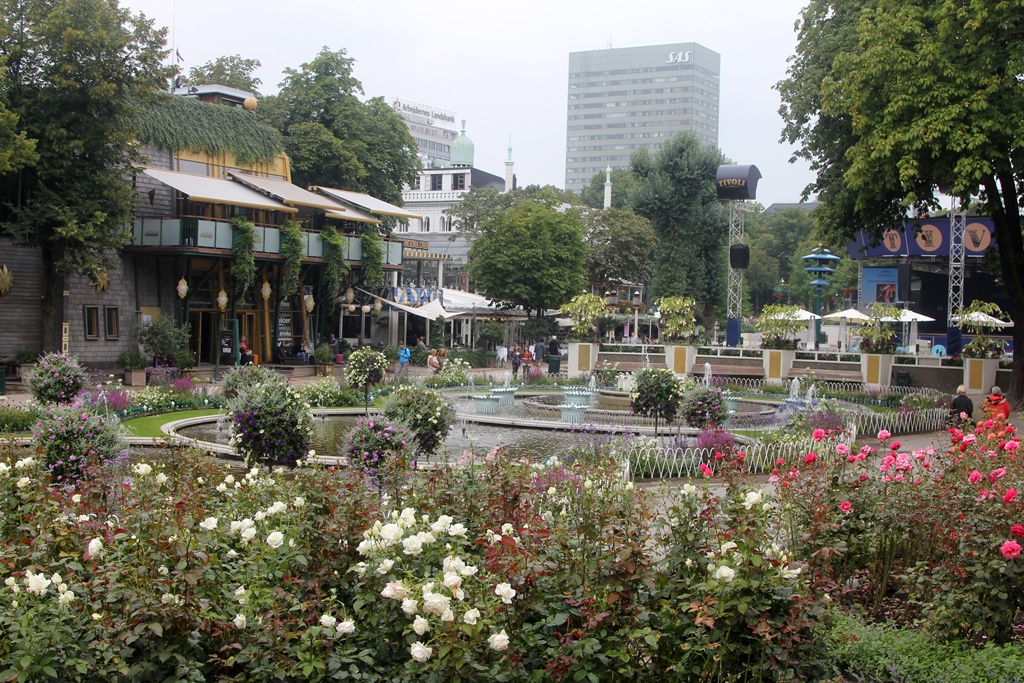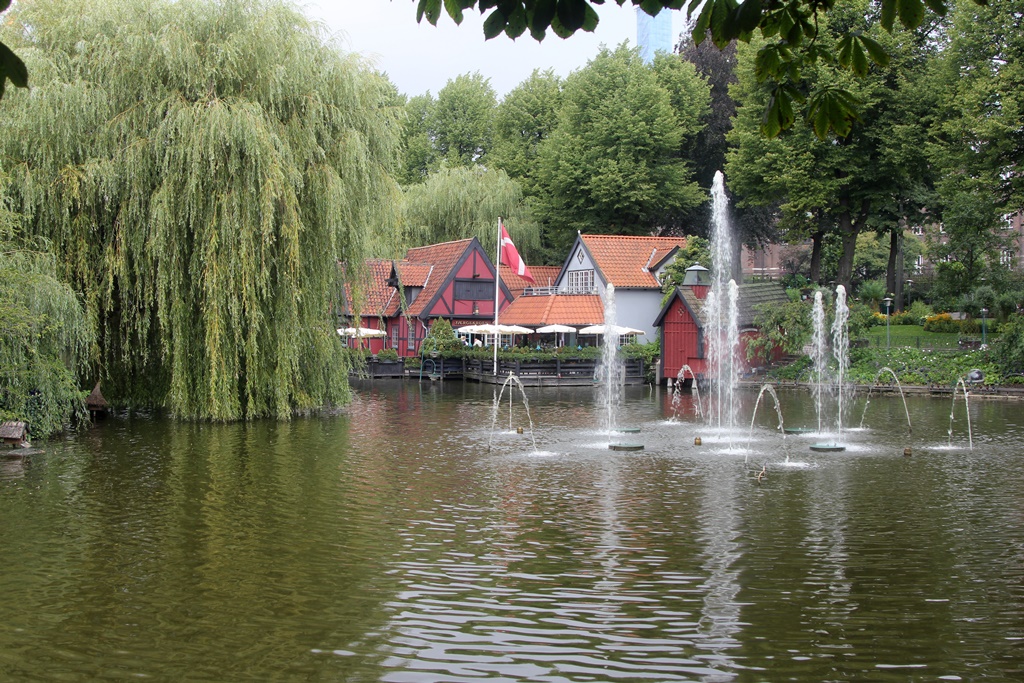 Tivoli has an assortment of pricing schemes. The one we chose by using our Copenhagen Cards included an admission fee (waived due to our cards) and individual pricing for rides. Admission to the rides costs one, two or three tickets, depending on the ride, where a ticket (available from any of a number of machines scattered throughout the park) costs 25 krones ($4.75 in U.S. money, based on the 19¢ per krone rate). So based on this rate, a single ride can cost up to $14.25. Still, with normal admission costing a fairly low 95 krones (just over $18), this can be cost effective for someone who isn't big on rides. An alternative is the unlimited-rides ticket, which costs 450 krones ($85.50, available on-line only, comparable to some high-end U.S. amusement parks). But looking around is included in the price of admission, and this is mostly what we did.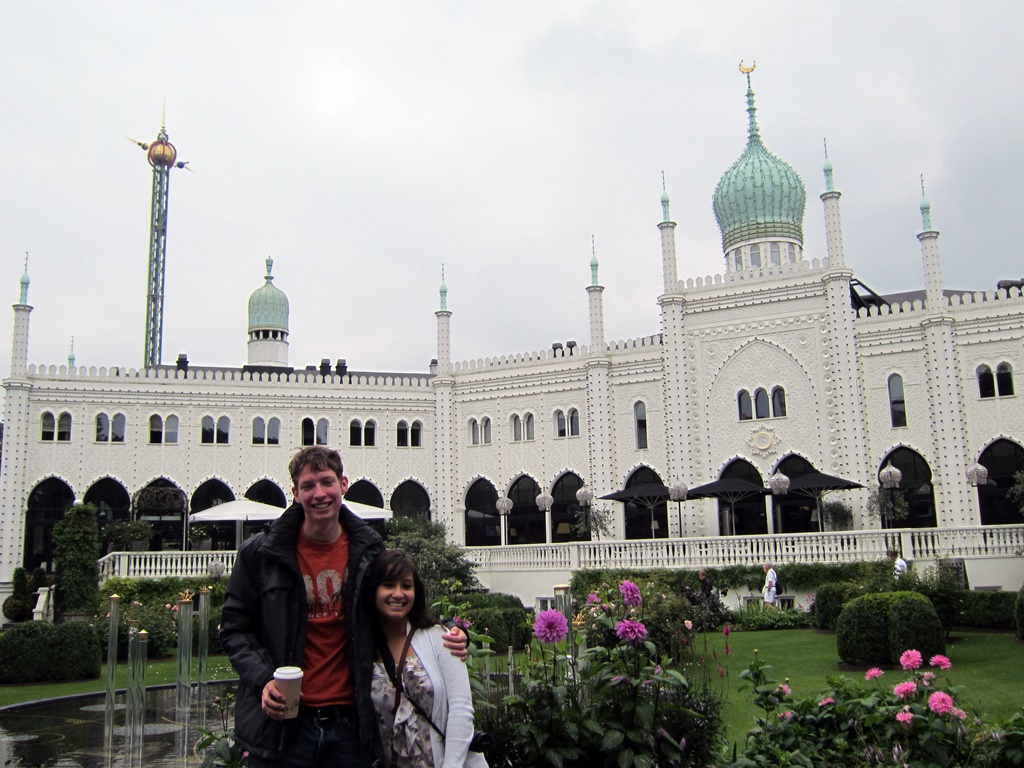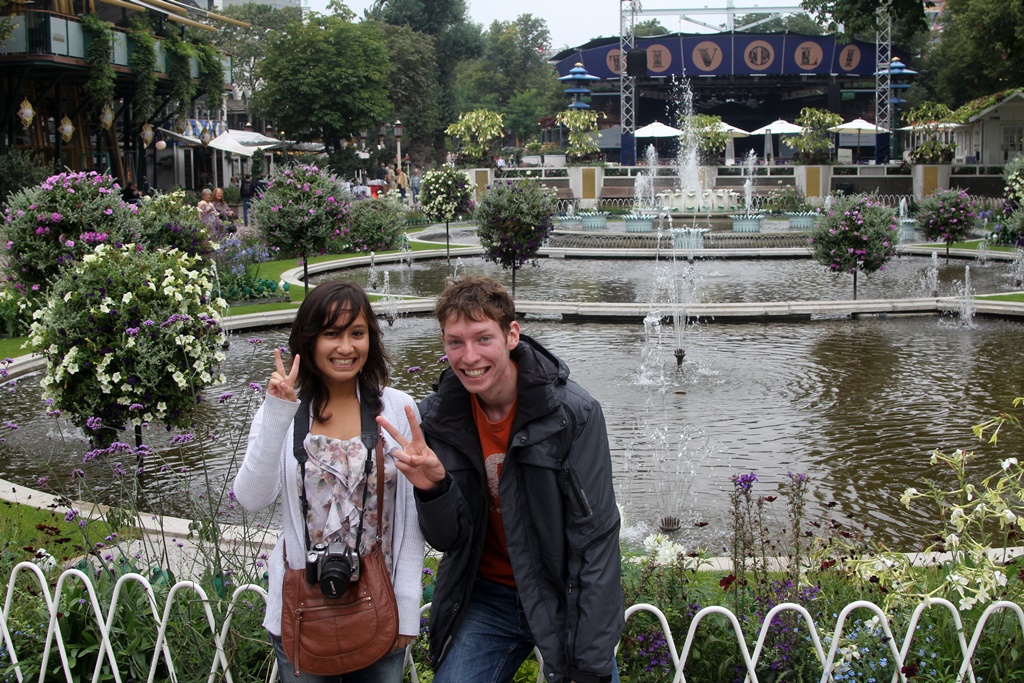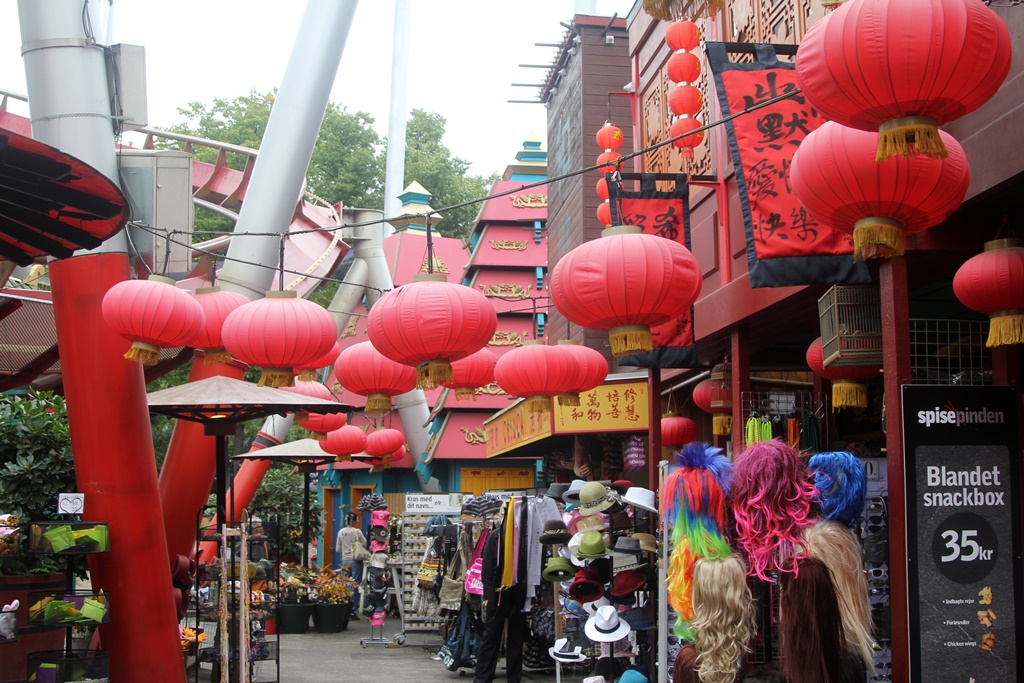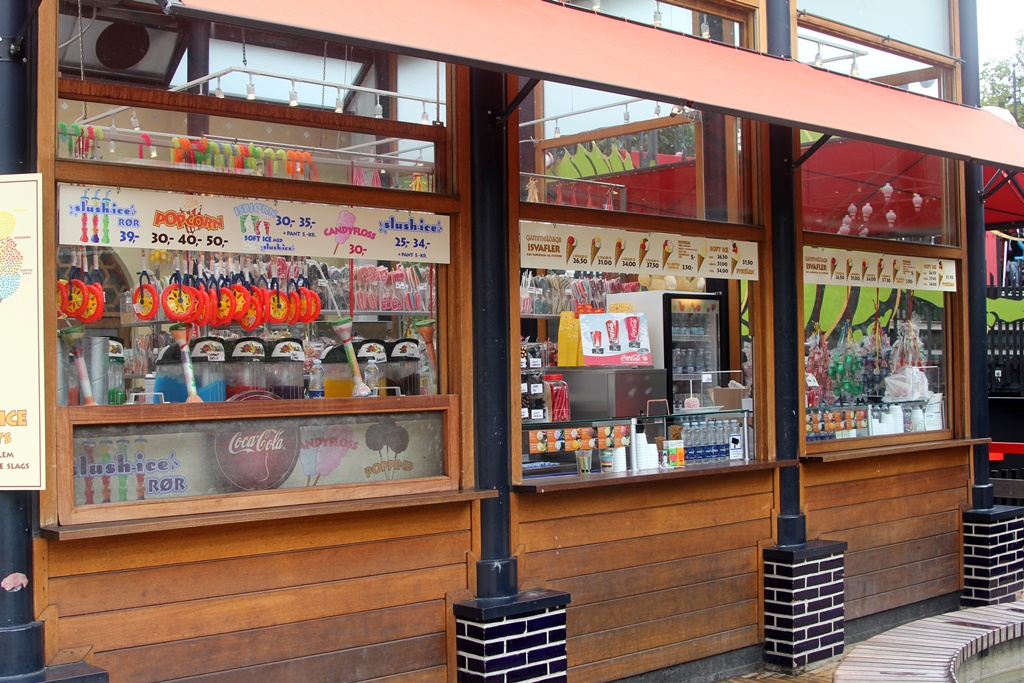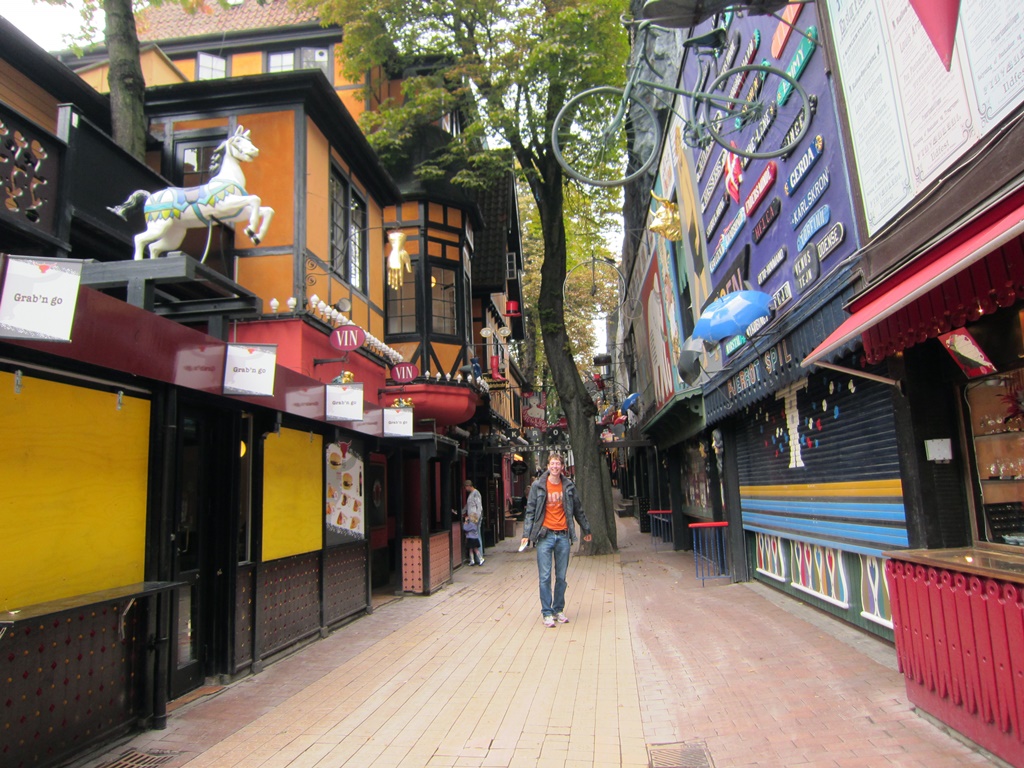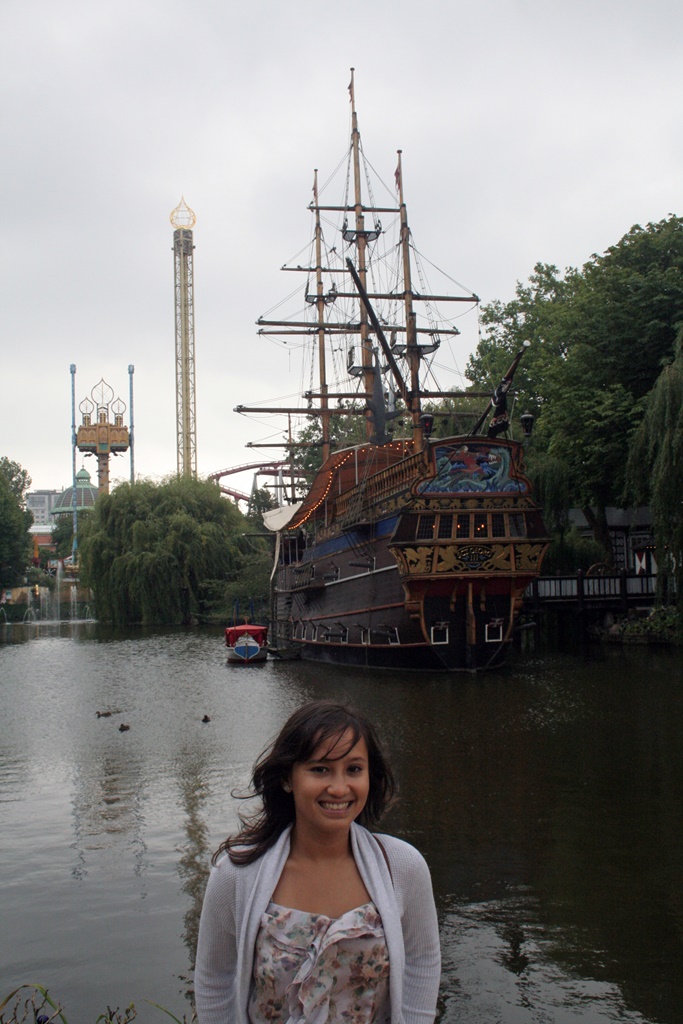 Also included in the admission are certain outdoor performances of music or comedy. In the 19th Century the park had its own resident composer, a man named Hans Christian Lumbye, who was heavily influenced by the Viennese waltzes (mainly by Strauss) which were popular at the time. Many of his works are still performed at Tivoli. In the comedy arena, the Pantomime Theater was constructed in 1874. The style of this outdoor theater is Chinese, but the performances, which have remained much the same over the decades, are something of an Italian import, in the style known as Commedia dell'Arte. The performances have no dialog (an advantage in a park with many international visitors) and center on the tribulations of a father, his daughter, her suitor and their not-too-bright but sometimes not-too-stupid servant. The servant, named Pierrot, wears white makeup and is generally the favorite character. The Pierrot character has been a staple of this sort of entertainment throughout Europe since the 17th Century.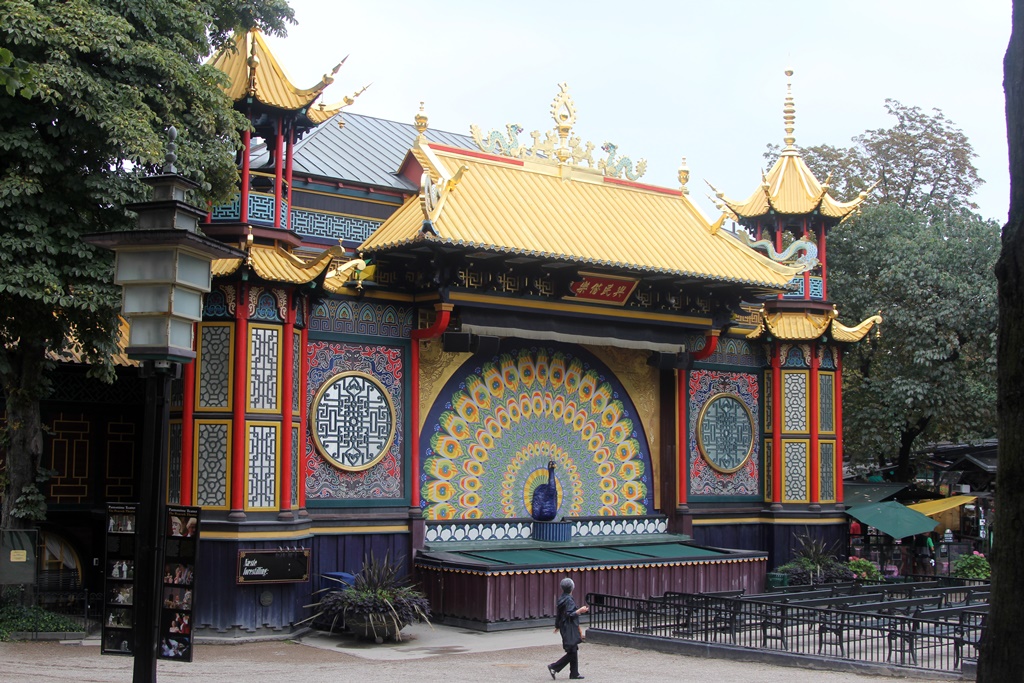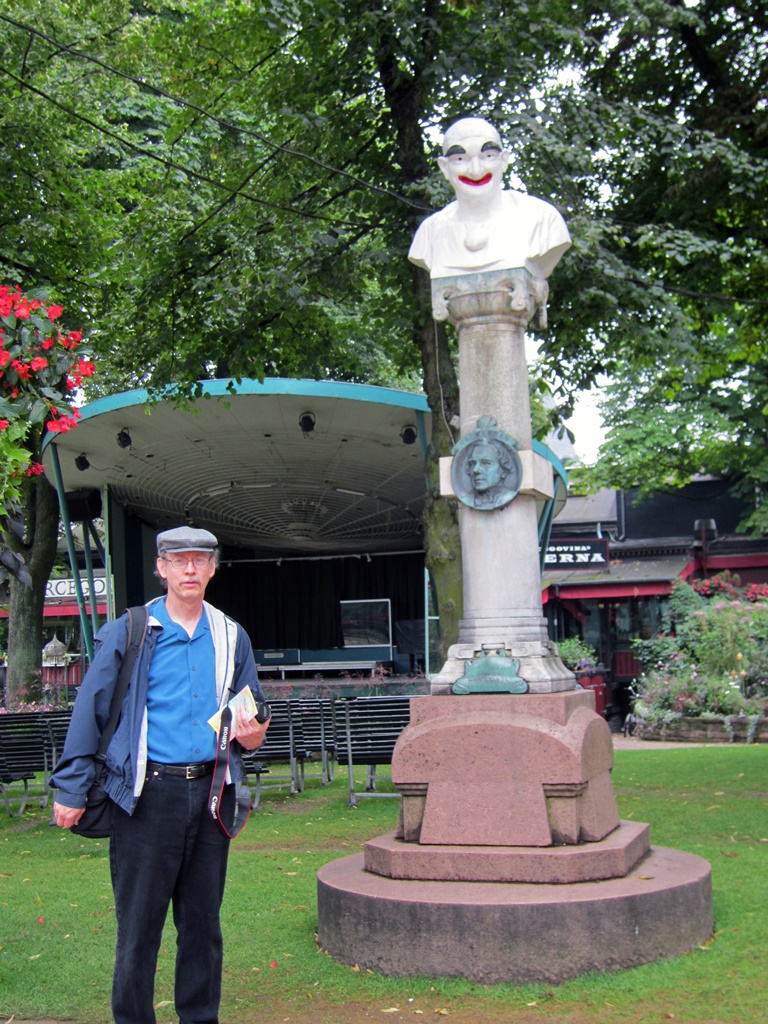 In our wanderings around the park, we came across the rides, some of which looked daunting.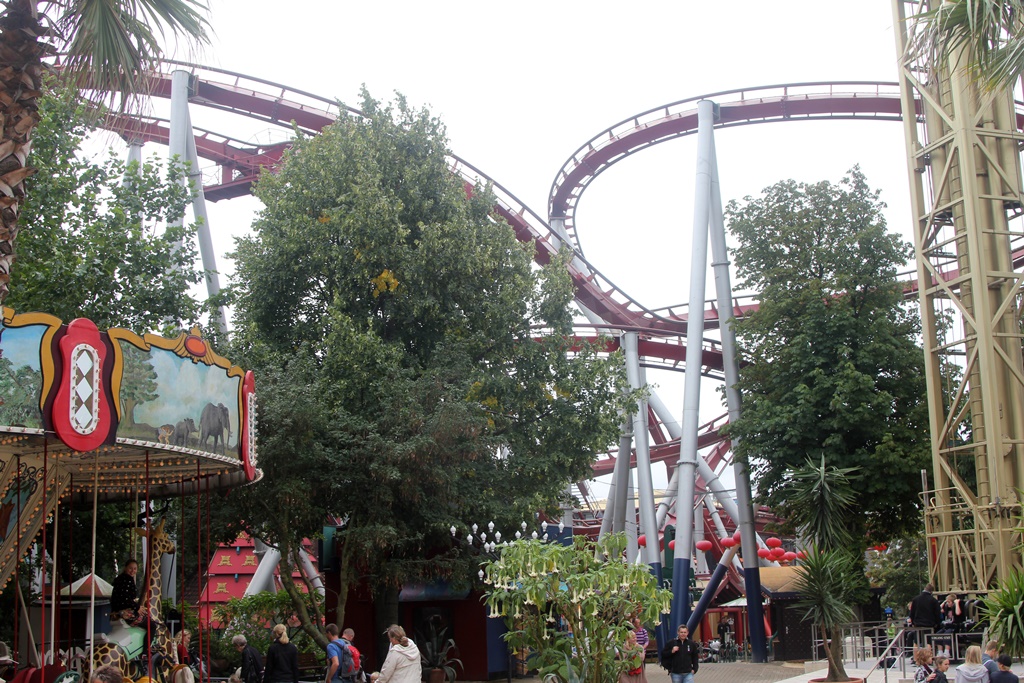 But other rides looked like they might be more fun than nausea-inducing, and Connie and Niels eventually got some tickets and rode on something called the Rutschebanen, or "Roller Coaster". As it turns out, this ride is one of the oldest still-operating wooden roller coasters in the world, having been built in 1914. By the standards of modern metallic monstrosities it's not that intense, but it's treated with respect by fanatics of roller coasters and the history of roller coasting.
Then we found something we all could ride without fear, an indoor ride called Den Flyvende Kuffert (The Flying Trunk), based on the stories of Hans Christian Andersen.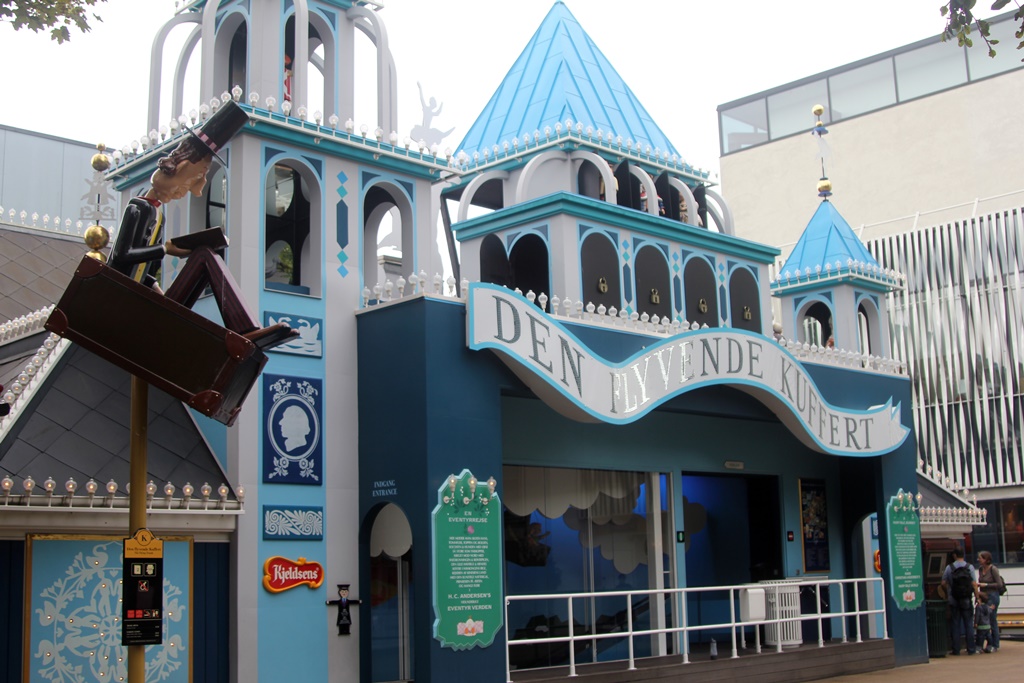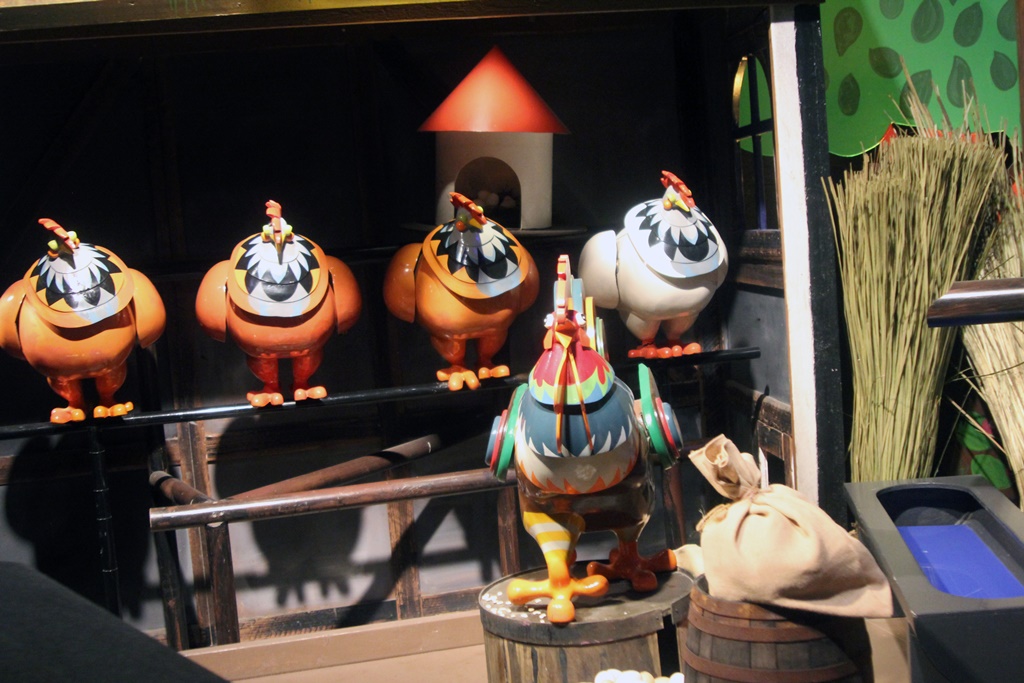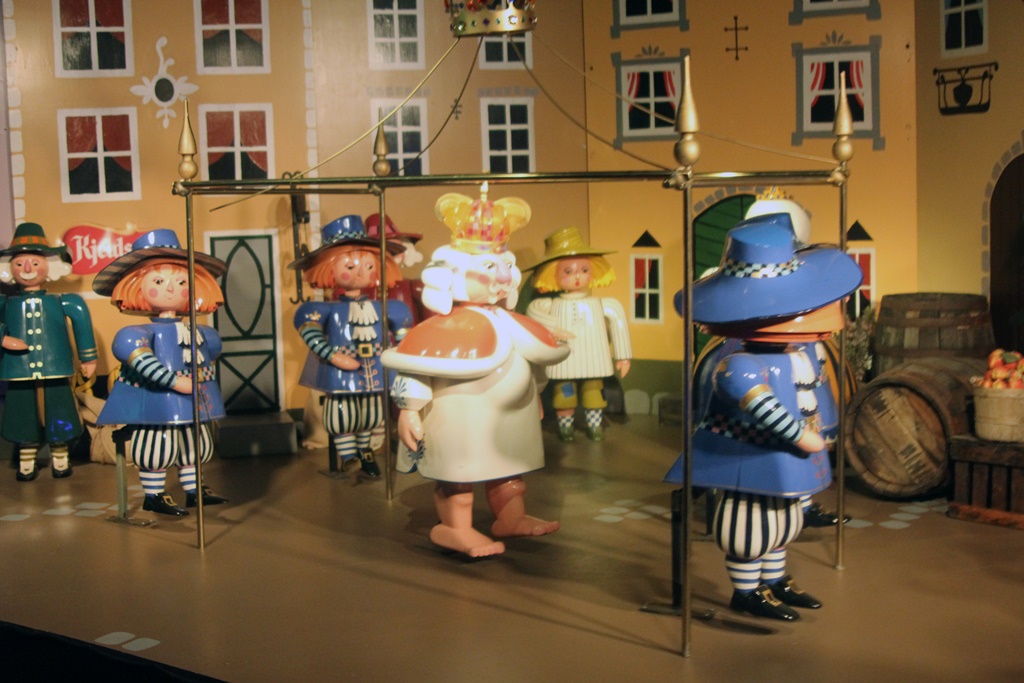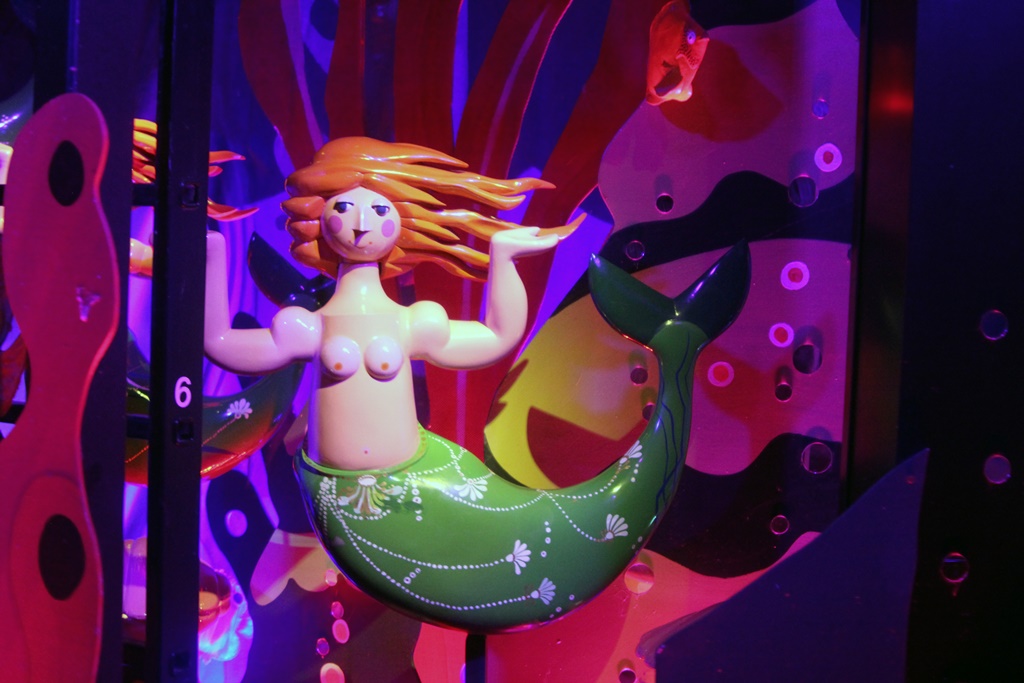 Finally, we happened upon an underground aquarium, billed as the longest salt water aquarium in Europe. They seemed to be renovating it during our visit, as there was a considerable amount of construction noise, but it was still relaxing to watch the fish swim about.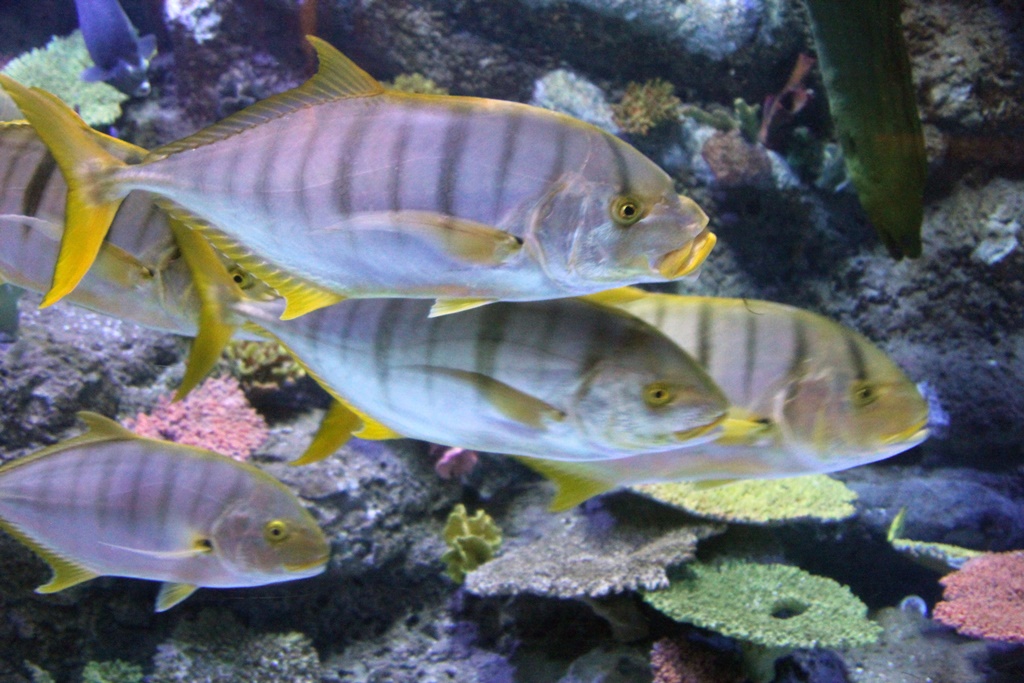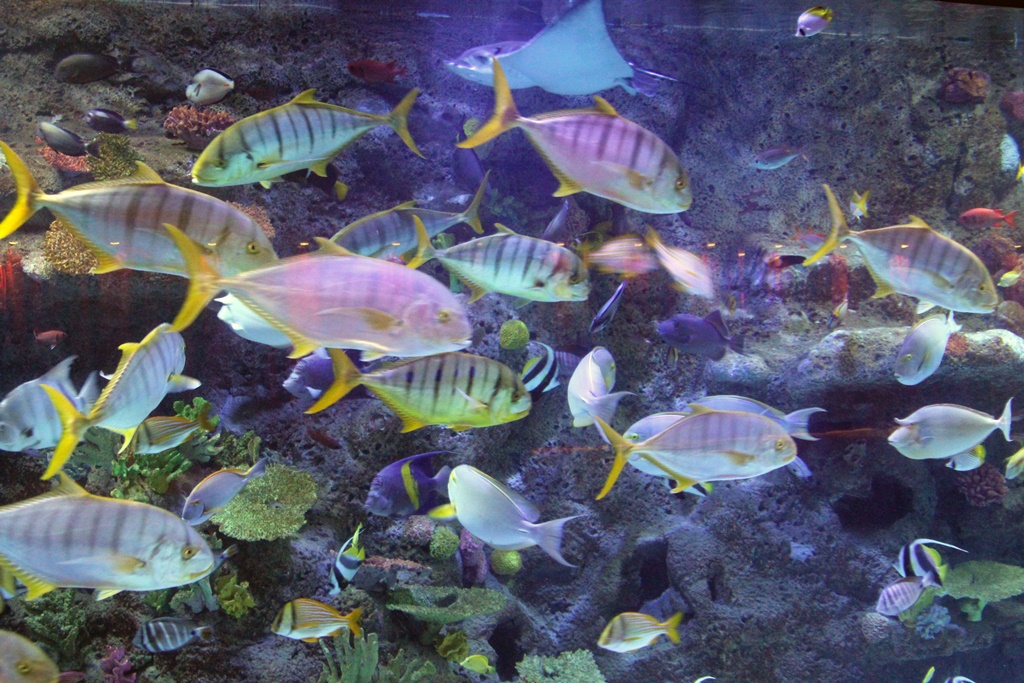 Eventually we left the park, our entire stay lasting a couple of hours. Connie and Niels discovered the availability of free bicycles and pedaled off to parts unknown. Nella and I caught a bus for Rosenborg Castle.