Christian IV was a man of action. From early in his reign (he took power in 1596) he devoted attention to the strengthening of Denmark's military forces, building fortresses and more than doubling the size of the navy (and even contributing to the design of some of the new vessels). There was a purpose to this, that being the cementing of Danish supremacy in the Baltic Sea. This being the case, Christian involved his country in a number of wars that involved Sweden, as Sweden was Denmark's principal rival for Baltic power. In the last of these wars, Christian himself, at age 66, was aboard a warship during a battle when a Swedish cannonball caused the king to be showered with splinters and metal fragments, wounding him seriously and throwing him to the deck. Despite his injuries (he ended up losing the sight of his right eye), he quickly bounced back up and exhorted his crew to continue the fight ("'Tis but a scratch!"), which eventually ended in a draw. He later had two of the metal splinters that wounded him made into earrings which he gave to his mistress.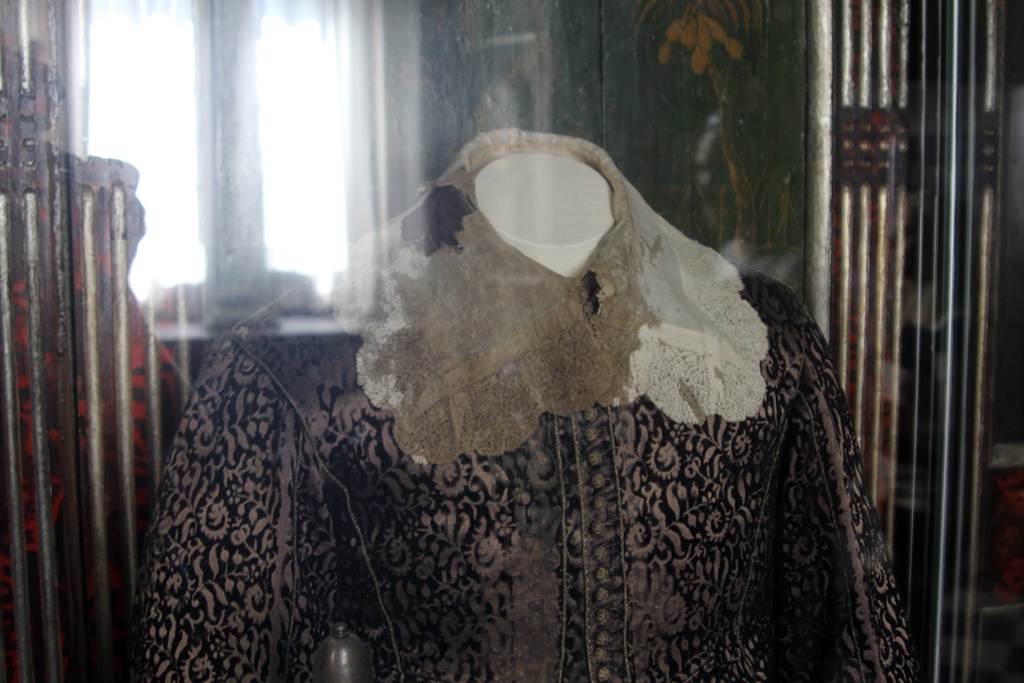 But in the end, Christian's wars didn't work out very well, largely because Sweden was better at the alliance game than he was, and as a result Sweden ended up with Baltic supremacy instead of Denmark. But Christian IV is nevertheless remembered as one of the most popular Danish kings. At 59 years, his reign lasted the longest of any Danish monarch, and during this time many of his actions were non-military. For example, he fathered 24 children (with the assistance of two wives and three mistresses), he was a fine dancer and linguist, and he was a patron of musicians and artists. He also liked to build things. A number of towns were established during his reign, in both Denmark and Norway (then a Danish possession), and closer to home, he established Christianshavn (which was named for him) and built both the Kastellet (in the present-day Little Mermaid area) and the Old Stock Exchange (now near Christiansborg Palace). And also (and the point of all this) a structure that came to be known as Rosenborg Castle (or Rosenborg Slot in Danish).

Christian IV mainly lived at Frederiksborg Castle, a royal residence built by his father (Frederik II) which was located 35 km outside the city. But he needed to stay in the city at times. A medieval castle was located there that he could use, but he didn't much like it. In 1606 he acquired some land east of town and established a large park which still exists today, called Kongens Have (The King's Garden). The same year he began construction of a summer home in the park. Over the years needs arose for expansions and reconfigurations, but by 1634 the structure had pretty much become what it is today, in the process acquiring the name Rosenborg.

Nella and I bailed out of our bus near Kongens Have, a large, well-maintained park that's surrounded by a wall, but to which entrance is free. The park seems to be popular with the locals, many of whom could be seen strolling or sunbathing.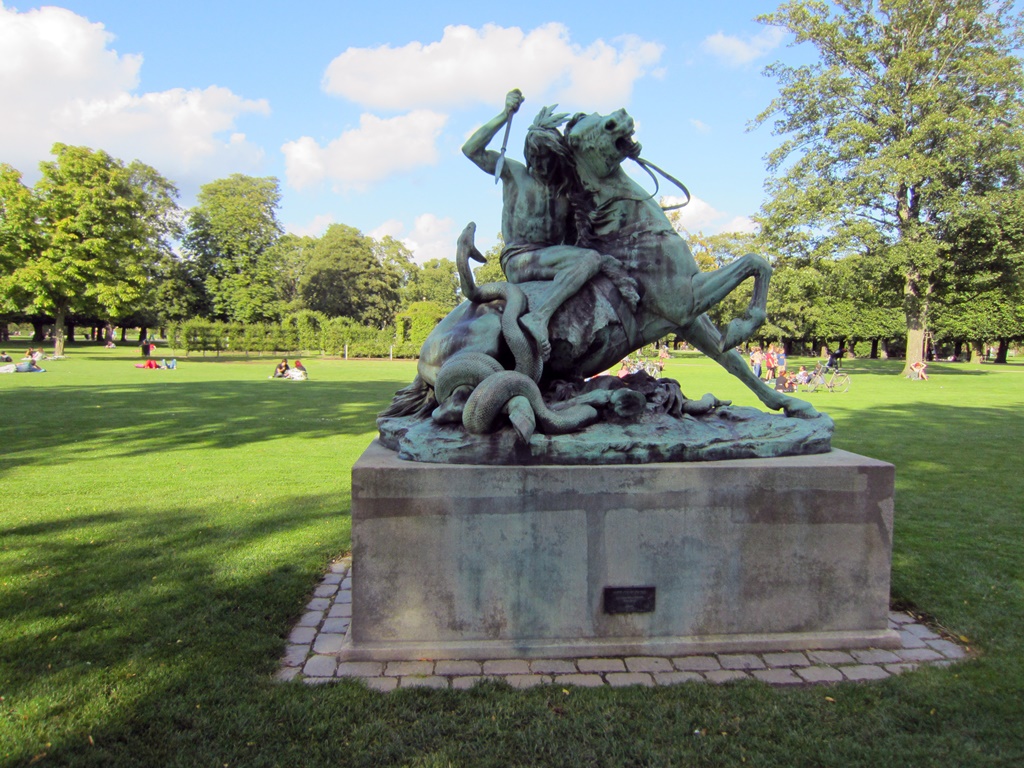 We found the castle at the west end of the park. The castle was built in a style known as Dutch Renaissance, and mostly looked to be in pretty good shape, though there was some scaffolding in places, possibly for some maintenance work. There was a water-filled moat around the castle, though the castle itself didn't appear that it would work very well as a defensive fortification (a couple of well-placed artillery shells, or even a volley of cannonballs, would probably reduce the castle to a smoldering ruin). Tickets were sold around the back of the castle, and on going to the ticket office we noticed the nearby garrison of the Royal Life Guards, the guys with the big furry hats who march over to Amalienborg each day.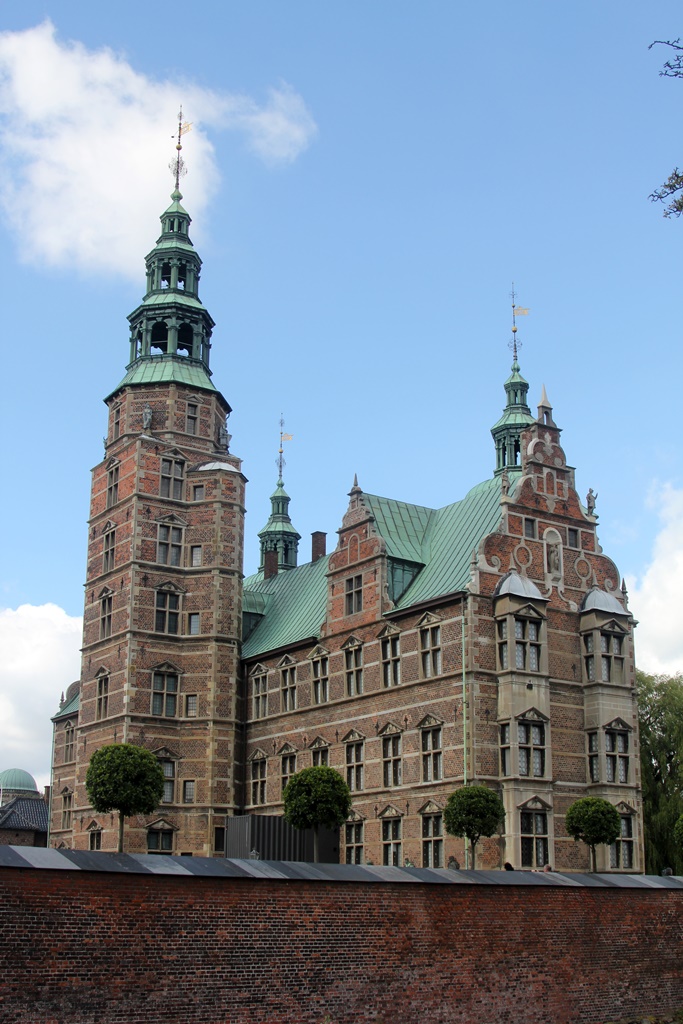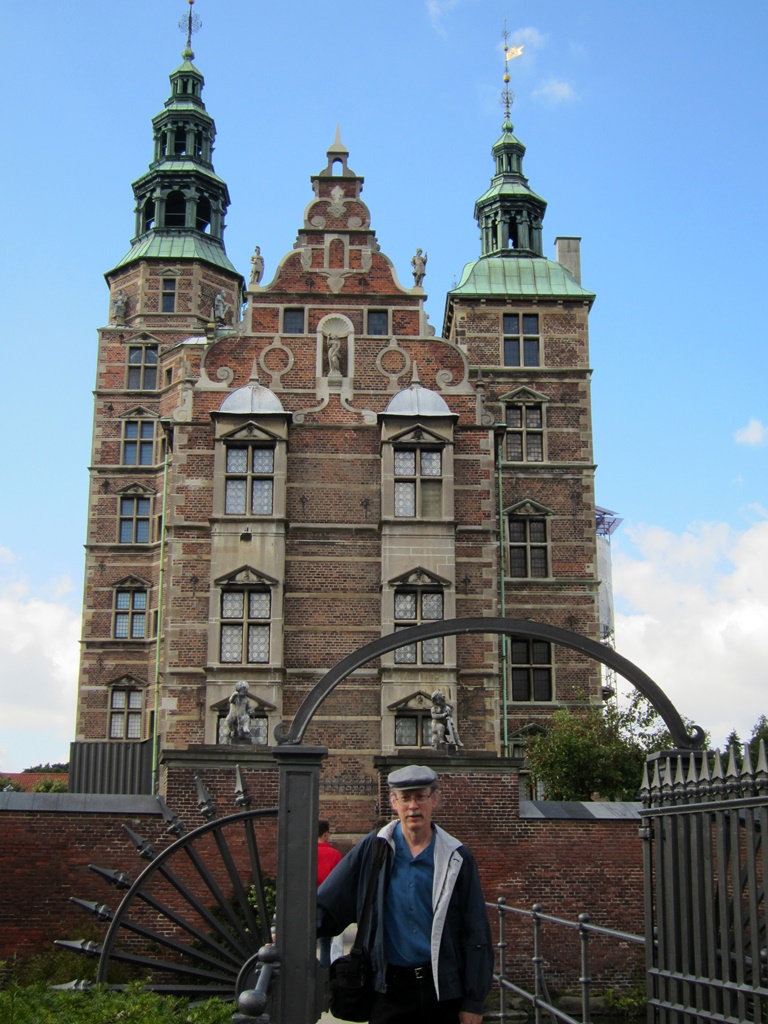 As readers of this website know by now, in our travels to various places of interest, we have encountered a variety of photographic situations. Some places let you take all the pictures you want, some let you take still photos but no video, some outlaw photography but don't really enforce the rule, and some are very strict and enforce (or attempt to enforce) their no-photography rules with gusto. We've never quite understood the reasons for the no-photography rules – certainly flash photography can be damaging to artworks over time (and annoying to fellow visitors), but it seems that non-flash photography should not be a problem in this respect (and in fact many prestigious museums are fine with it). Or maybe they feel they would be losing revenue, as people who take their own pictures might be less likely to buy books sold in their gift shops. At Rosenborg, the situation is handled in a way that seems to us to be particularly civilized. People who want to take photos are allowed to, but only if they pay some extra krones, which gets them photographic-privilege wristbands. This weeds out the non-serious photographers who don't really care that much about taking pictures, and opens up a new revenue stream for the proprietors. And in our case, they made out especially well, as we ended up buying a book also.

So what is it that we wanted to take pictures of so badly? As mentioned above, Christian IV built Rosenborg as a part-time residence. He liked it very much, and actually ended up dying there in 1648. His successors also lived there at times, but during the reign of Christian VI, who took the throne in 1730, Christiansborg Palace was built, and royal families no longer lived at Rosenborg, except in emergency situations. The castle was instead repurposed as a repository for royal stuff. We wanted to take pictures of the stuff. And we did.

The Castle has four floors we were free to explore – three above ground, and one below. A visitor route took us through a succession of rooms that were mainly devoted to Danish monarchs, mainly in chronological order. The first, naturally, were devoted to Christian IV, beginning with his study.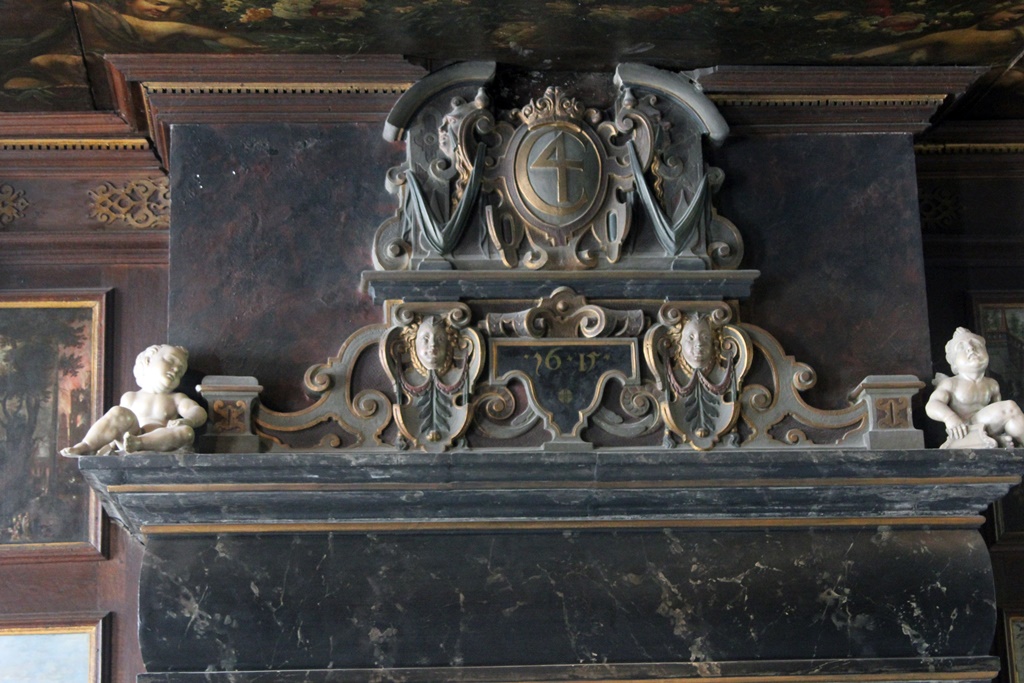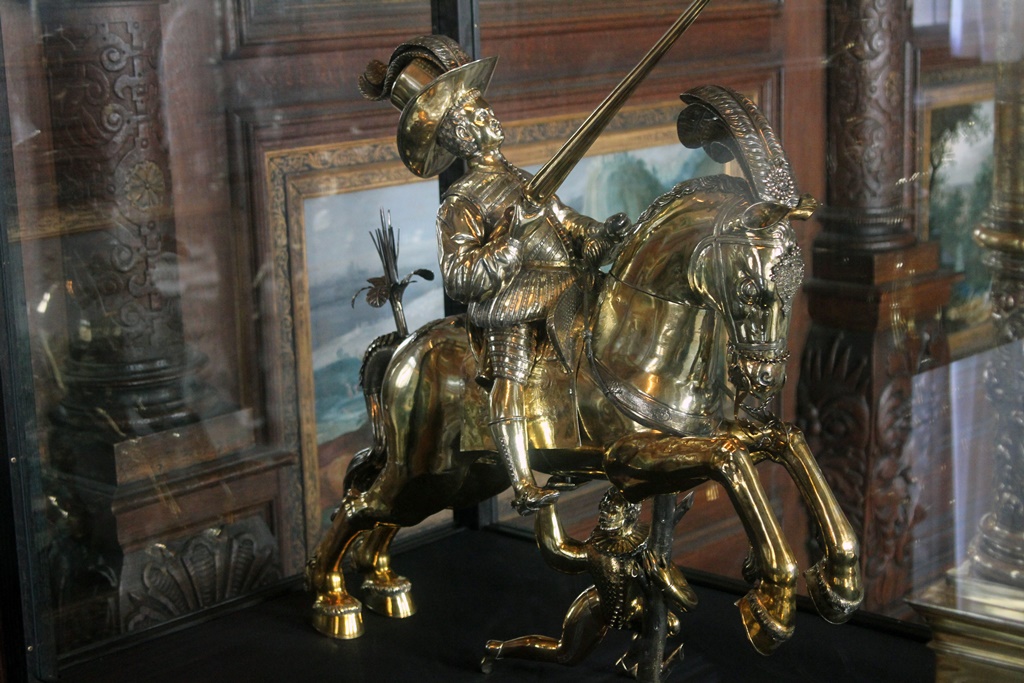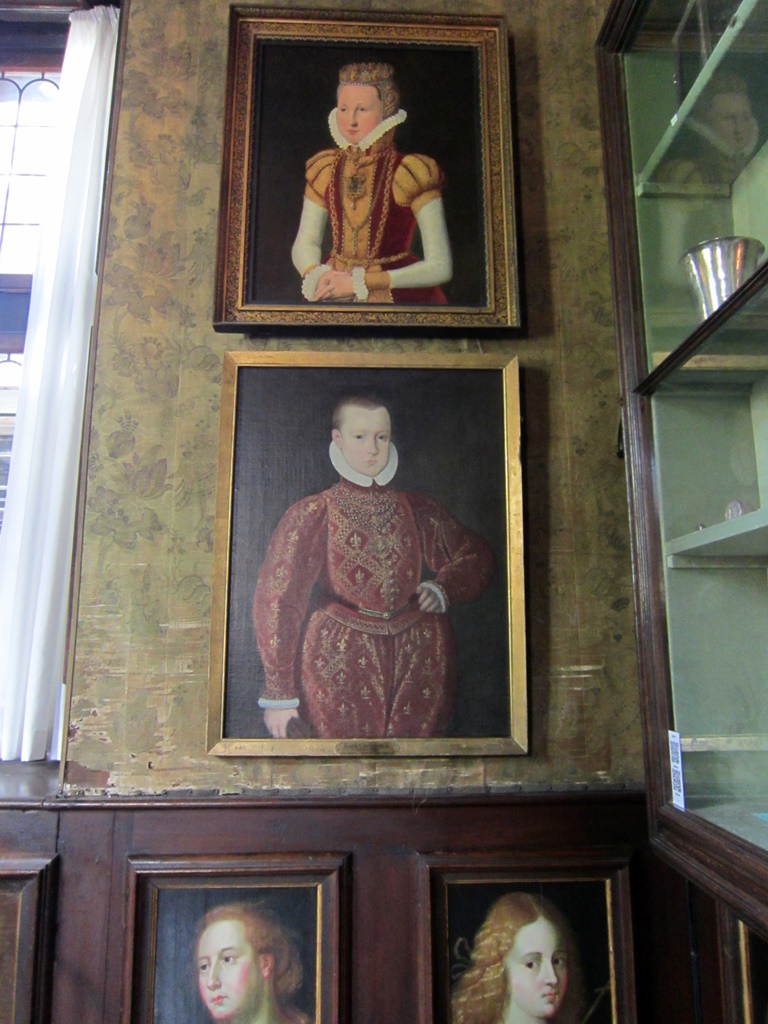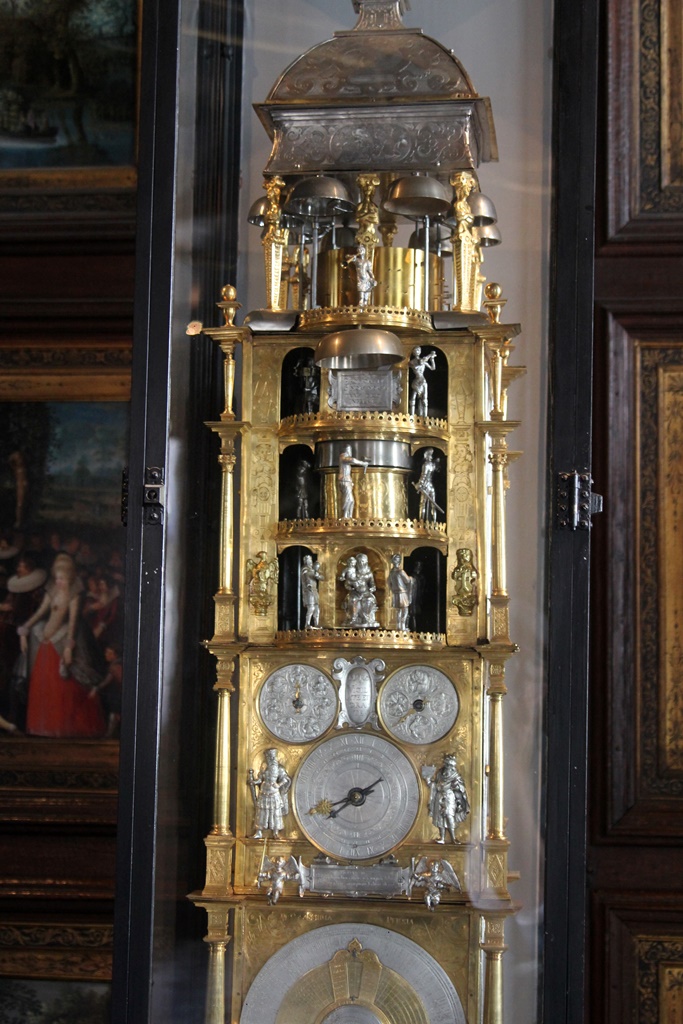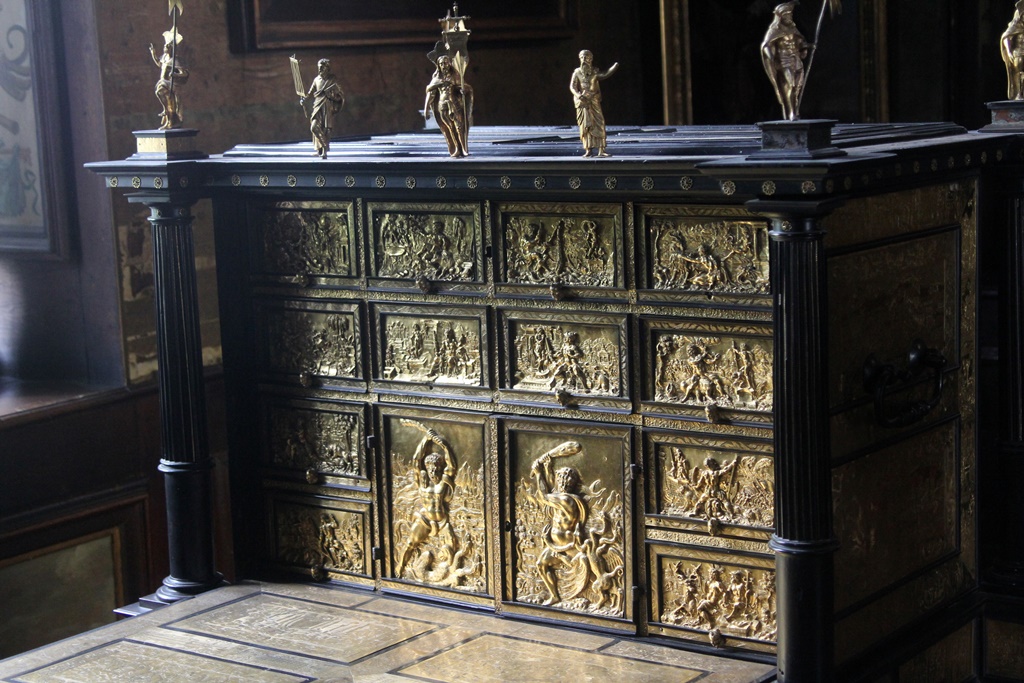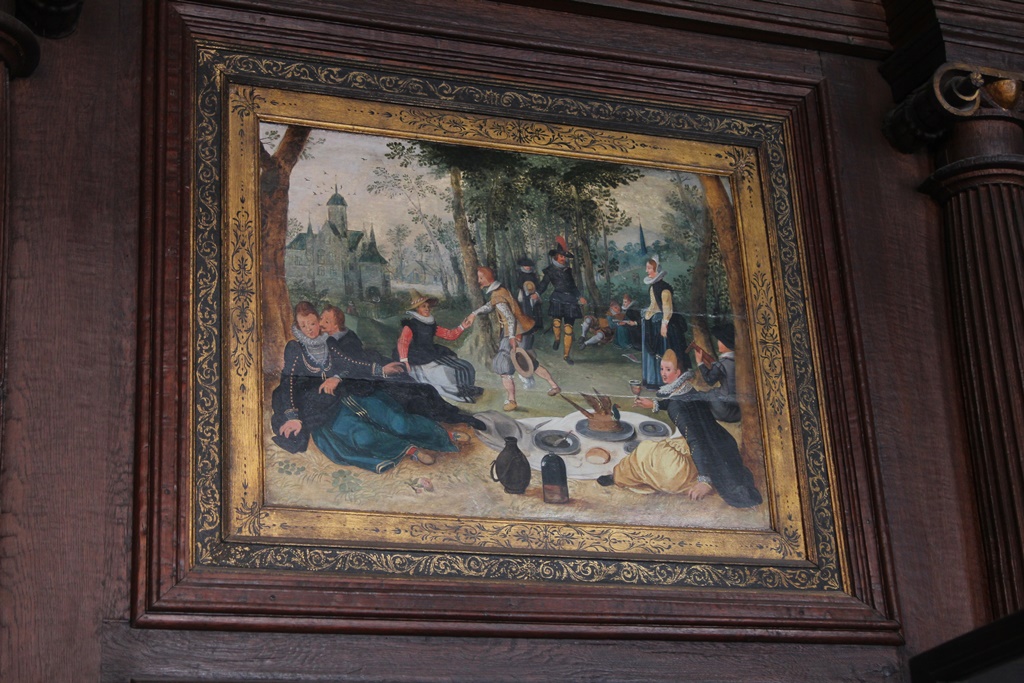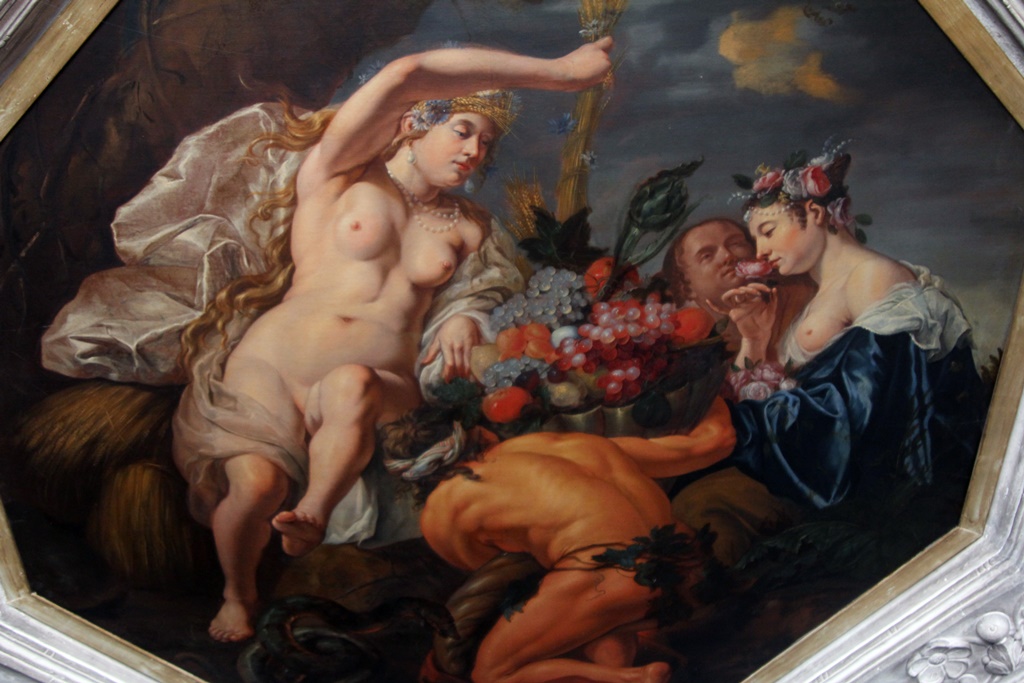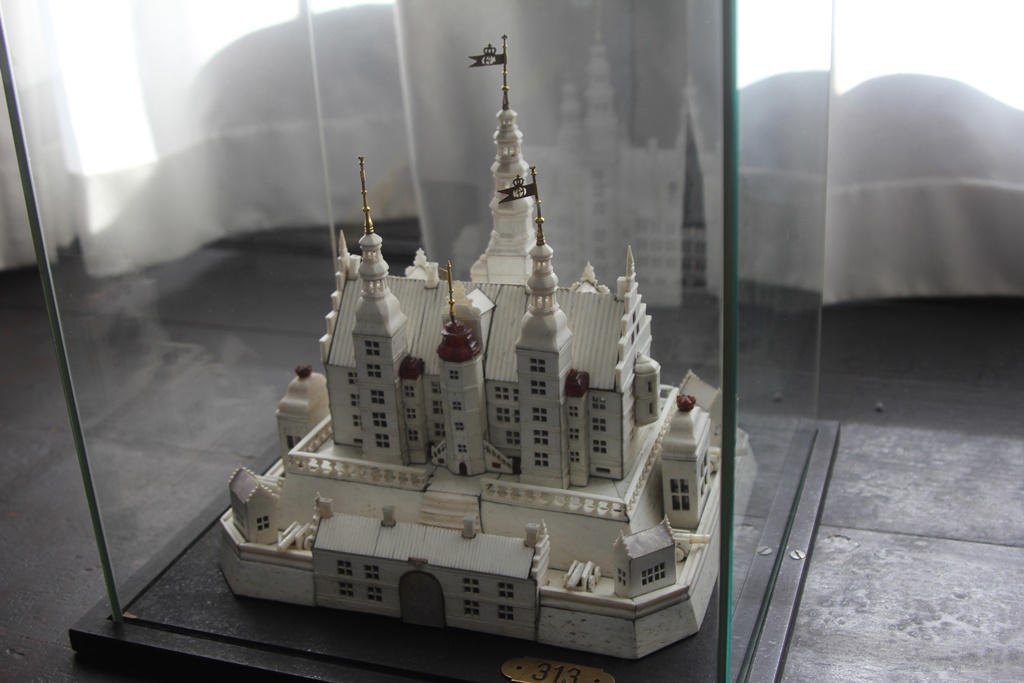 After leaving the Christian IV rooms, we came across a couple of rather creepy artifacts, life-size wax figures of Christian's son, Frederik III, and his wife, Sophie Amalie, peering out from cabinets. Apparently this was a fashionable thing to do in the 17th Century, pre-dating Madame Tussaud by more than 100 years.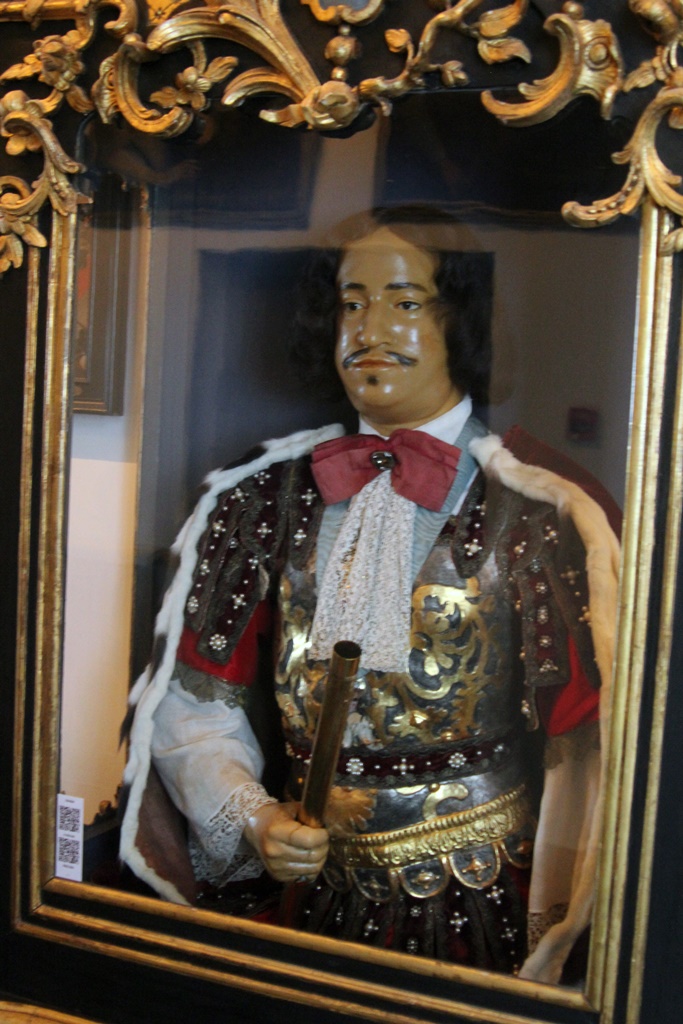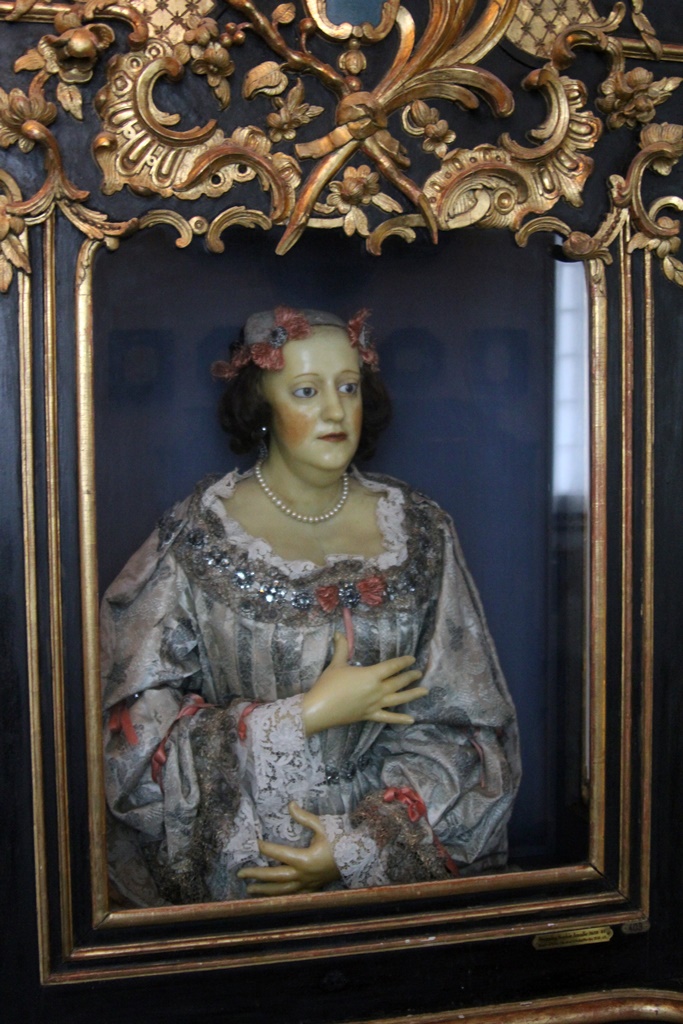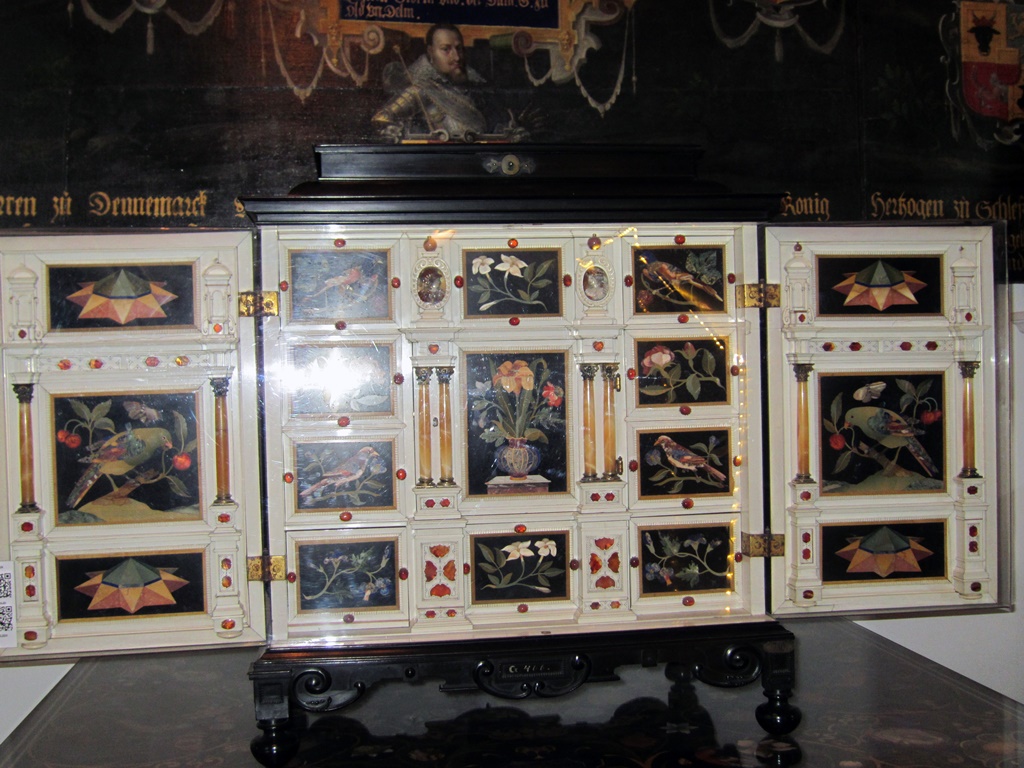 We didn't get many good pictures of stuff devoted to Frederik's successor, Christian V, but here are some things belonging to his wife, Charlotte Amalie, and their daughter, Sophie Hedevig: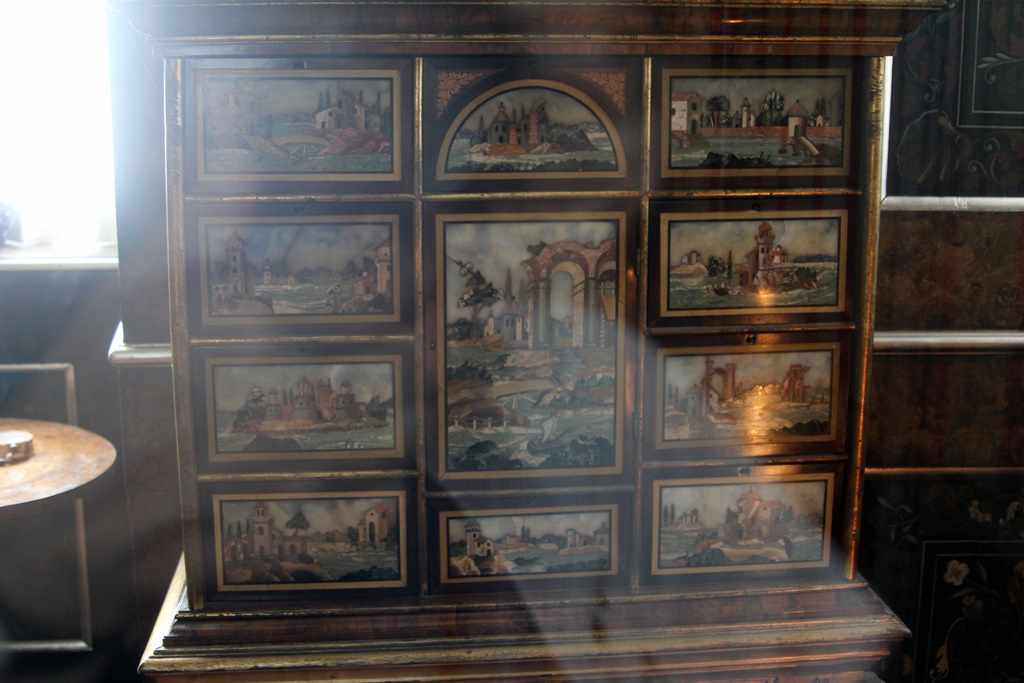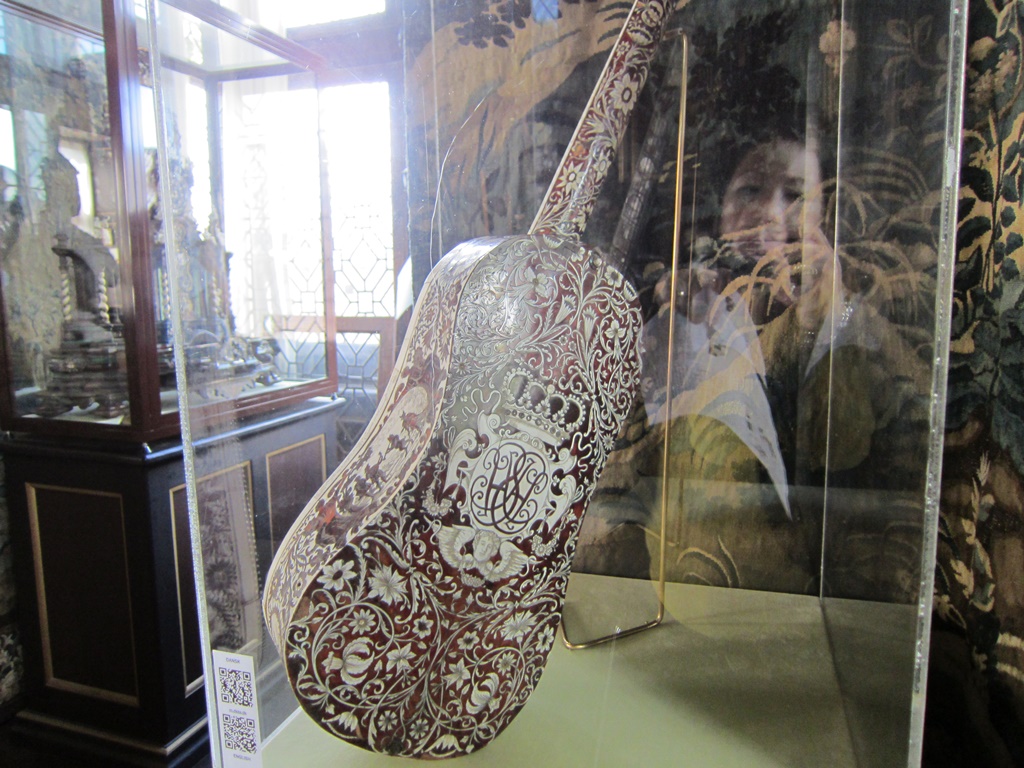 The next in line was Frederik IV. Frederik held public audiences, making for an unusually open government. He also seemed to like nice stuff.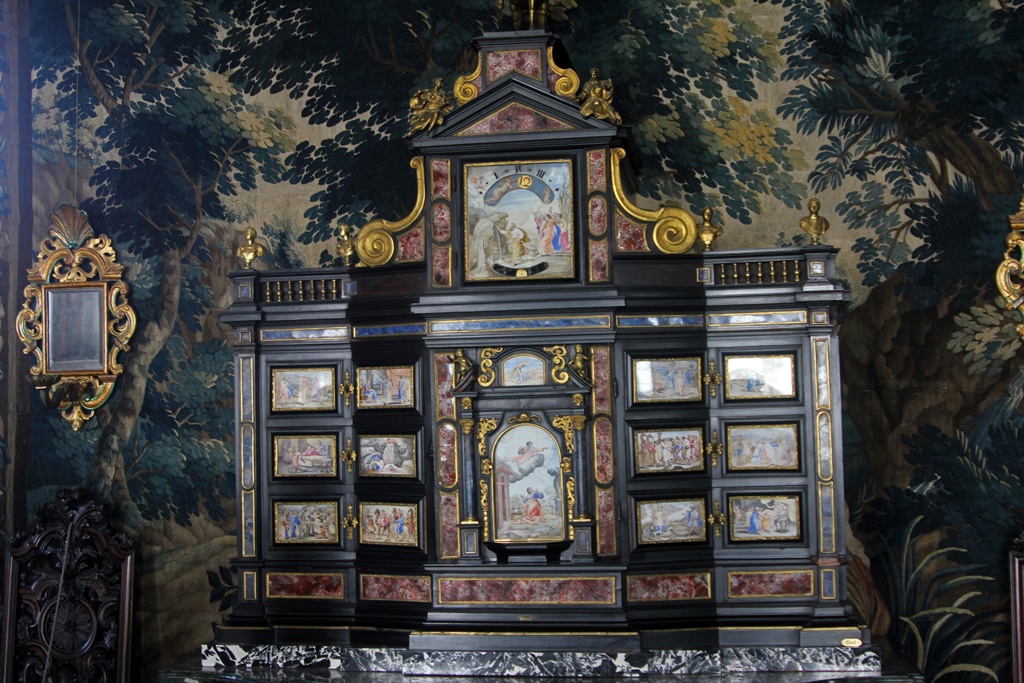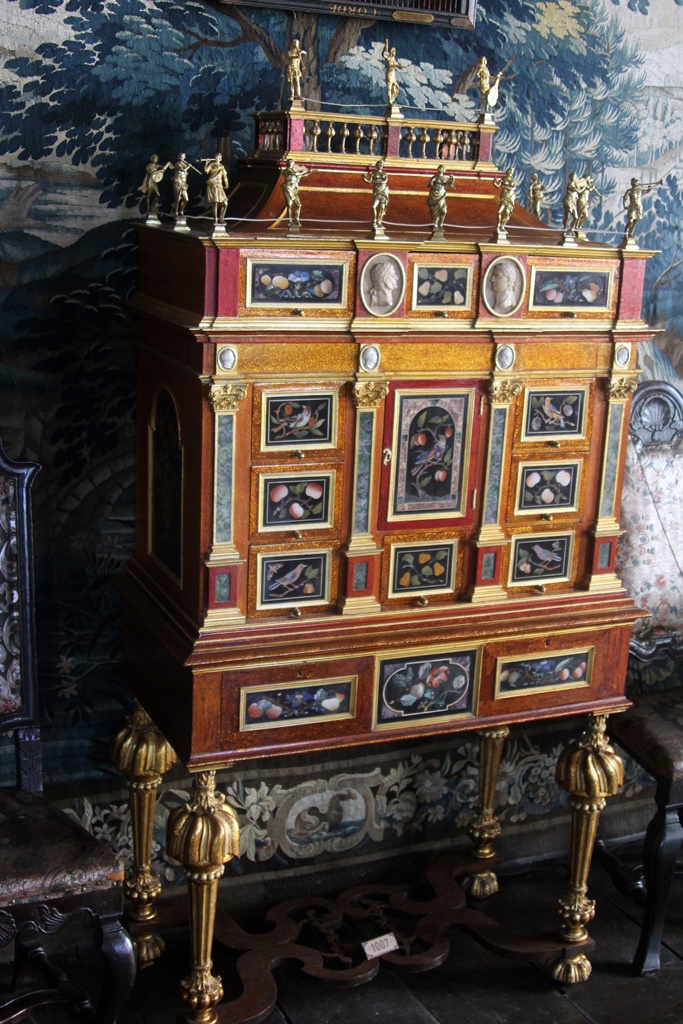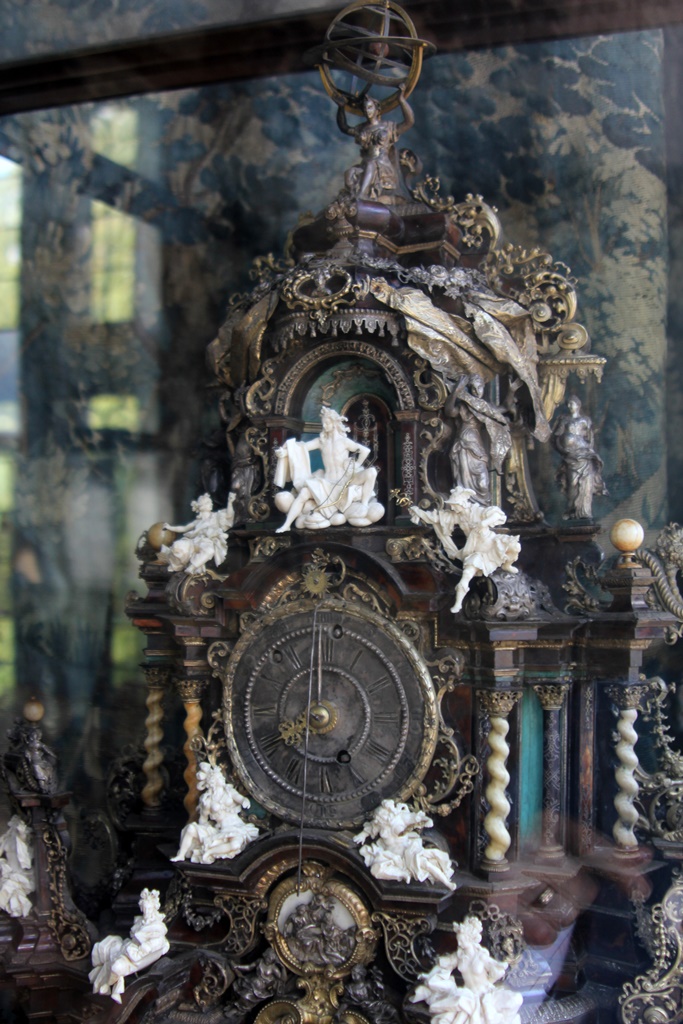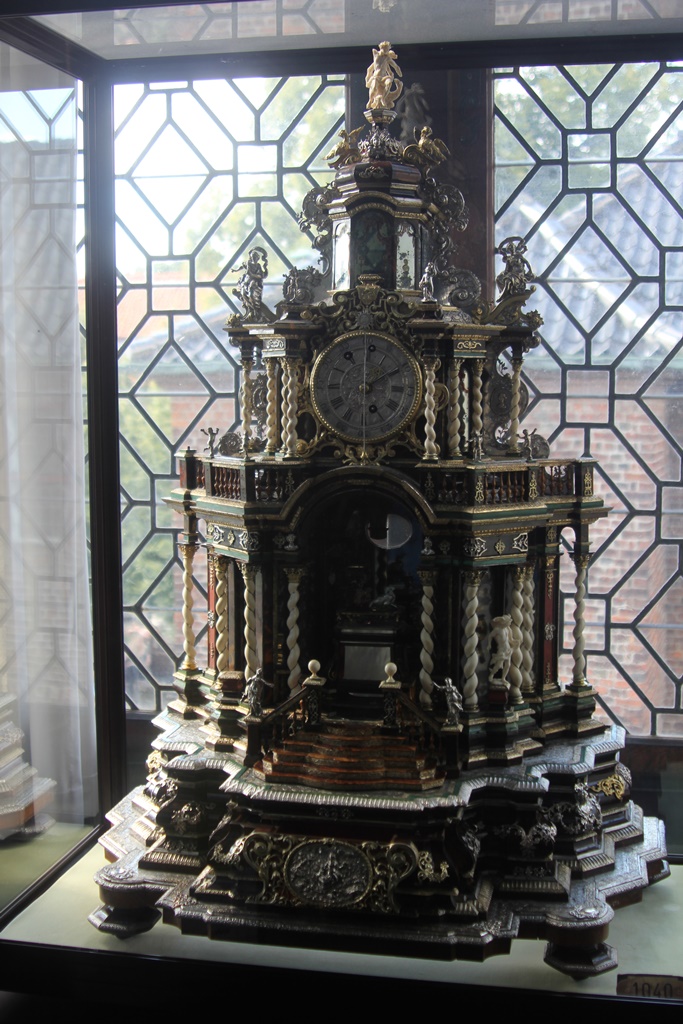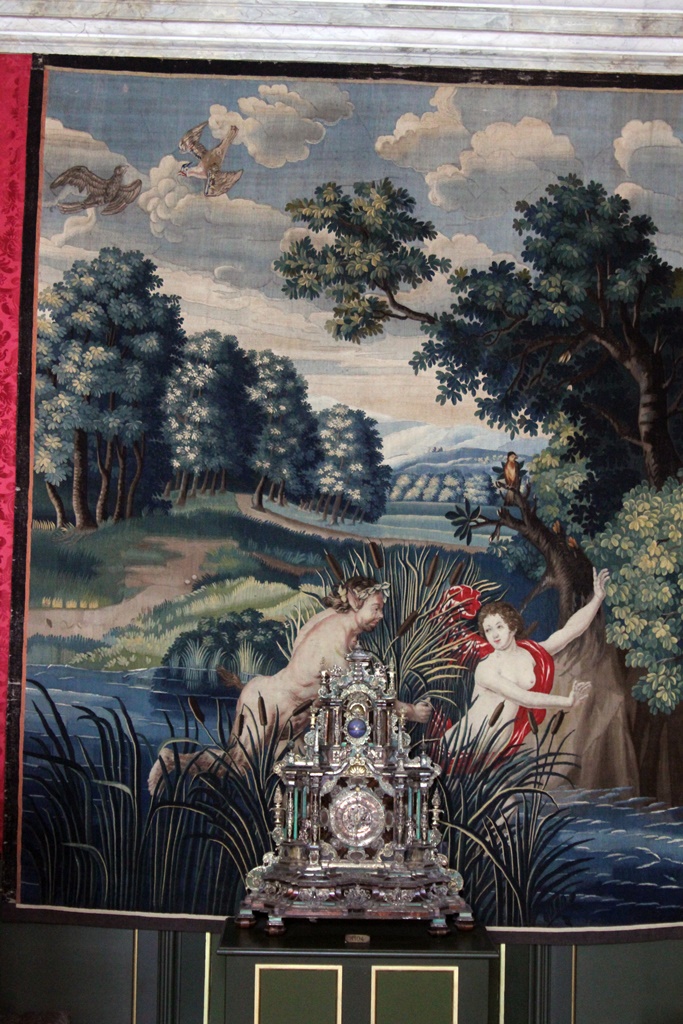 Next was a room devoted to Christian VI. Christian was extremely religious, and not so much into interacting with his subjects. But his was the first reign in a long time during which Denmark wasn't at war with anyone. Christiansborg Palace was also built under Christian VI.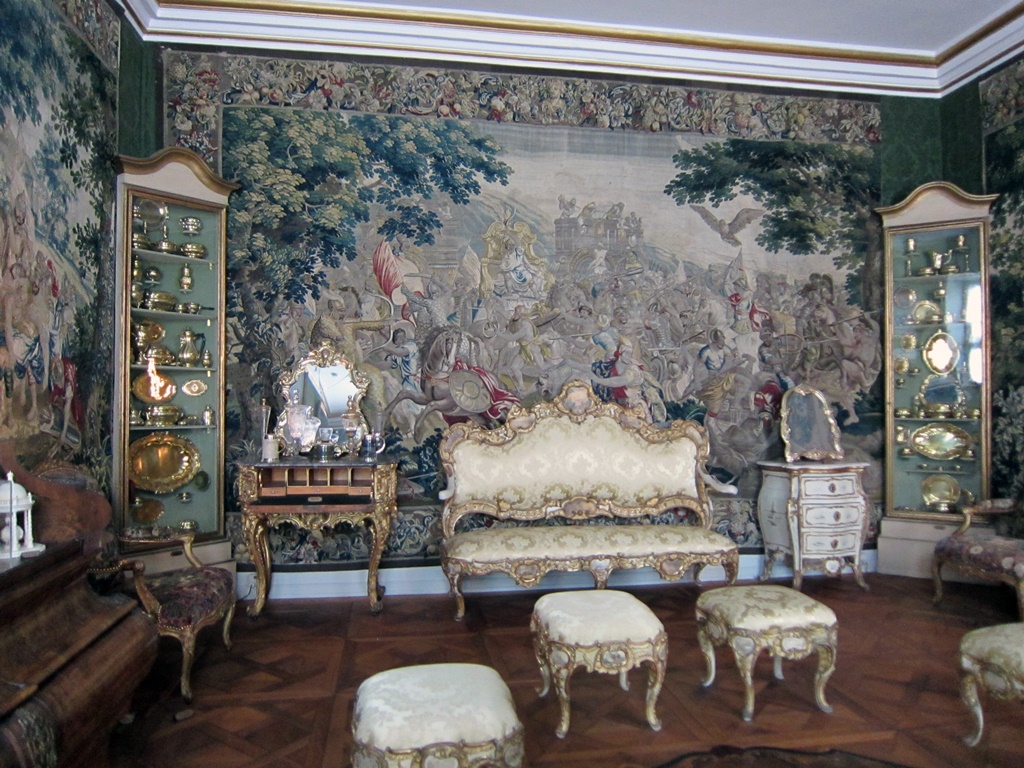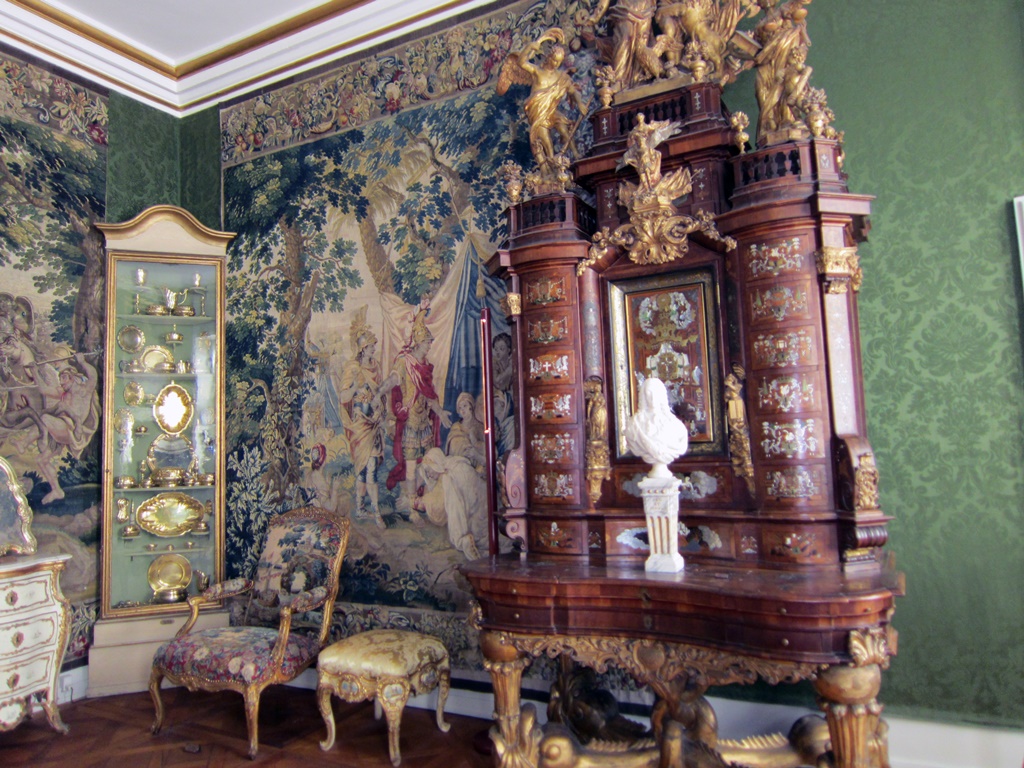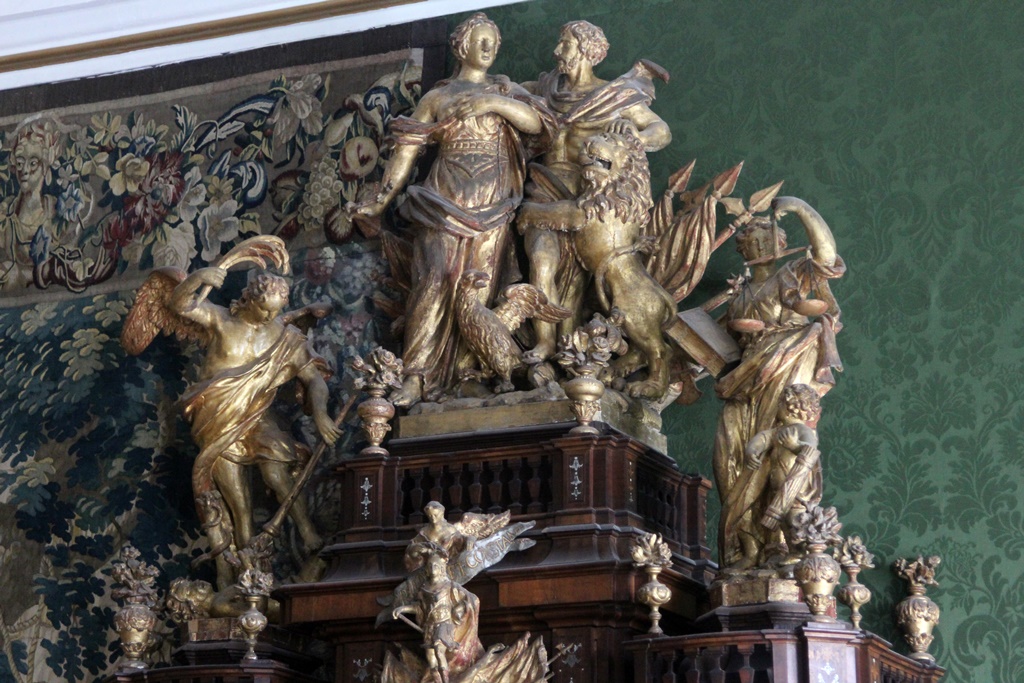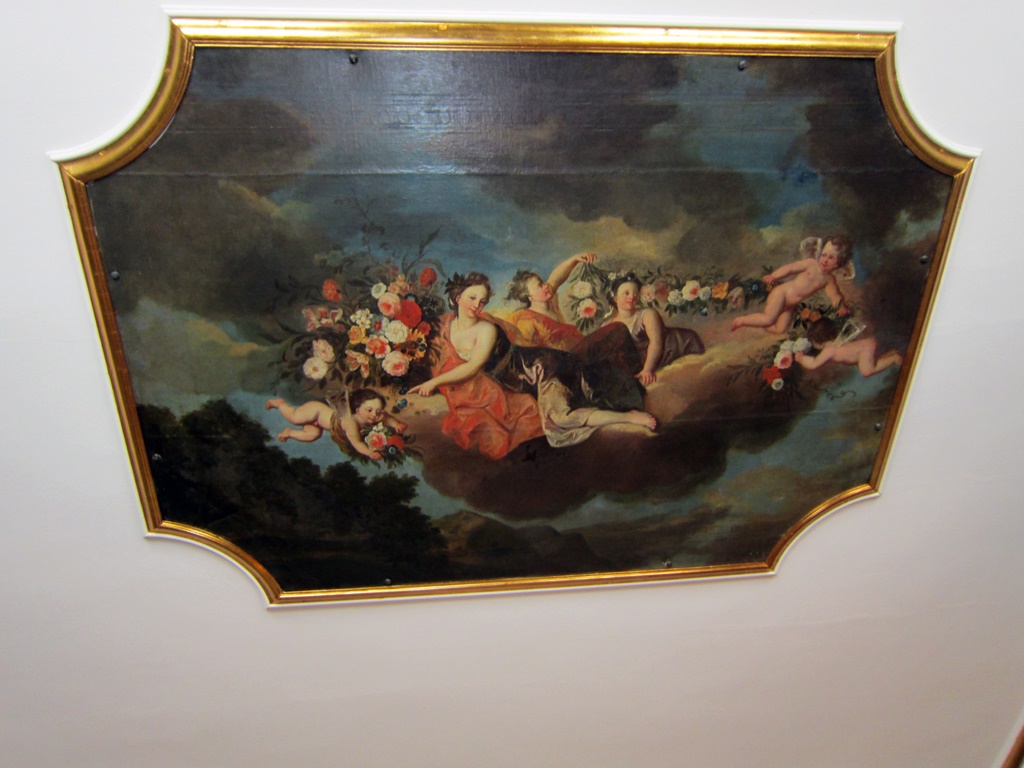 A side room not devoted to anyone in particular was sparsely furnished, but was pretty much covered in mirrors. It's aptly known as the Mirror Room – it was decorated by Christian V and embellished by Frederik IV. The room did have this instrument: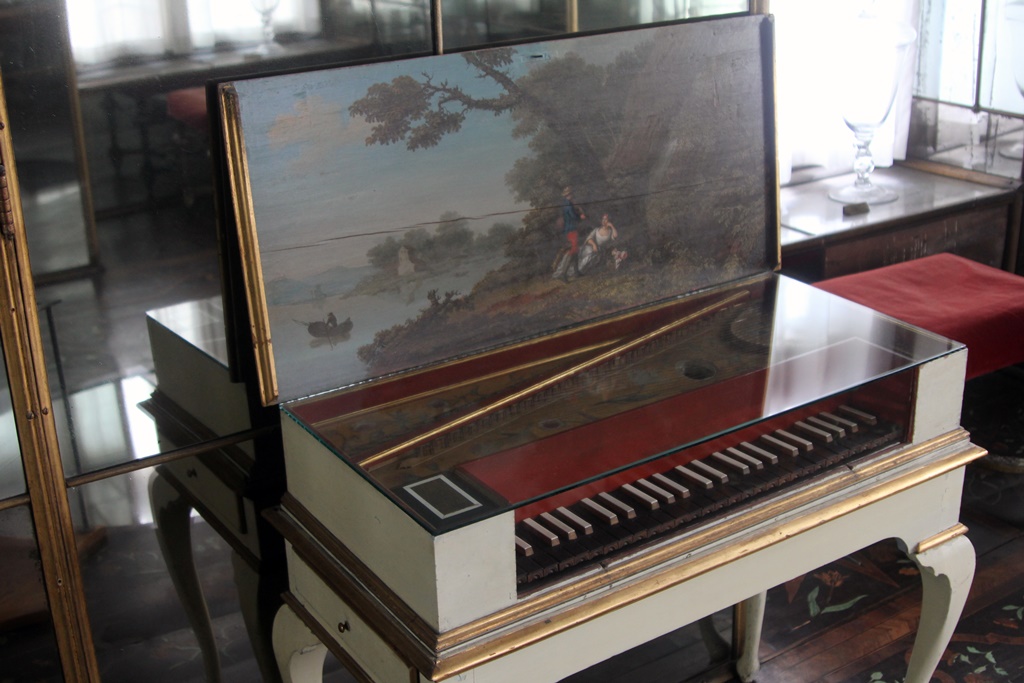 A nicely-tapestried room devoted to Frederik V had some especially nice things. Frederik is considered to be one of the weaker kings, and had a problem with drinking too much. But the country was at peace and prosperous during his reign, and Amalienborg was built during this time.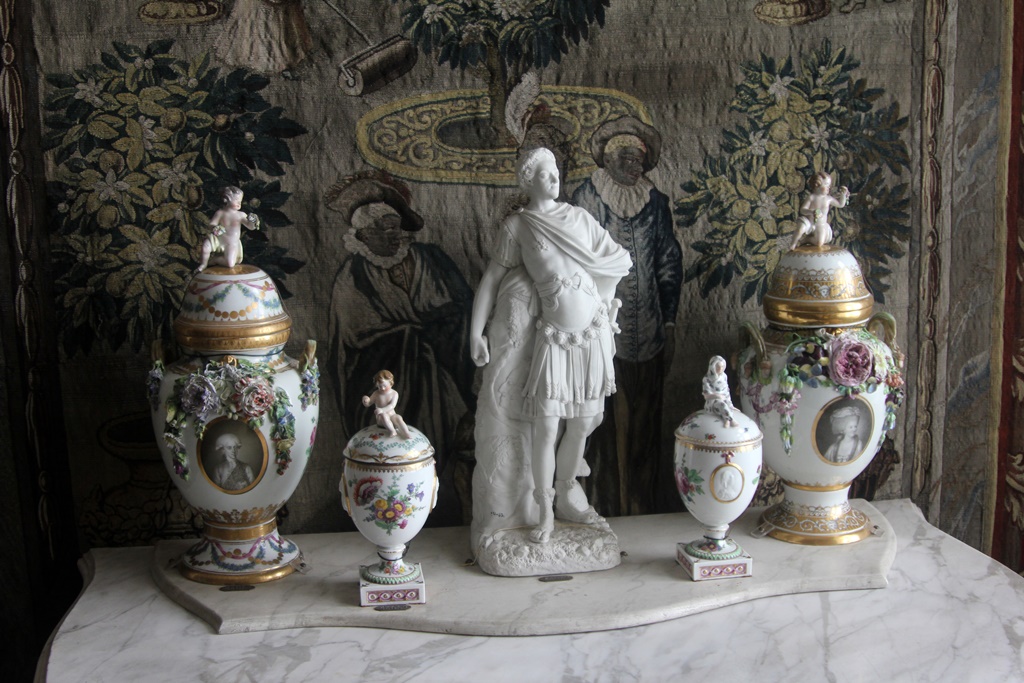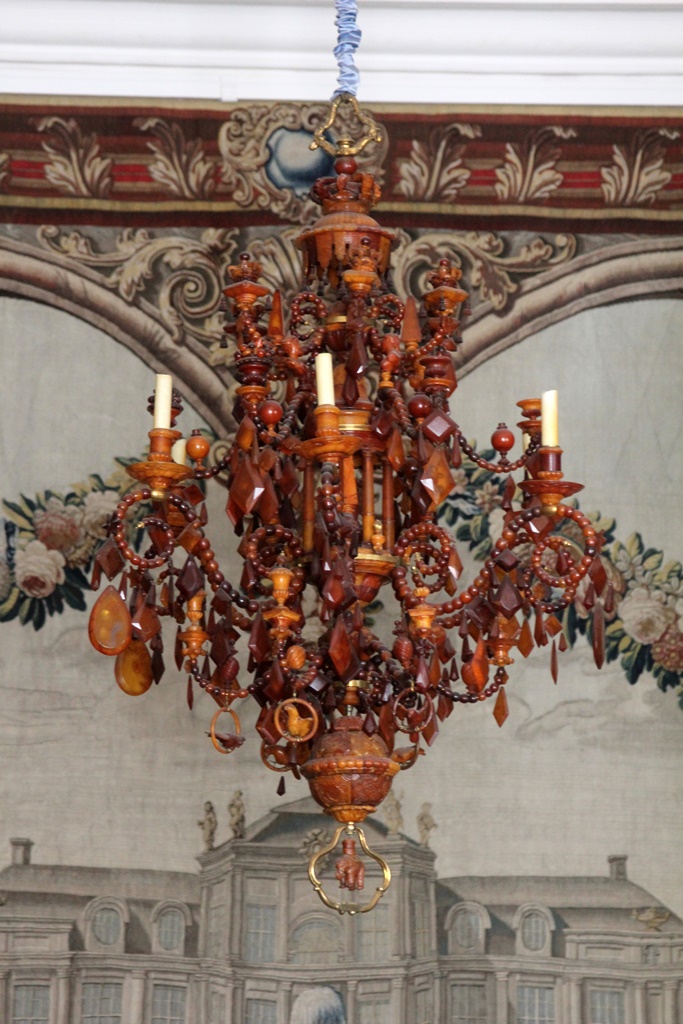 More nice things were found, this time associated with Christian VII. A model of a ship made from chicken bones by Danish prisoners during his reign was particularly unusual.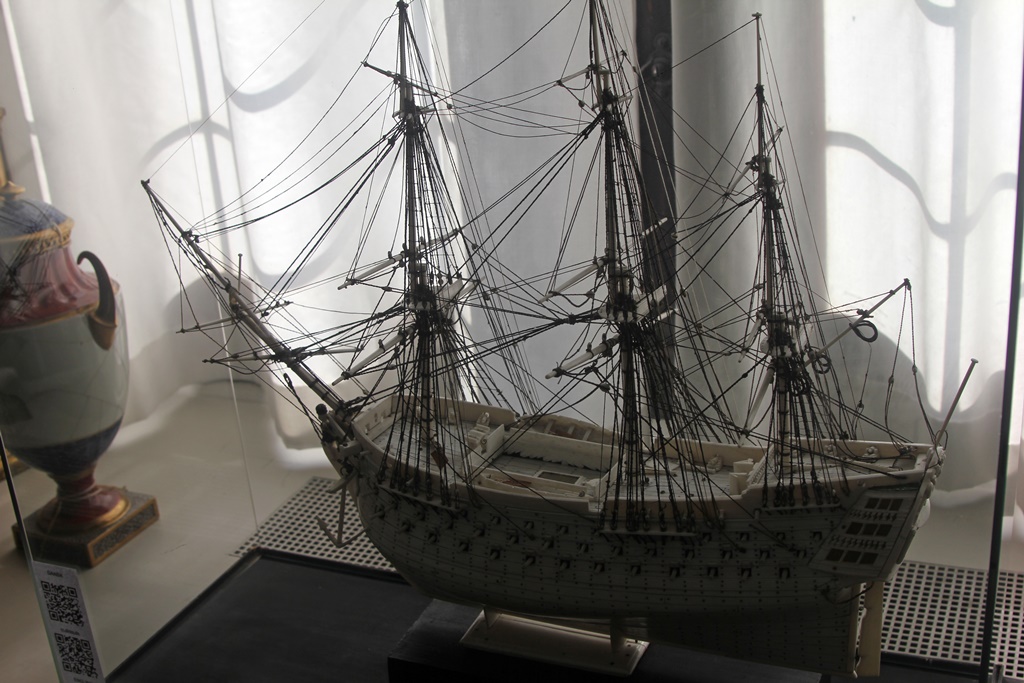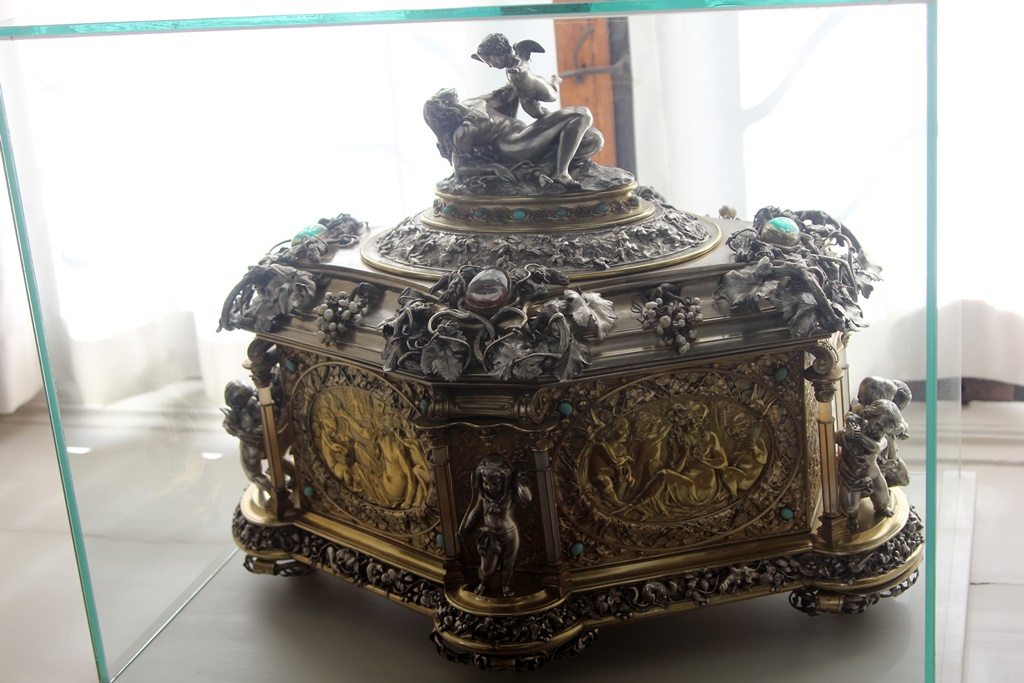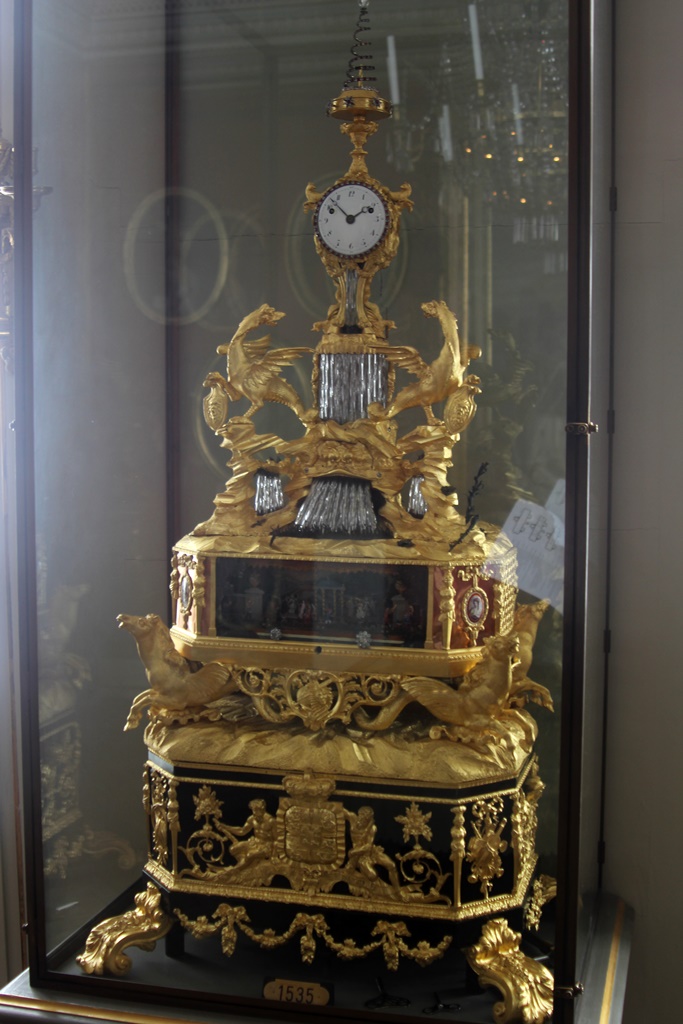 Next we found some articles associated with later monarchs: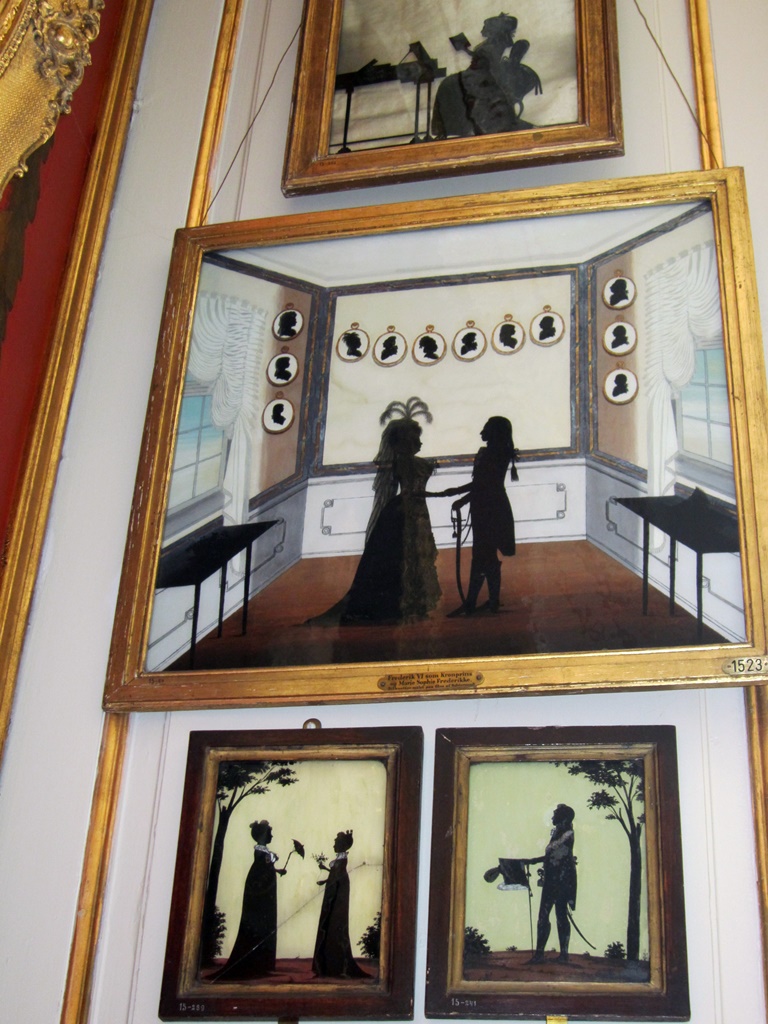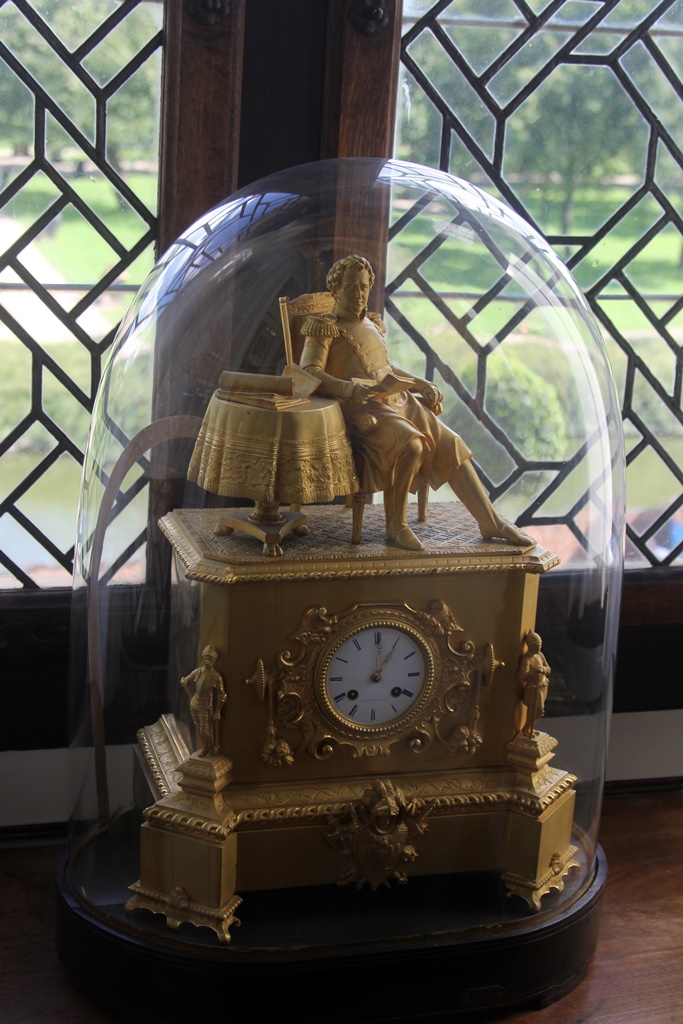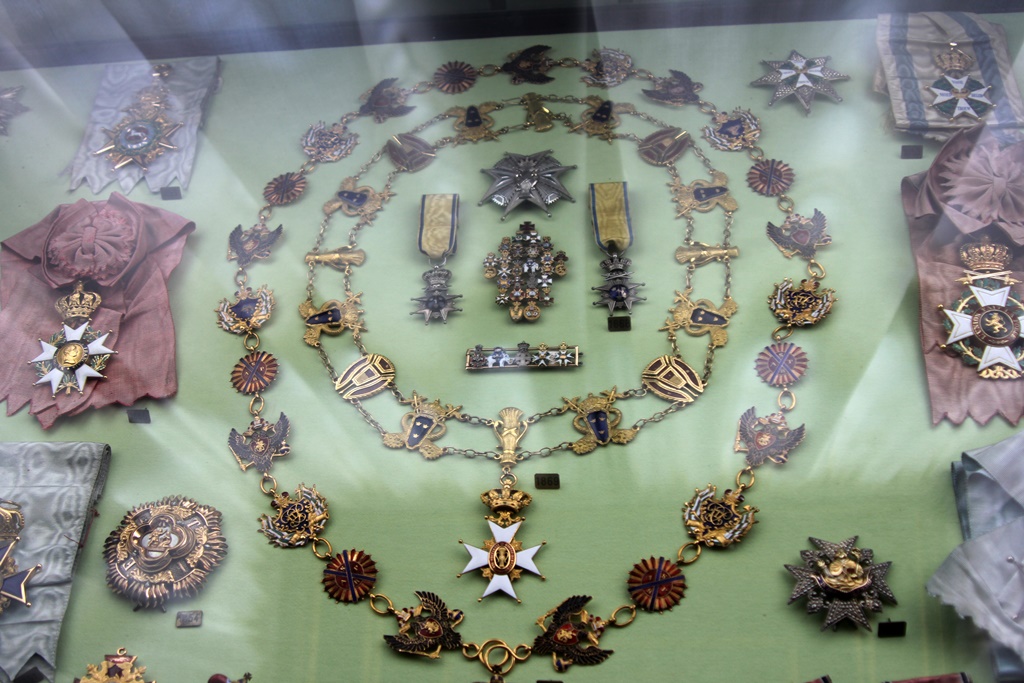 This brought us to the Bronze Room, a room dedicated to the display of a great number of artistic objects made of bronze.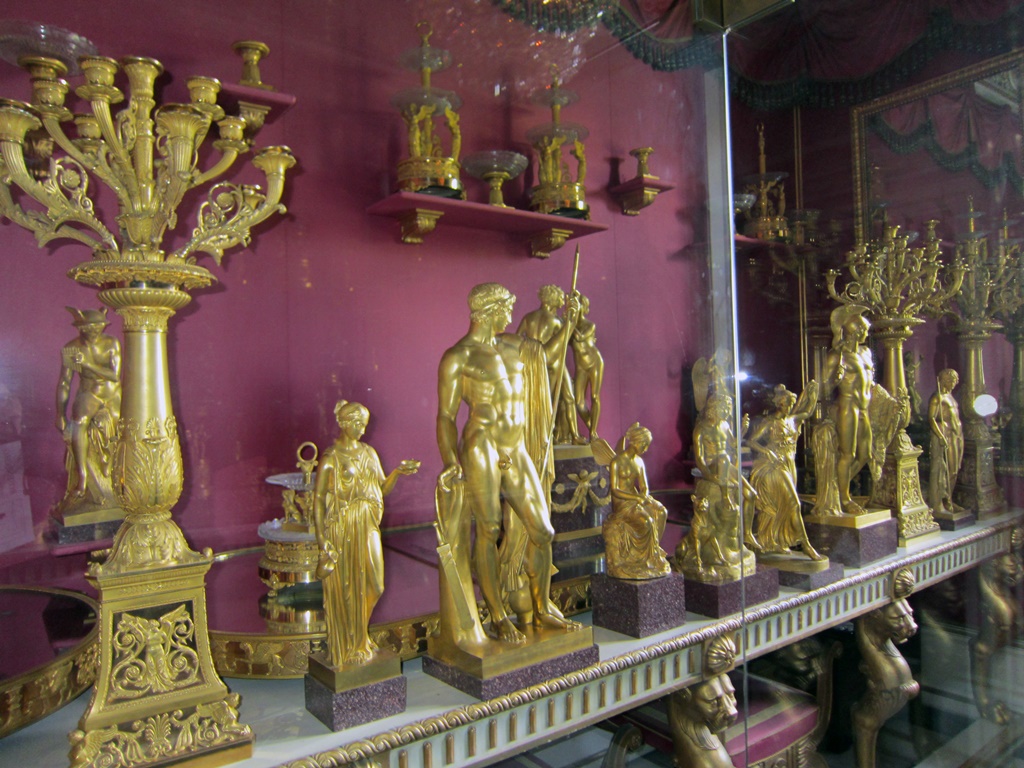 This took us to the top floor, which is mostly occupied by a long room known as The Long Room (also called the Knights' Hall). At either end of the room there are chairs of significance. One end has the King's and Queen's coronation thrones. The King's throne is made from narwhal tusk. Surrounding the thrones are three silver lions which date back to the 17th Century. They are still used during royal funerals, "standing guard" around the casket of the deceased monarch.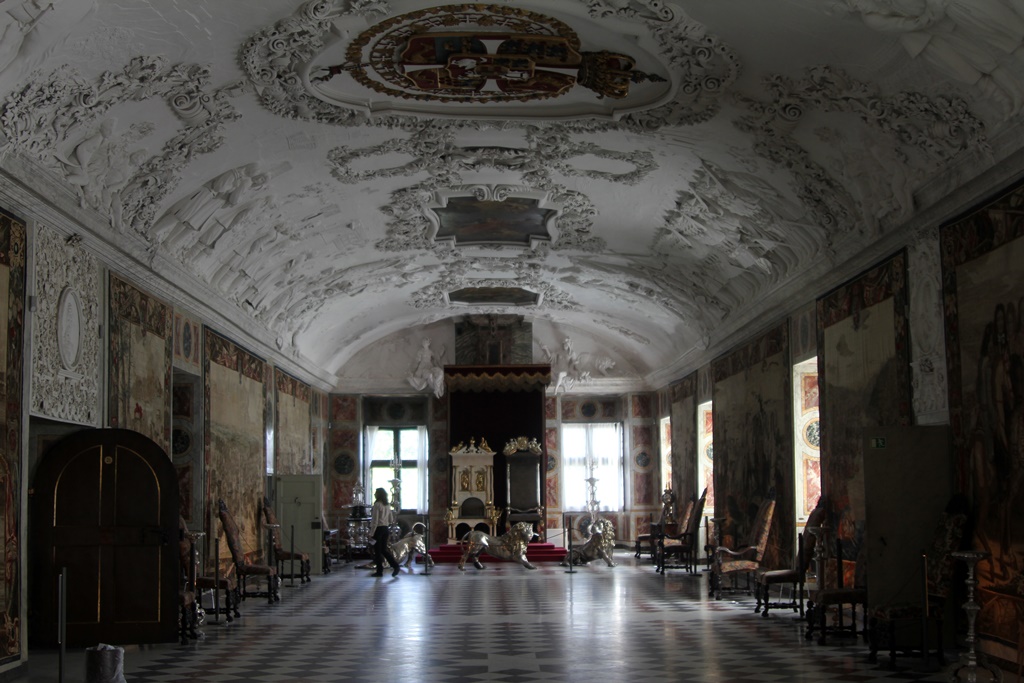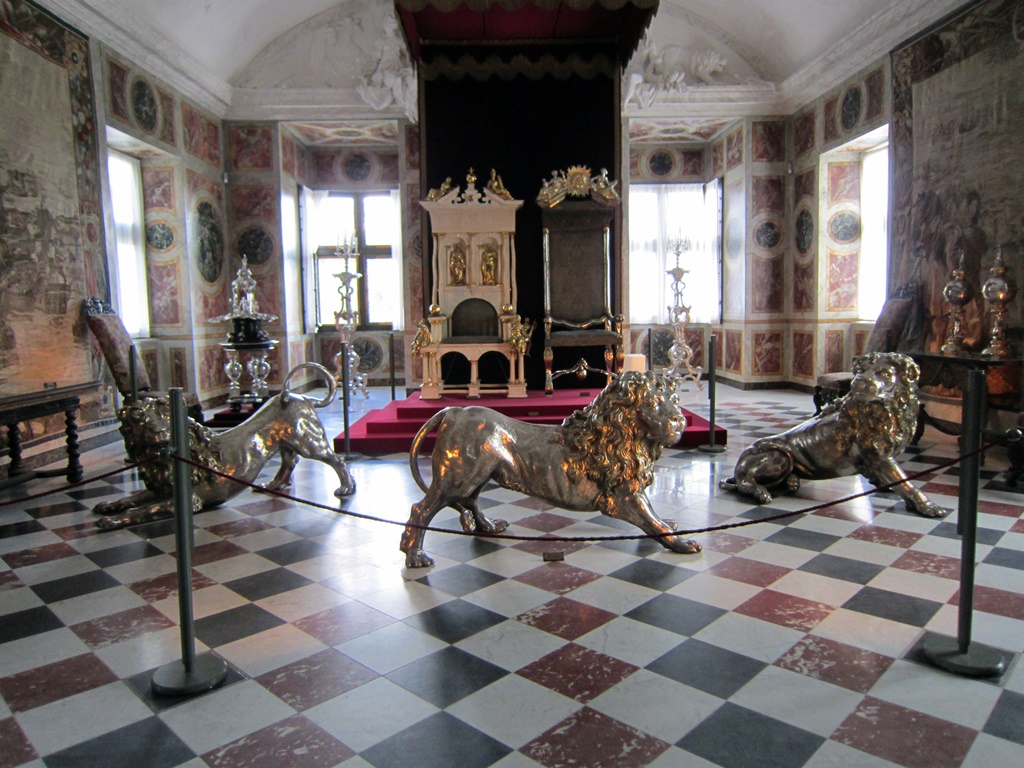 At the other end of the room is the audience throne of Christian VI, which was rescued from a fire at Christiansborg Palace in 1794.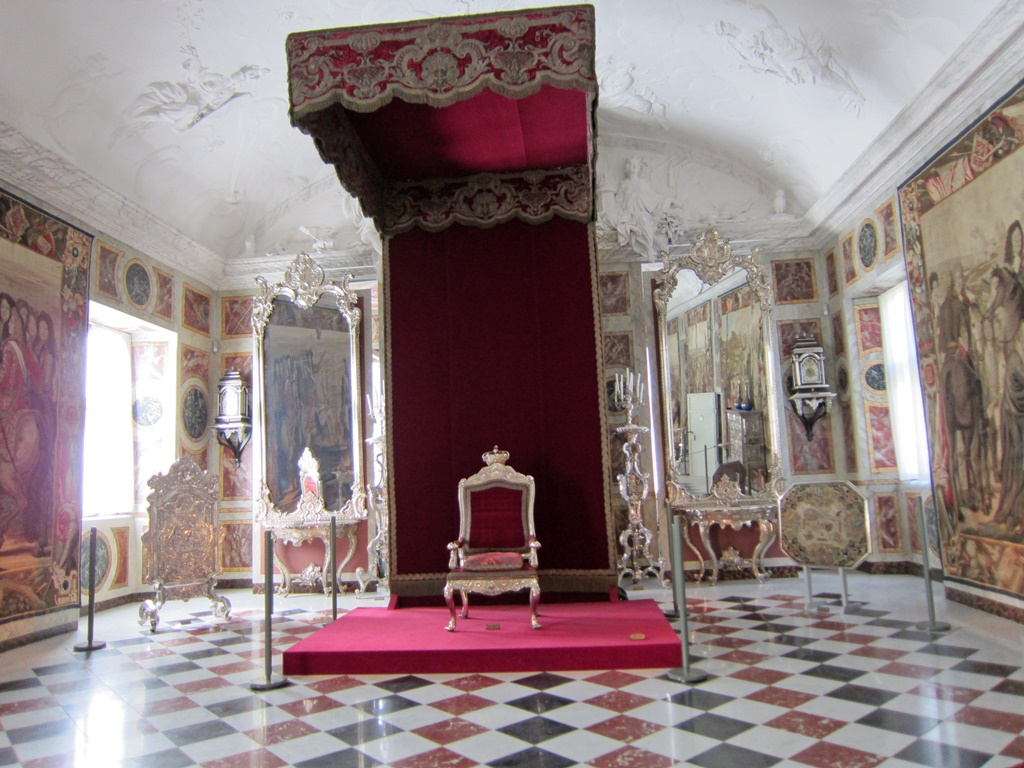 In between are hung tapestries depicting naval battles.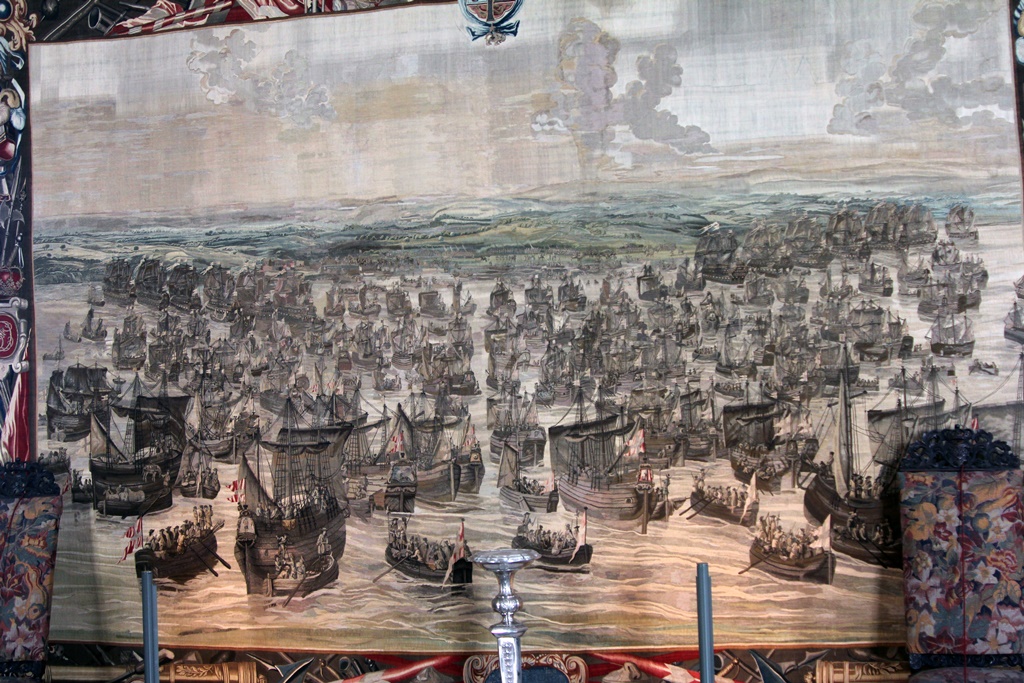 Also in between are doors to small rooms used to display themed collections of objects. One room holds glass objects that were mainly made in Venice, and another has porcelain pieces, some made at what was to become the Royal Copenhagen Porcelain Factory.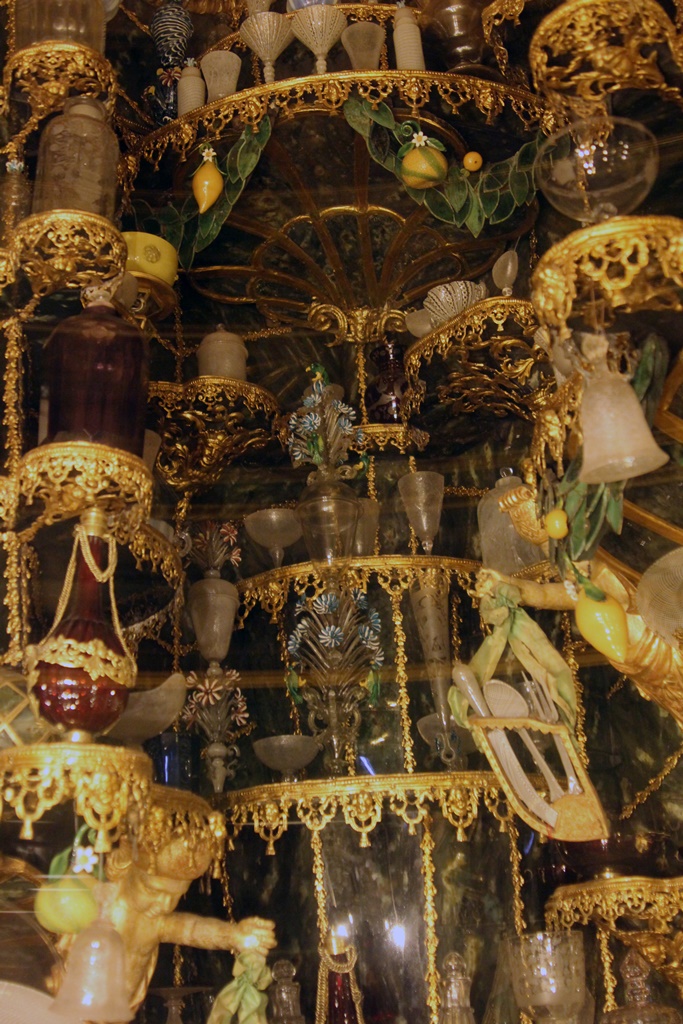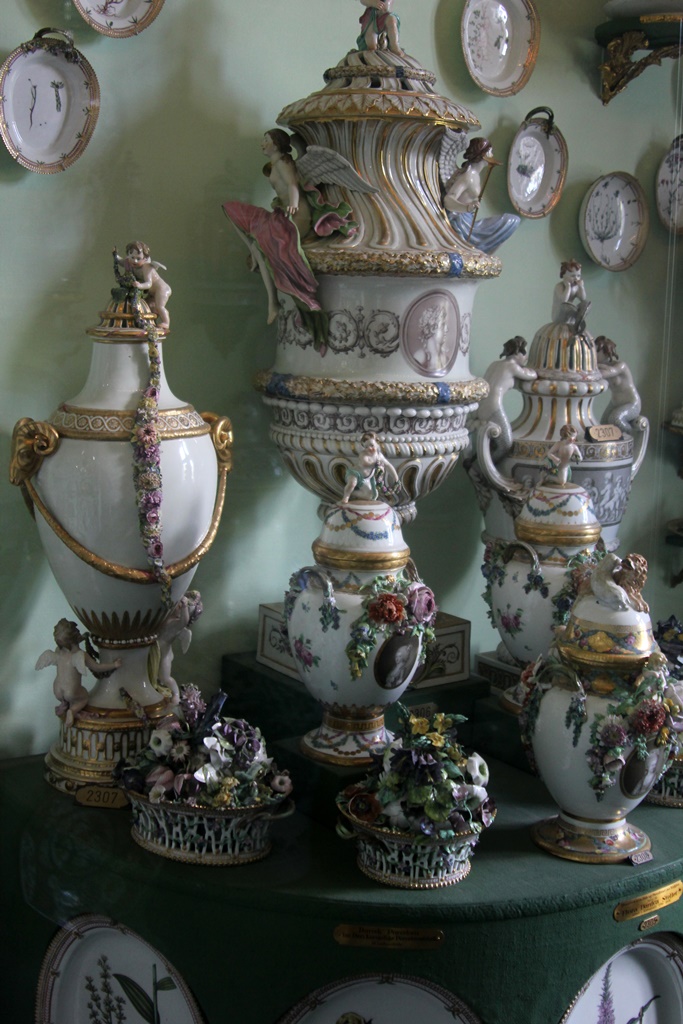 This only left us one more floor to explore, the one that's below the ground. I'm guessing the objects on this floor were placed there for additional security. This is because these objects include some of the most valuable in the country. Valuable enough to merit their own page on bobandnellasworld.com(!). Click onward to see the Danish Crown Jewels.