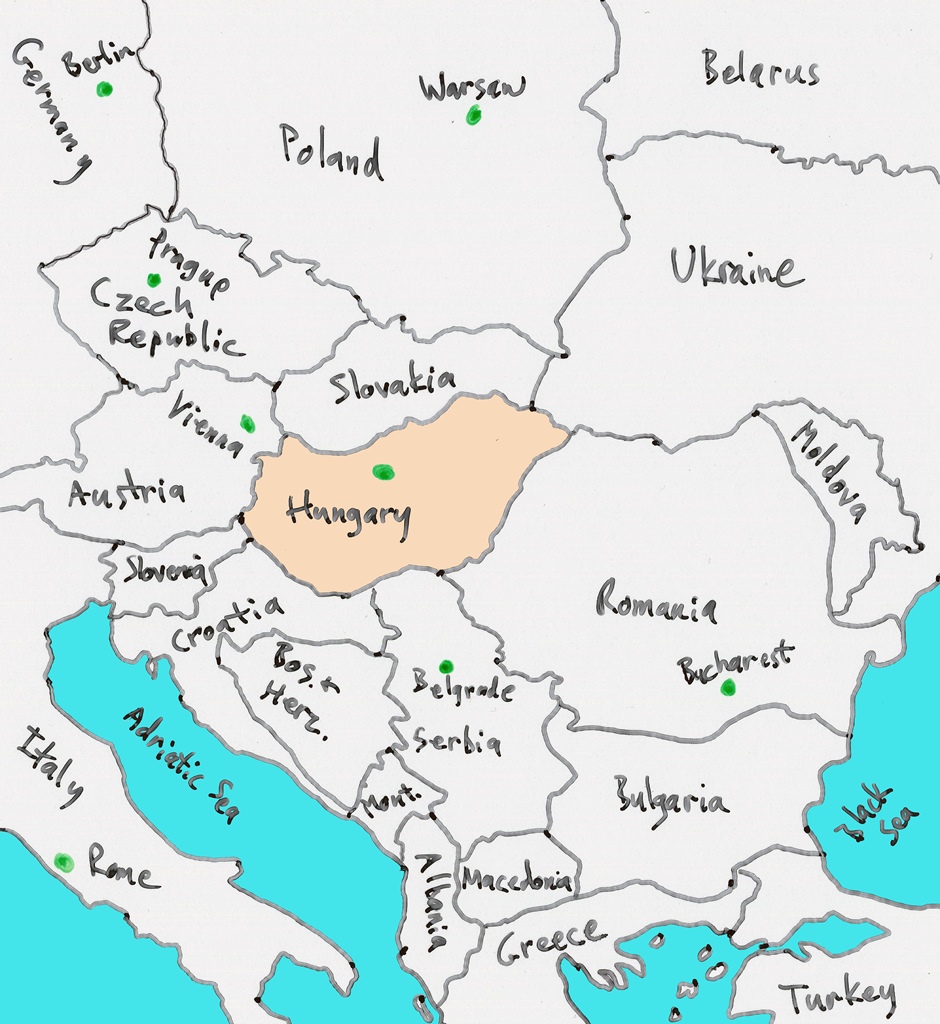 When planning our 2014 trip, we were feeling somewhat adventurous. Not adventurous enough to go someplace where we'd have to worry about yellow fever or ebola, but adventurous enough to want to go to places we'd never visited before, and maybe even to dip our toes into a place that wasn't as thoroughly westernized as the destinations to which we'd become accustomed. Hungary seemed to fit this bill pretty well. Not only was it located squarely in the former Soviet bloc (from whose stewardship it had mostly but not quite completely recovered), but it had a language that seemed unlike anything we had ever encountered (and which we had not the slightest chance of mastering to any extent by the time of our projected visit). On the other hand, the country is predominantly Christian (mostly Roman Catholic), and its capital, Budapest, was once the co-capital (with Vienna) of Habsburg-ruled Austria-Hungary, so it's not really as if we were planning an expedition to Mars. We decided to make Budapest our first destination on this trip.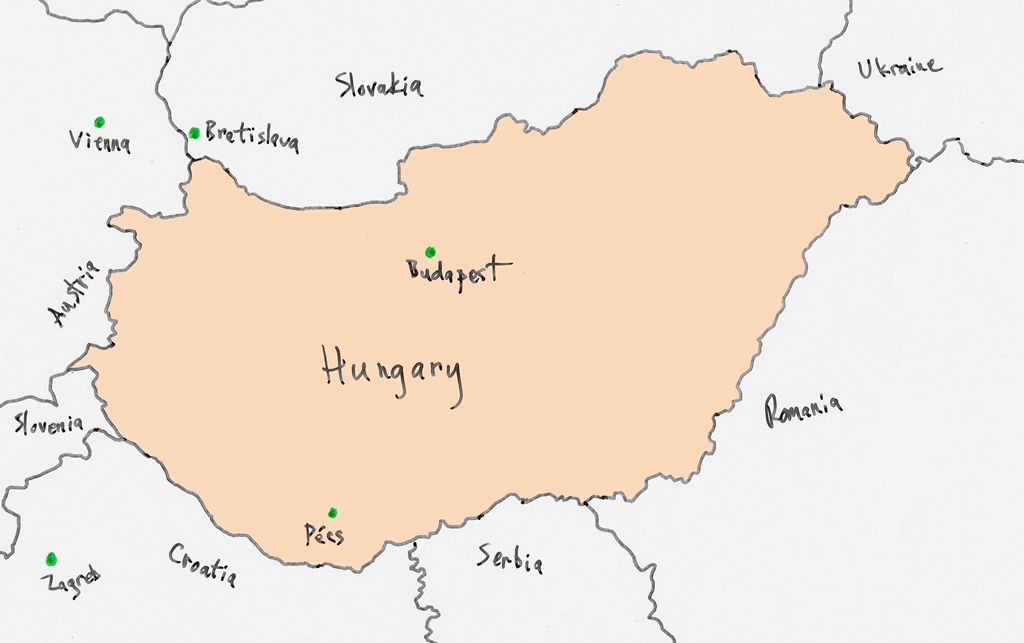 The Hungarian language reflects the streak of independence the Hungarian people have shown throughout their history. While Hungary is surrounded by countries (seven of them!) that speak Germanic and Slavic languages, and is not far from Italy, the ancestral home of the Romance languages, Hungary's language is none of these, instead being classified as a Uralic language, with roots in the region between the Ural Mountains and the Volga River in Russia. The only other European languages with similar origins are Finnish and Estonian. The Hungarian tribes, collectively known as Magyars (pronounced something like "mud-yors", for reasons unknown), first settled in the region of present-day Hungary around 895 A.D., and quickly took to launching generally successful invasions of Western Europe which extended as far as present-day Denmark and Spain. A defeat in 955's Battle of Lechfeld curtailed their ambitions somewhat, but Hungarians continued to misbehave around the Balkan Peninsula until about 970. Around this time, the new Grand Prince of the Hungarians, named Géza, made peace with the Holy Roman Empire and was even baptized as a Christian. Géza turned out to a less than fully committed Christian, continuing pagan practices and the consolidation of his power through "extreme cruelty". But he recognized Christianity as something that would need to be embraced sooner or later, so he treated visiting Christians well and pressed for the baptism of many Hungarians. His son, Stephen, became much more personally devout than his father, and after a short succession struggle with his uncle on Géza's death, he became Hungary's first king, Stephen I, with recognition from Pope Sylvester II, in the year 1000 (or maybe 1001 – the exact year doesn't seem to be too clear).

Several tumultuous centuries ensued, with Hungary being both perpetrators and perpetratees of a number of conquests. There were Tartar invasions, more than a century of rule by Turks, and contentious rule by Austrian Habsburgs. The dual monarchy of Austria-Hungary was formed in 1867, and modernization followed, along with economic development. But the devastation of World War I also followed, and the Austro-Hungarian alliance was broken as a condition of the armistice, with significant loss of territory for Hungary in particular. Between the wars, Hungary drifted toward antisemitism and suppression of communists who were attempting to gain influence. Nazi Germany accordingly welcomed Hungary as an axis power when World War II started, and in the early going, Hungary regained some of the territory it had lost. But they started having second thoughts after costly defeats to the Soviet Army. On getting wind of this, German forces occupied the country and installed their own puppet government before the Hungarians could take any action. The puppet government, as would be expected, participated in the Holocaust, deporting hundreds of thousands of Hungarian Jews, mostly to Auschwitz. After the country was eventually overrun by the Red Army, many more thousands of Hungarians were executed, murdered, or exported as slave labor. The Soviets continued to run the country as a satellite state until 1989. During a brief, unsuccessful revolution in 1956, nearly a quarter of a million Hungarians used a brief period of open borders to escape the country, moving to various destinations in the West. Since the eventual Soviet exit, the country's transition back to a capitalist economy has been somewhat difficult but largely successful. Hungary has been a member of NATO since 1999.

Getting to Budapest proved to be somewhat complicated. Philip and Connie had other commitments, so they weren't able to accompany us on this trip (maybe they are actual adults). We like travelling with them, so we were sorry they couldn't come, but at least they were spared some of the messy travel arrangements. We started with a five-and-a-half hour flight to JFK Airport in New York, where we had a three-and-a-half hour layover.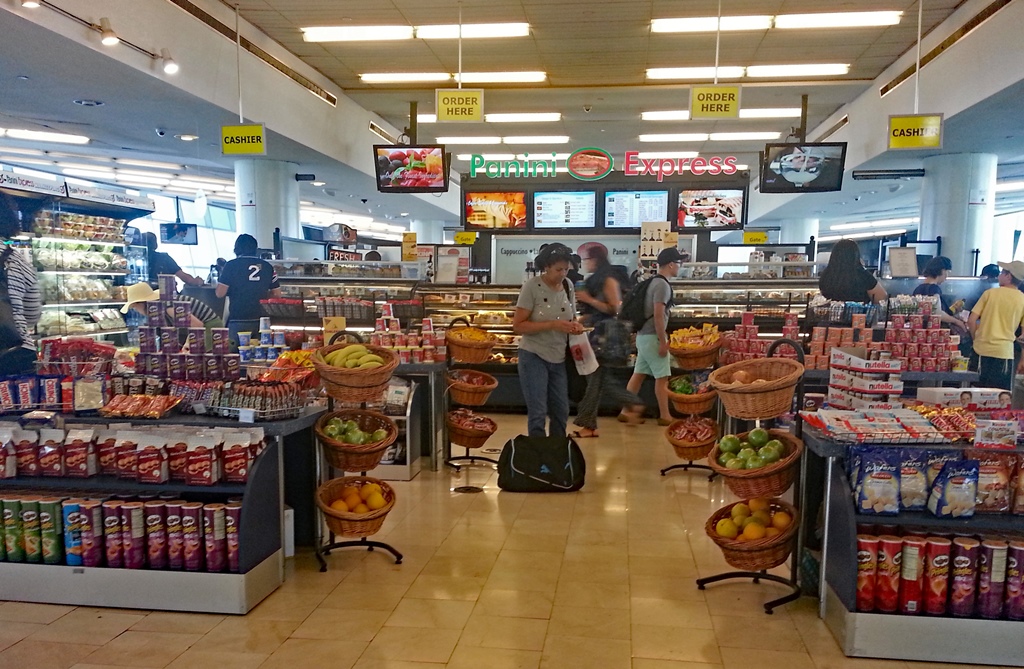 After the layover, we boarded a Brussels Airlines flight (to Brussels, Belgium of all places) which took seven-and-a-half hours to cross the Atlantic. We only had a two-hour layover in Brussels, but we managed to find a quick breakfast at a serve-yourself place in the airport.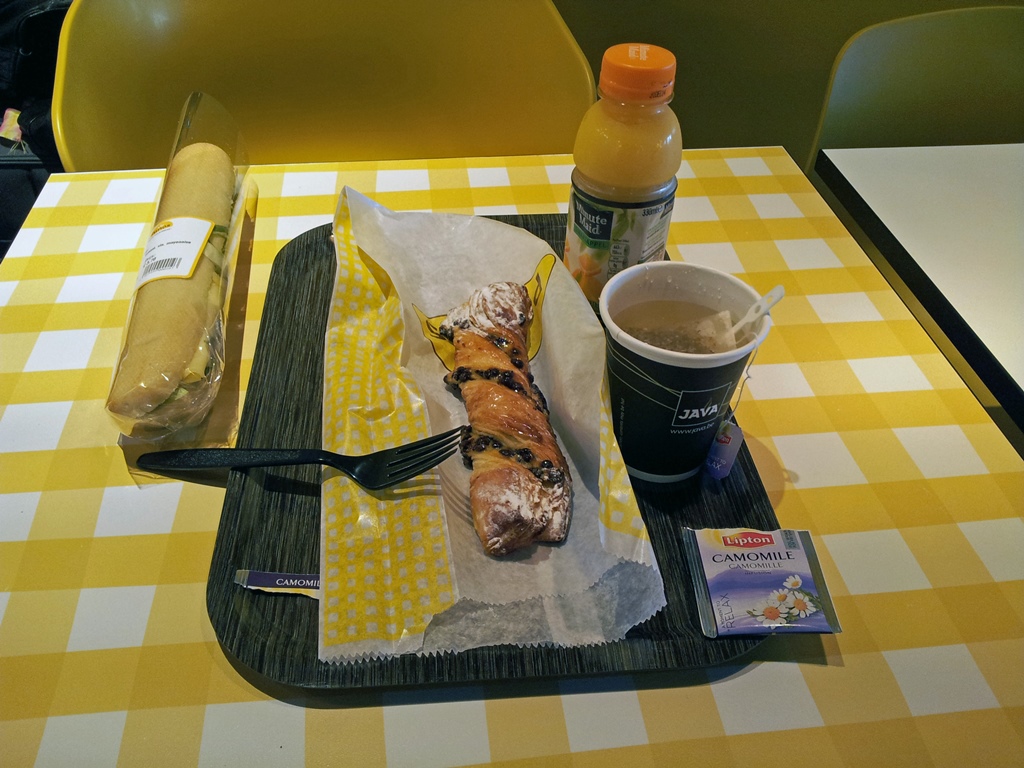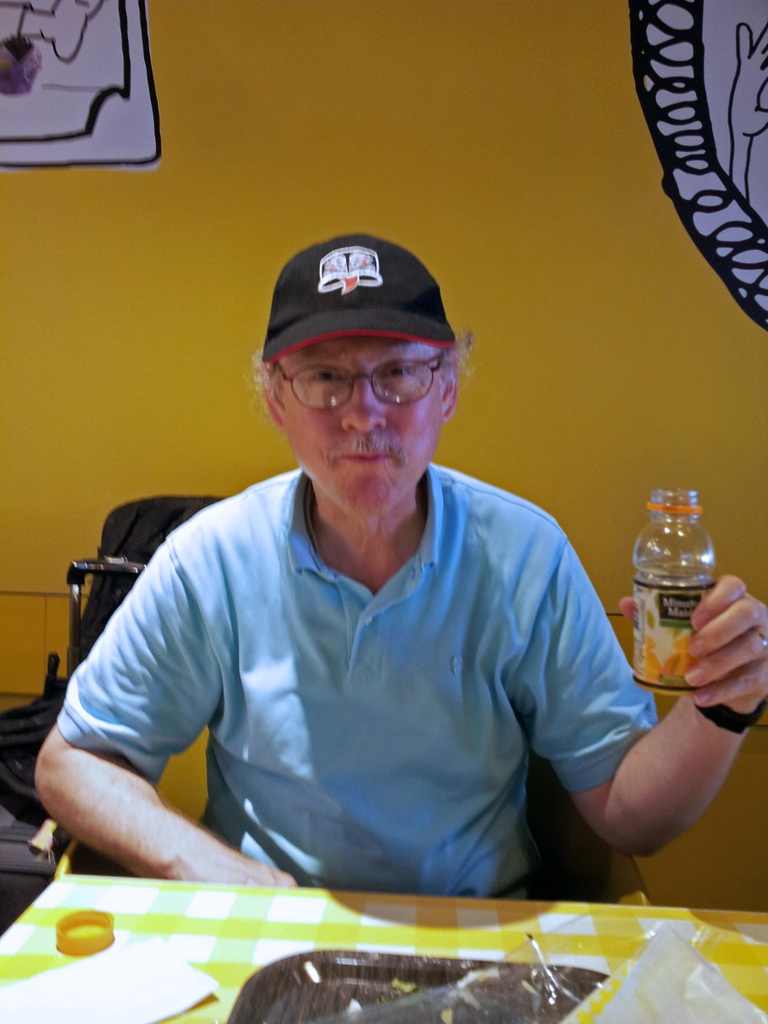 Being Brussels, there was naturally some fabulous Belgian chocolate for sale in the airport. We took a quick look (and some pictures), but we didn't buy anything, as we were in a hurry to get to our next flight.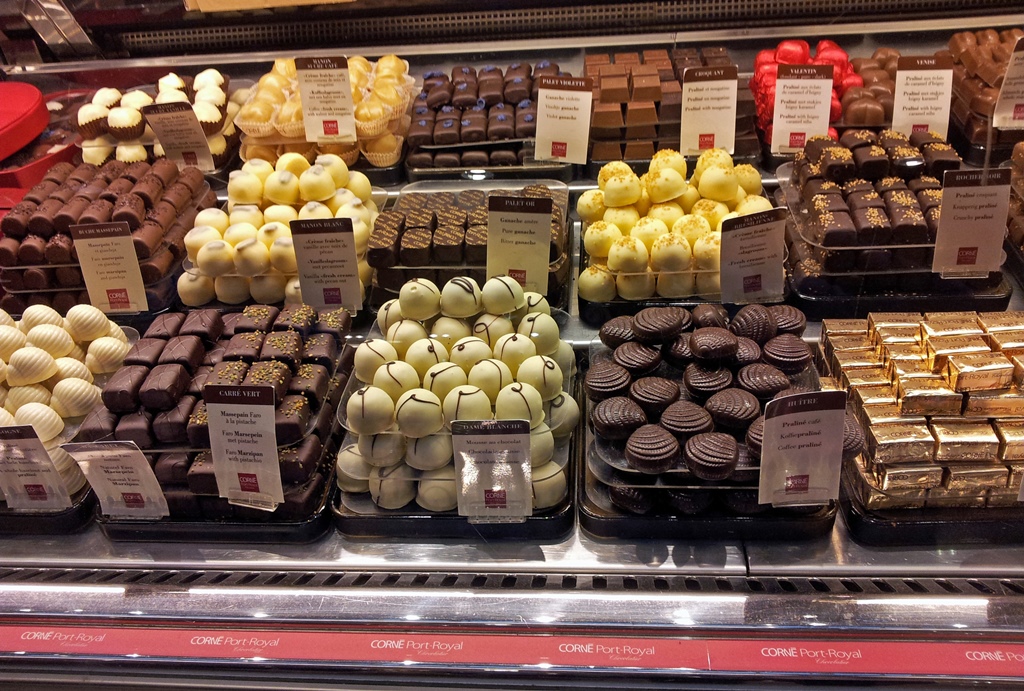 The next flight was another one operated by Brussels Airlines, which took us the rest of the way to Budapest in about two hours. When we were getting close, we could see the Danube River wending its way across the countryside. It would be easy to say the city of Budapest is cut into two pieces by the Danube (which flows southward through the city on its way to the Black Sea), and it is, but Budapest was not a single city until 1873. Until that time there was a city on the west bank called Buda, and another on the east bank called Pest (no, I didn't make this up). For centuries the two cities were close enough together (the river is about 1800 feet wide in Budapest) to shout greetings and curses at each other, but there was no permanent connection between them until the Chain Bridge was opened in 1849. The combined city, with about 1.7 million people, is now the largest in Hungary and the 9th largest in the EU.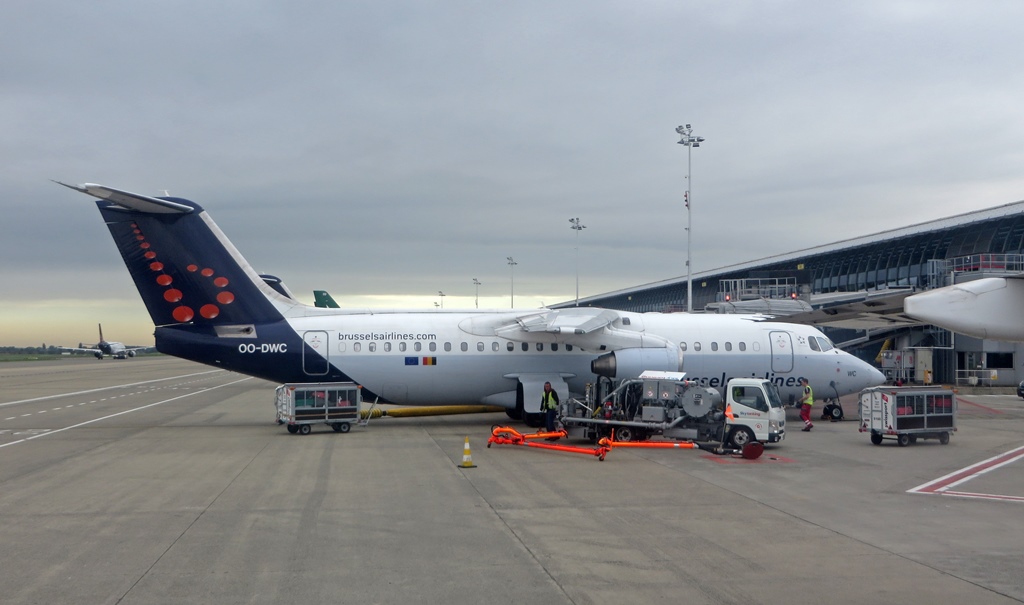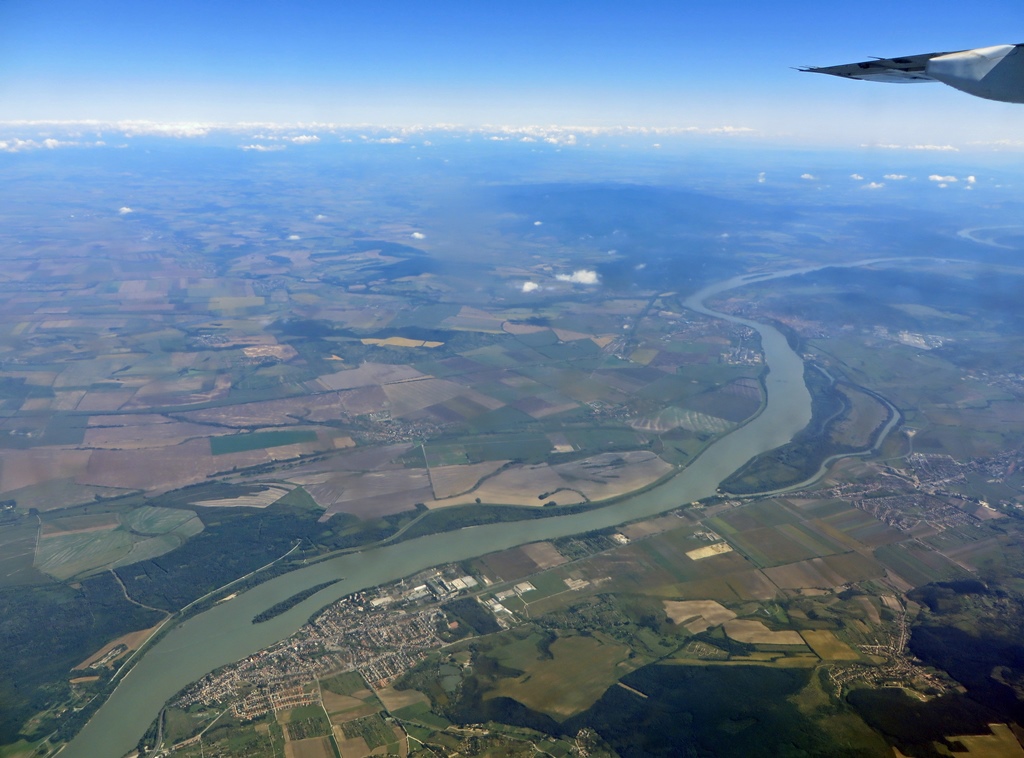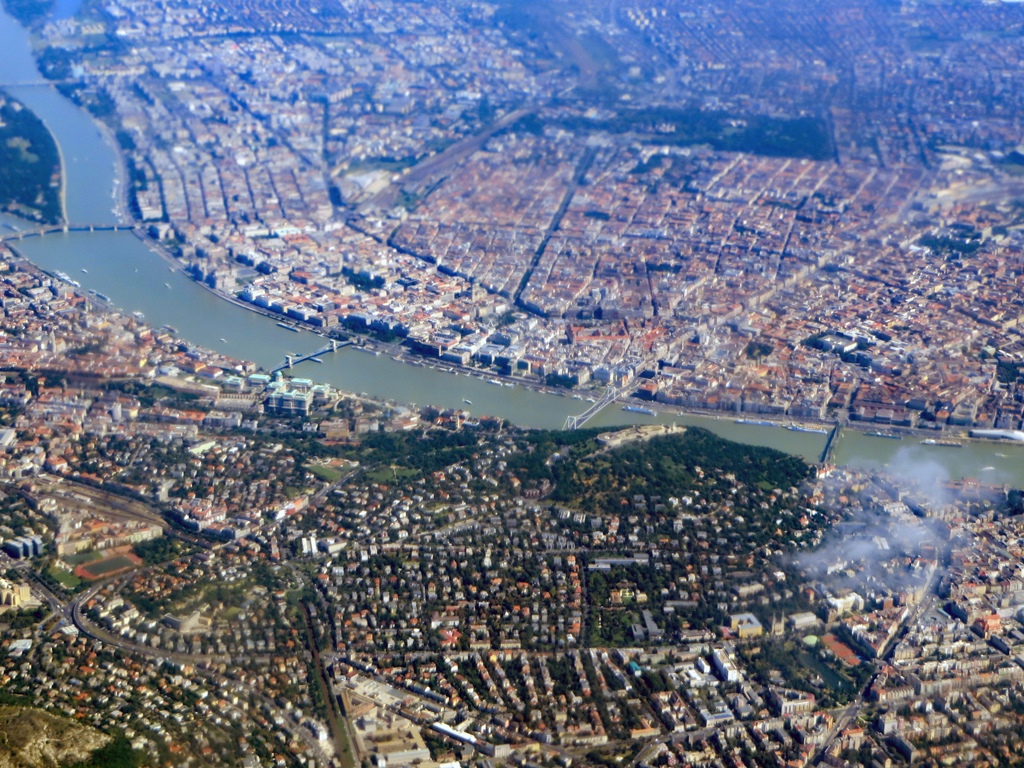 On landing, we found an ATM in the airport and withdrew several forints (the local currency, of which there are now about 270 to the U.S. dollar) and boarded a taxi for our hotel. Expenses in Budapest are reasonably low, certainly for a European capital, and we were able to stay in a pretty nice hotel, the Le Meridien (which has become a Ritz-Carlton since our visit).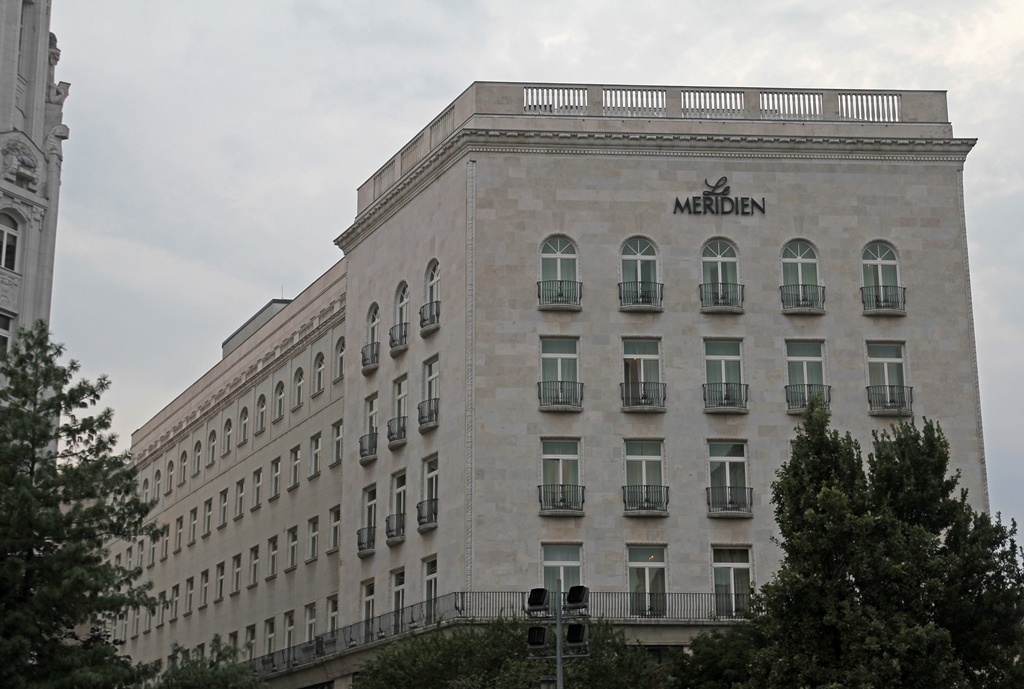 After getting settled, we went out in search of food, as it was approaching 2PM local time, and we had become hungry since our hasty breakfast in Brussels. Not really knowing where we were going, we headed south from the hotel and eventually found a promising-looking place, which appeared to have a garden growing on its walls. Nella went for a local specialty, goulash soup (the main ingredients seemed to be beef, vegetables and paprika).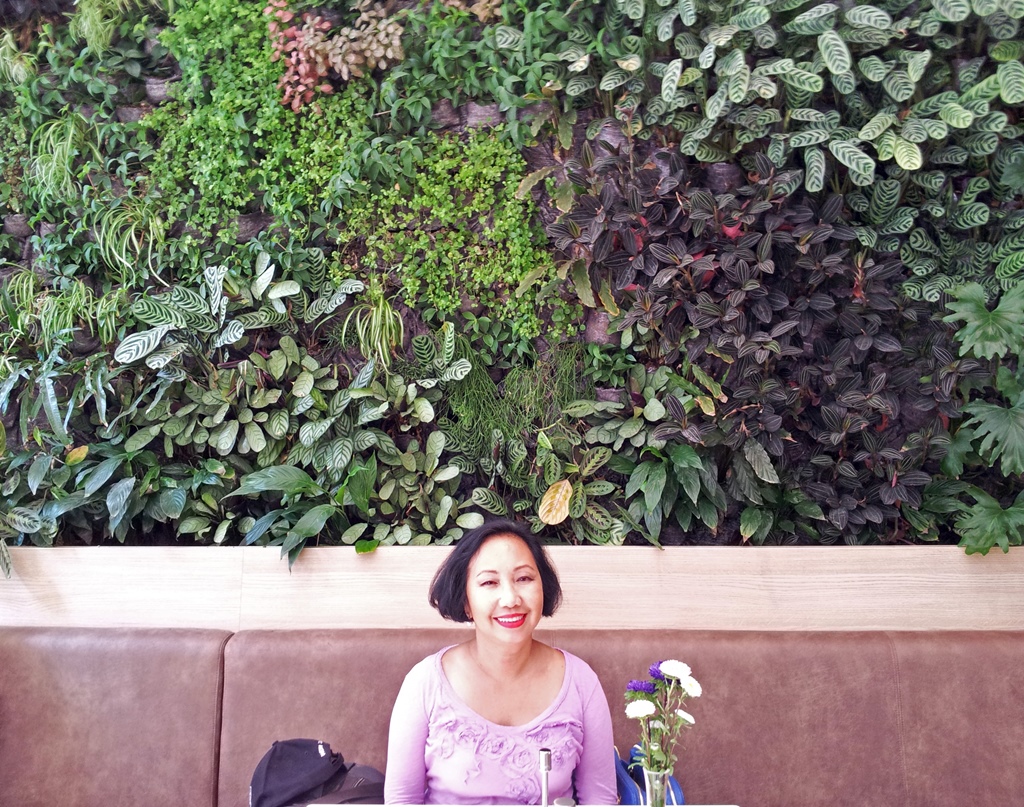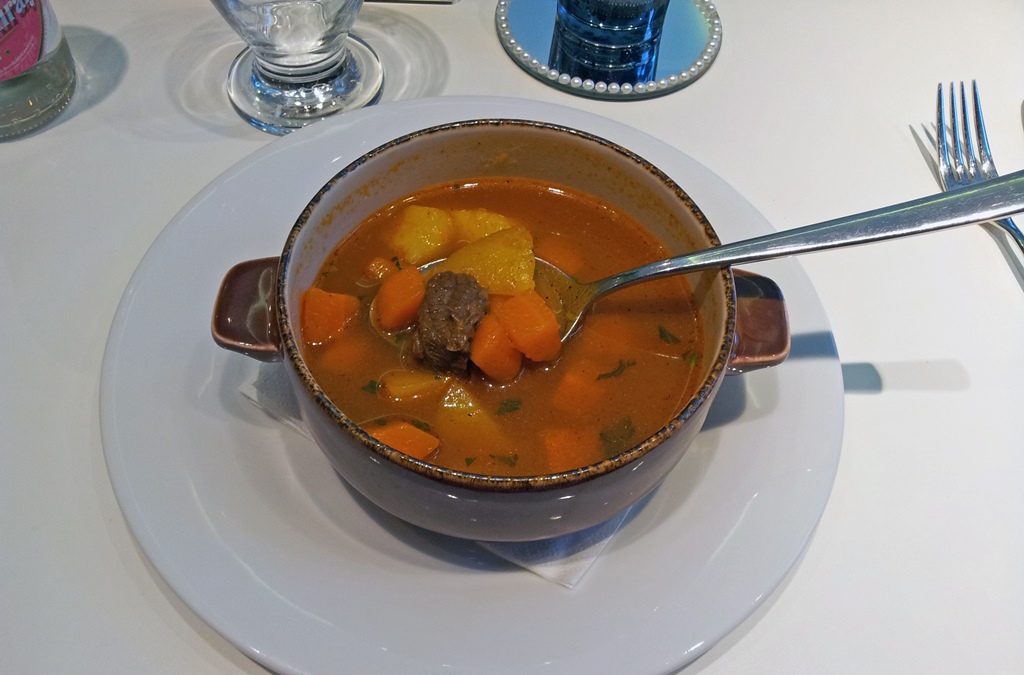 At this point we discovered that we were exhausted, so we found our way back to the hotel and took a nap. On waking up, we found it was dinnertime, so we went out looking for food again, this time heading north. After eating we weren't feeling sleepy at all (being still on U.S. time), so we went exploring for a little bit. We quickly found a large church, in front of which there was a large square filled with stalls selling food and drink. The church was closed and we weren't hungry anymore, so we took some pictures and headed toward the Danube. As we were on the Pest side of the river, we headed west.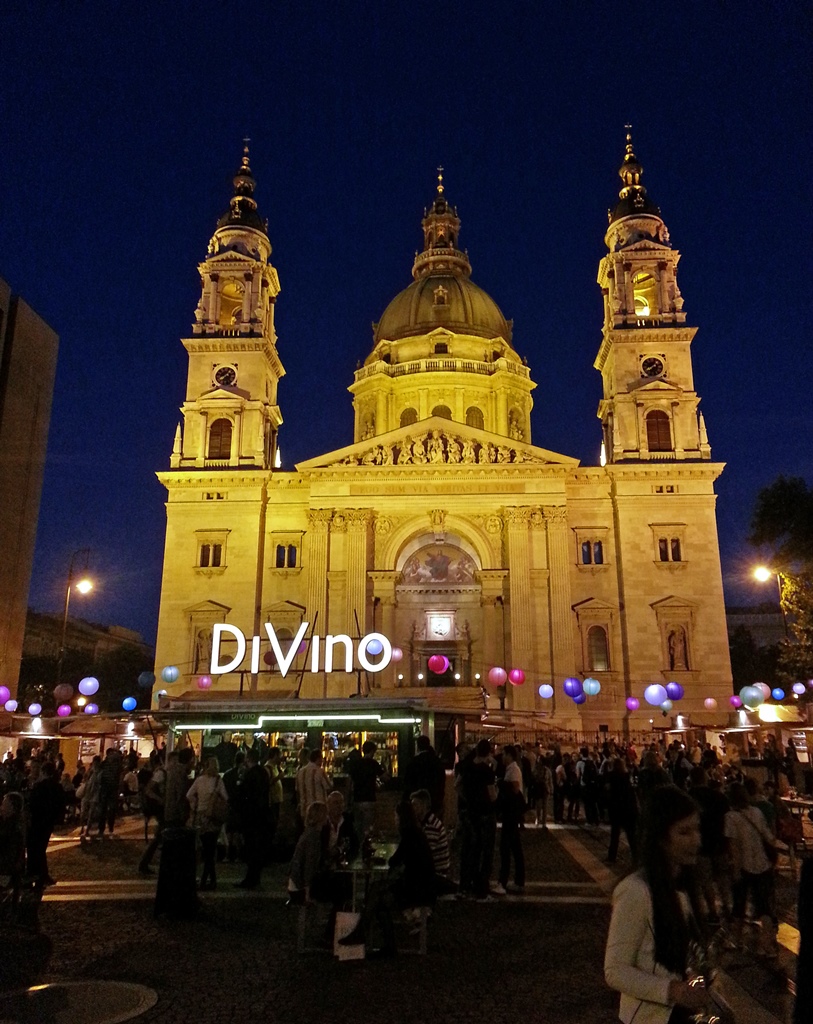 We eventually reached the river, a little bit north of the Chain Bridge. The Chain Bridge (officially called the Széchenyi Chain Bridge, named for one of its early supporters), as stated above, was the first permanent bridge across the Danube in Budapest, and was finished in 1849. It was blown up by the Nazis in January of 1945 to make things difficult for the approaching Red Army, and was rebuilt in 1949. Fans of Katy Perry may recognize it from its appearance in her "Firework" video. Looking across the river from Pest, it is apparent that the Buda side is much hillier, with a number of structures on the high ground near the river. We would be exploring some of these later.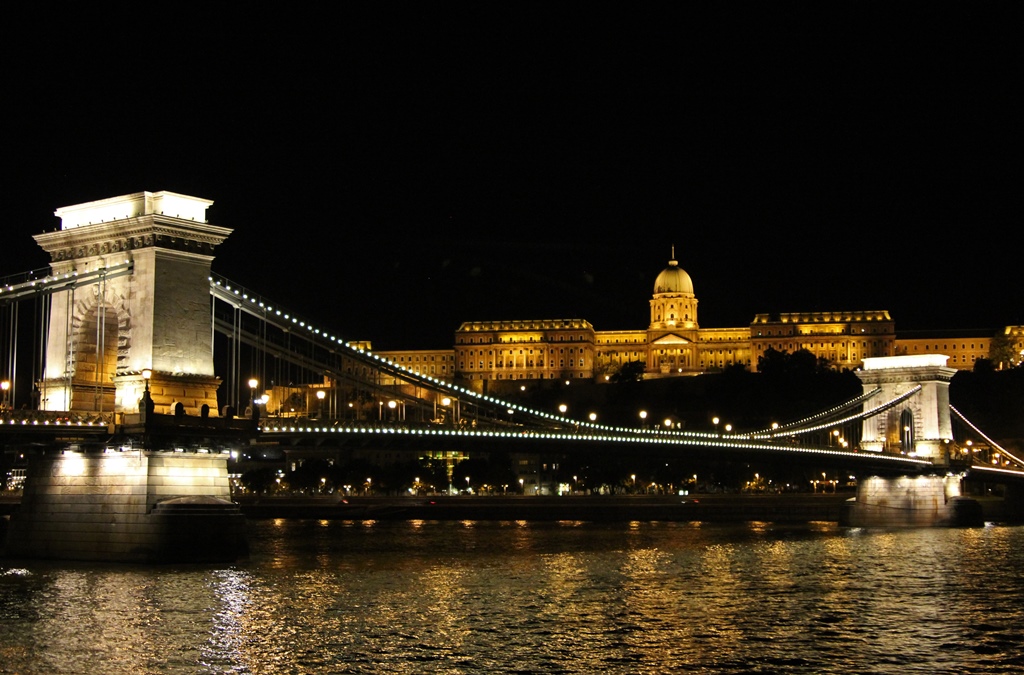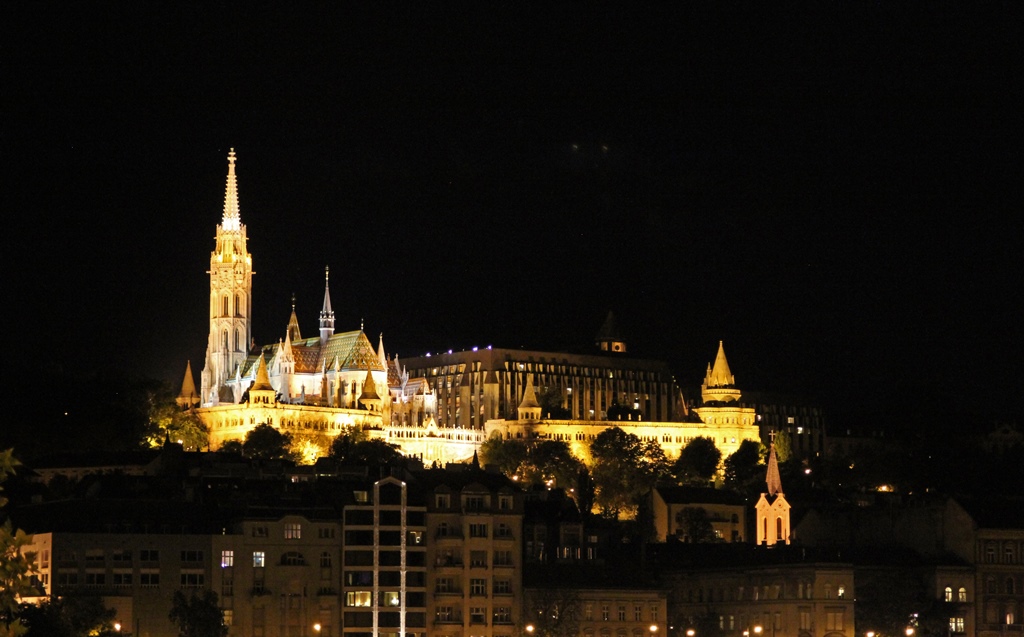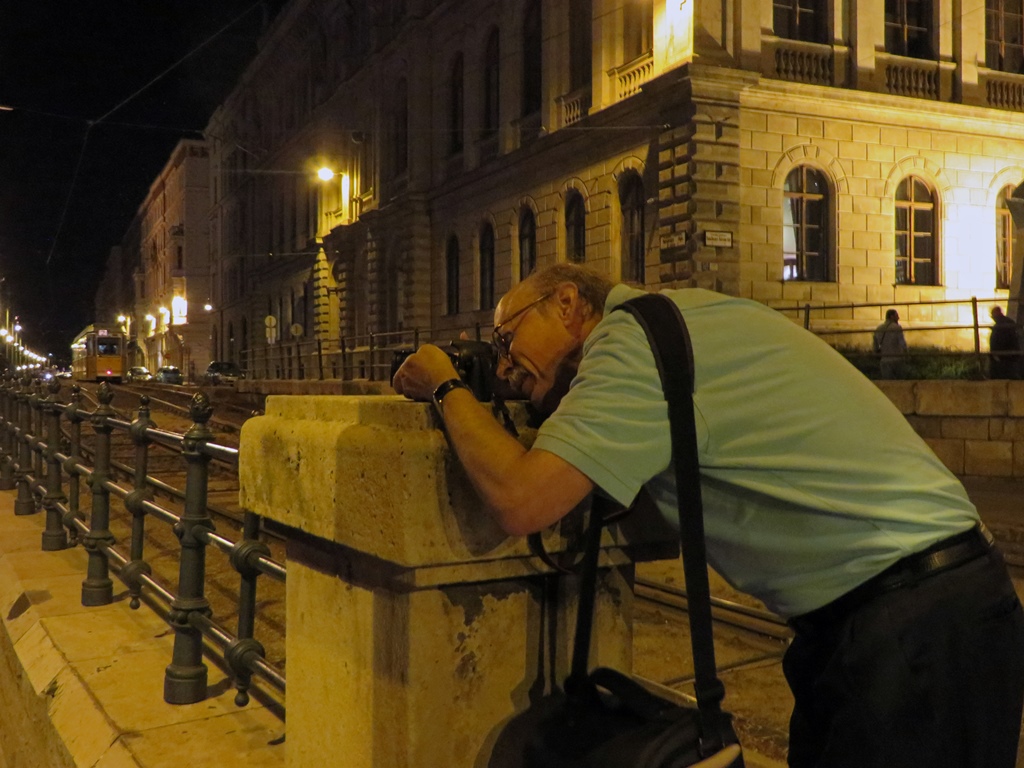 Still feeling energetic, we decided to cross the bridge to find out what we could see from the other side.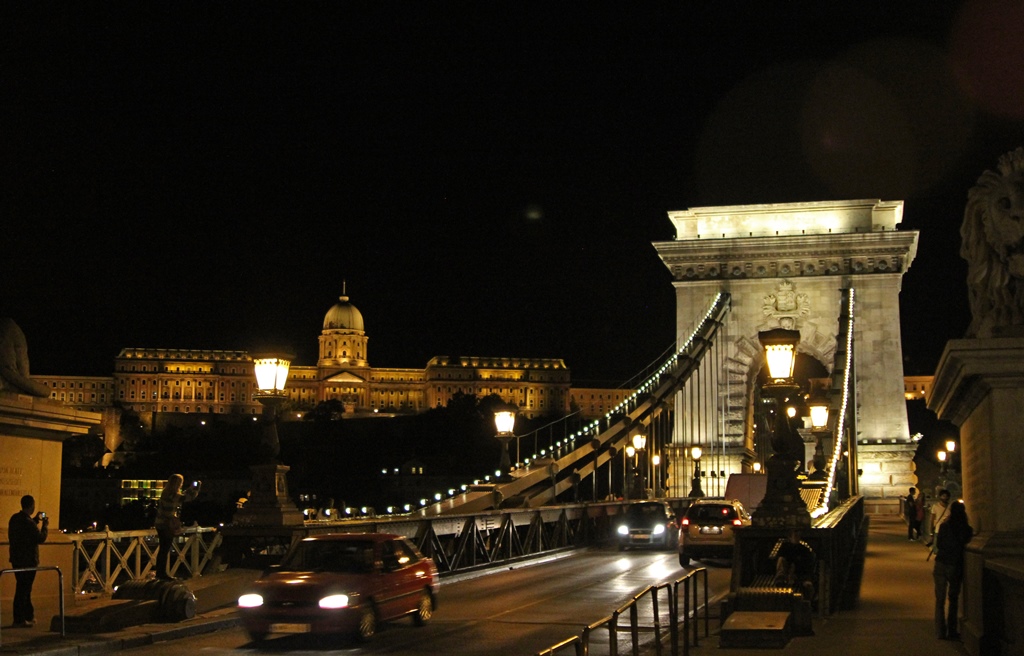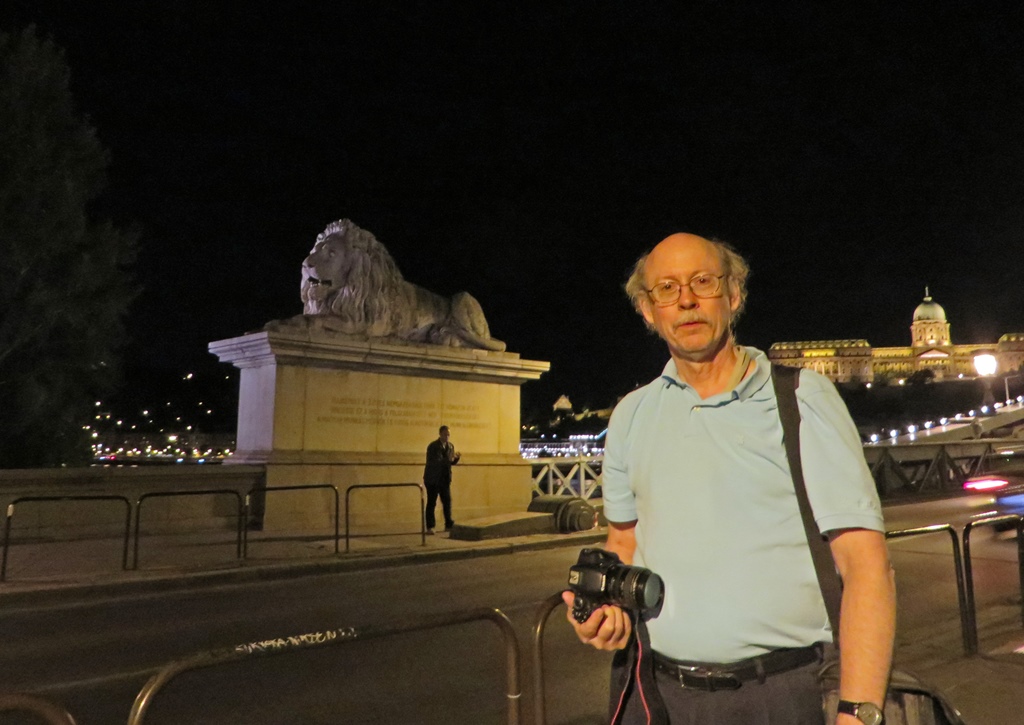 Looking upstream from the bridge, we could see a large gothic-looking building on the Pest side. This was the Hungarian Parliament building, which we would also be exploring more closely later.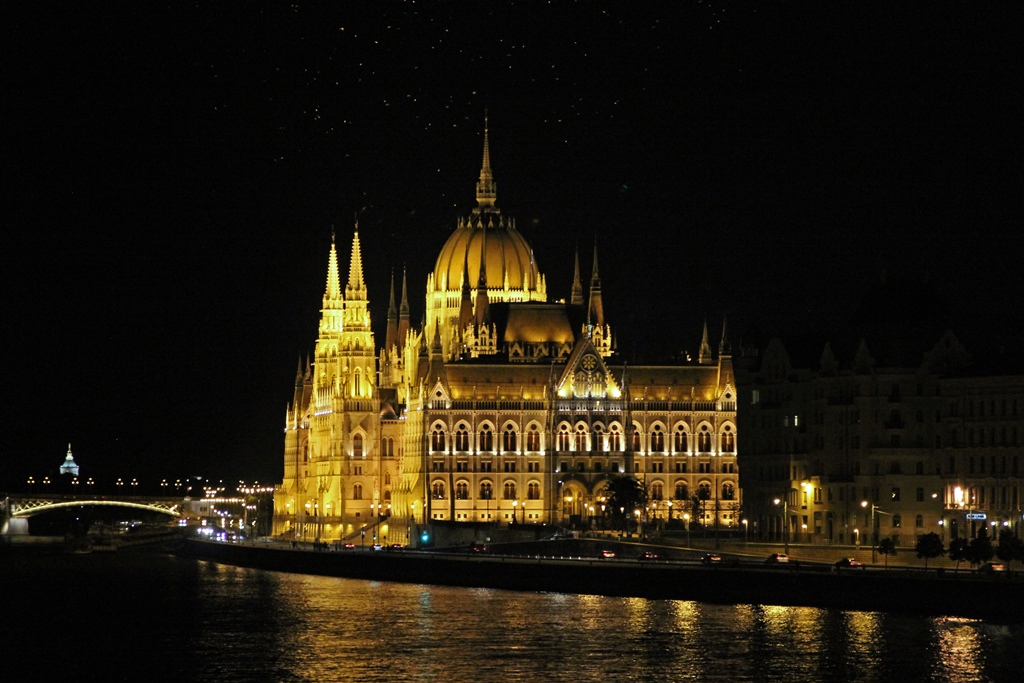 There are large stone lions at both ends of the bridge. These date back to 1852, and apparently survived the Nazis' mistreatment of the bridge.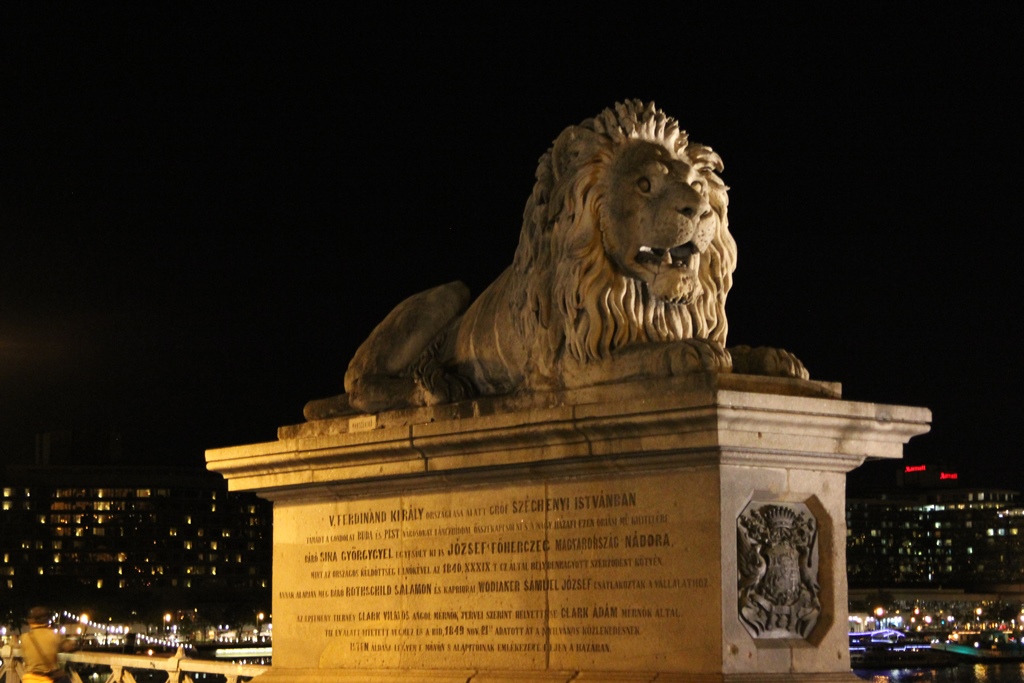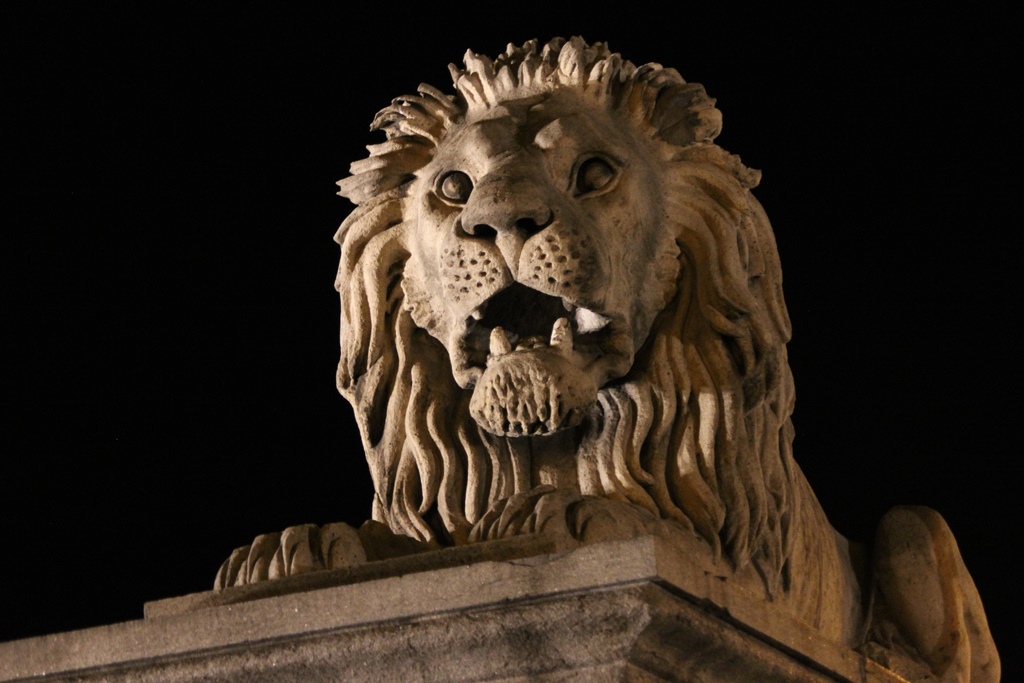 At the Buda end of the bridge, the roadway enters a tunnel which cuts through the hill atop which Buda Castle is perched. This tunnel was completed in 1856, and obviously makes it much easier to get to the other side of the hill.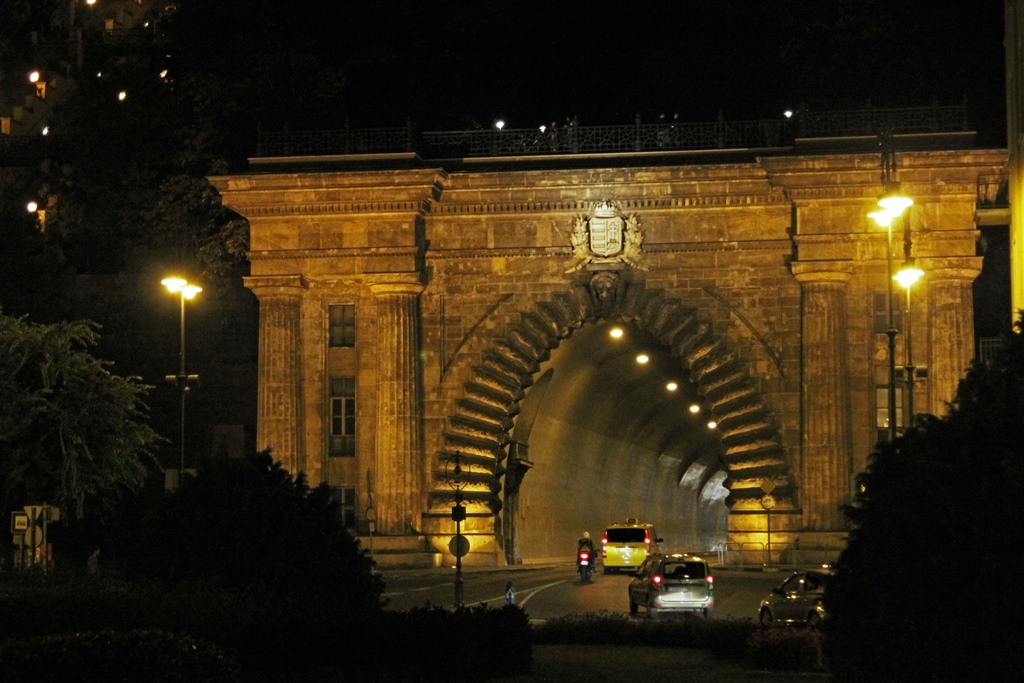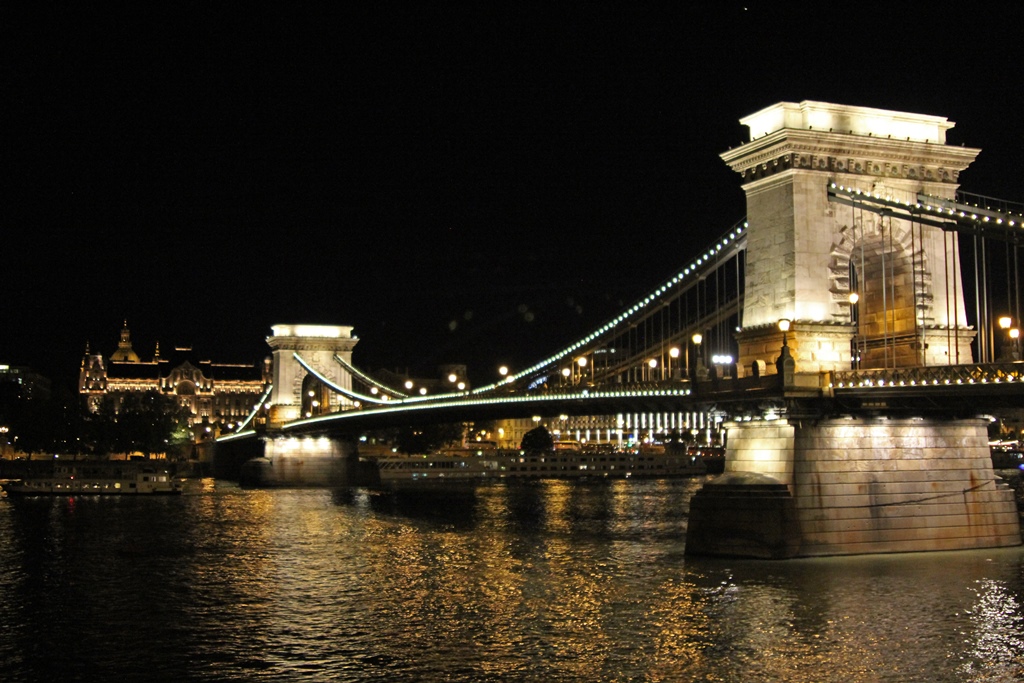 We walked upstream on the Buda side to get a better look at the Parliament building. Above the well-lit building we could see some creatures flying around in circles. We decided they were some kind of birds.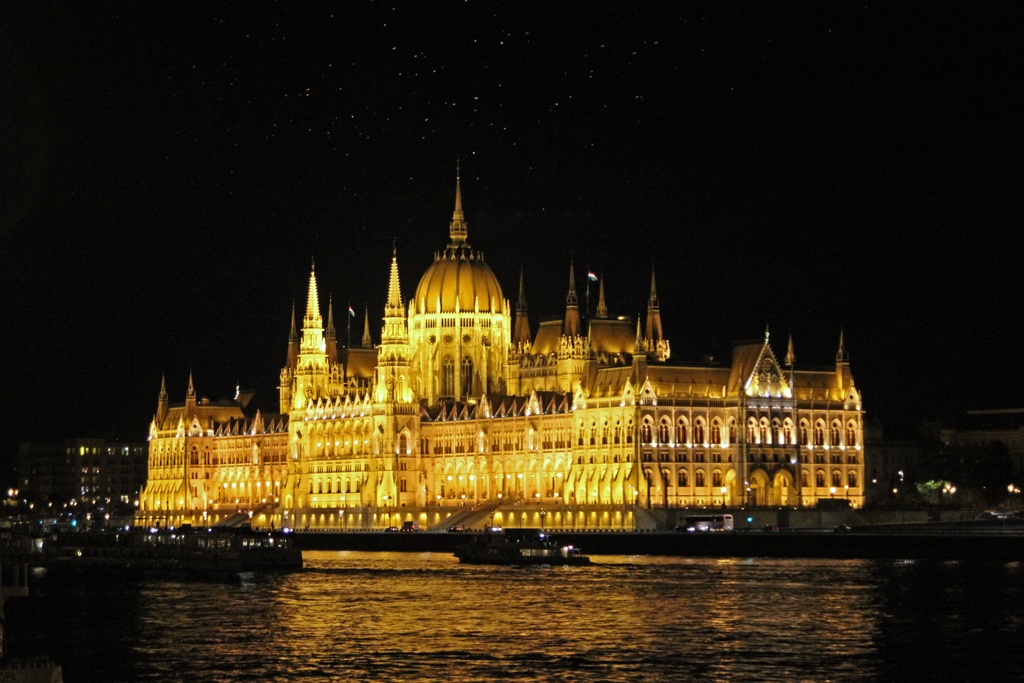 We retraced our steps back to the bridge, passing under an elaborate archway en route. We crossed the bridge back to Pest, on the way noting some boats tied up along the river, as well as the next bridge downstream (there are now several of them), called the Elisabeth Bridge (named for a popular Austro-Hungarian empress who was tragically assassinated in 1898). At the Pest end of the bridge is a large building called the Gresham Palace (now a Four Seasons hotel). This building was originally built by the London-based Gresham Life Assurance Company in 1906 as an office building/residence. During the Soviet occupation, it was used as a Red Army barracks and later as a (by this time decaying) apartment building. The building was purchased by investors in 1998 and, after extensive restoration, was opened as a luxury hotel in 2004.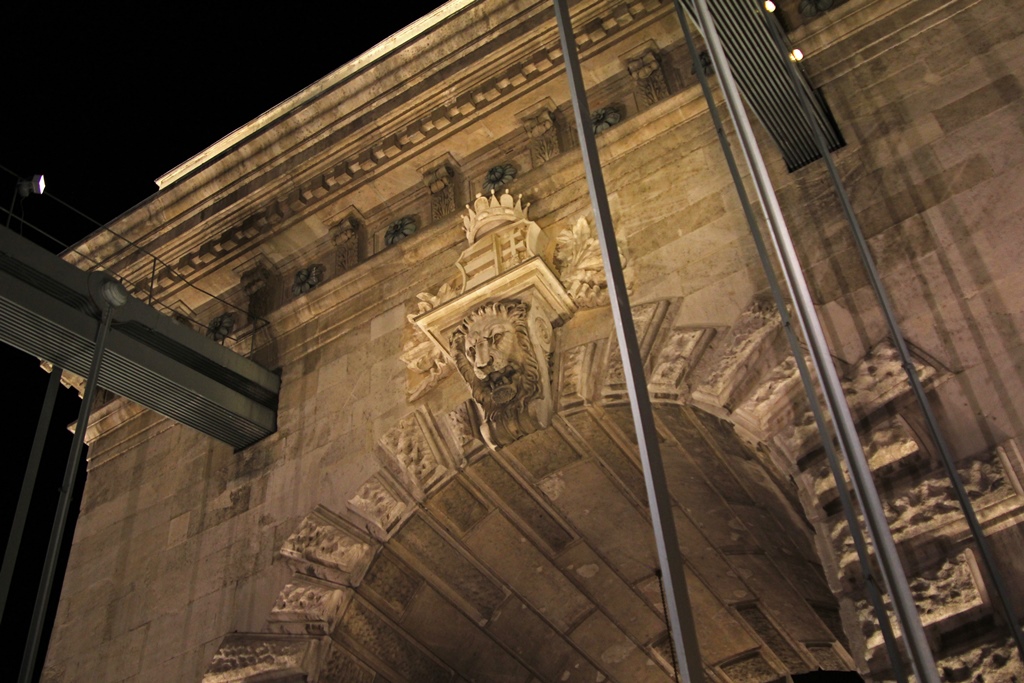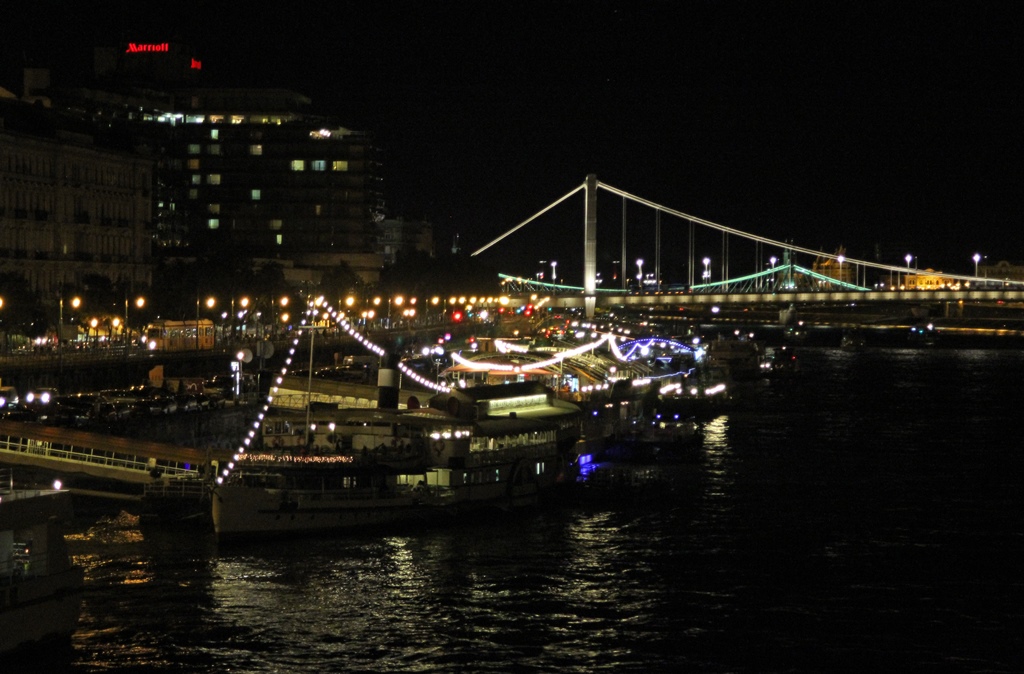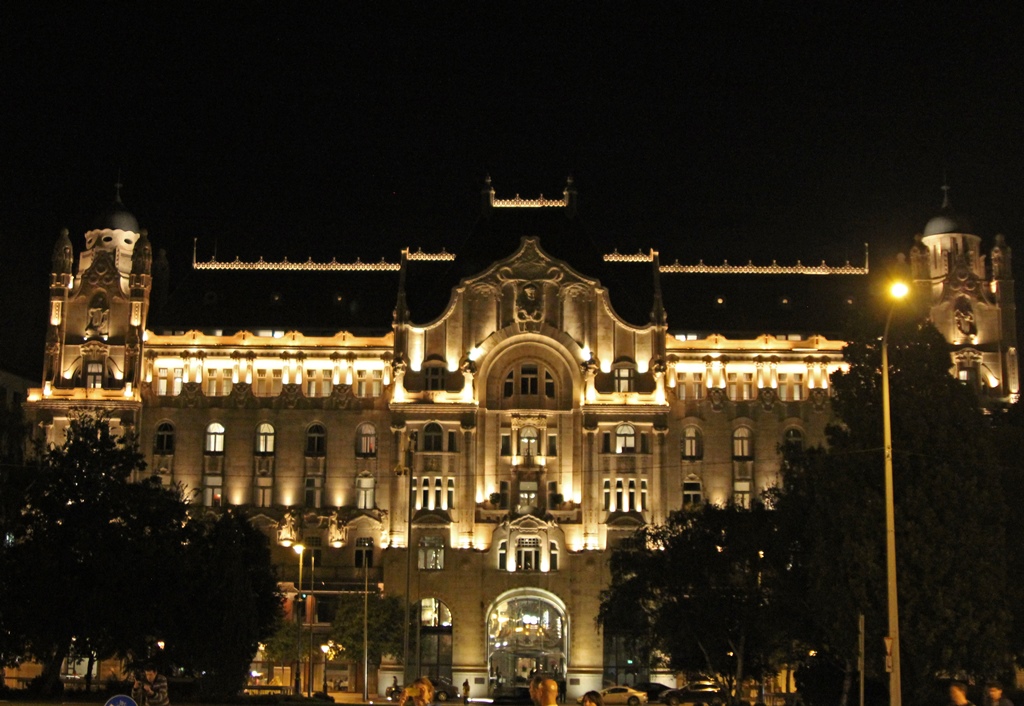 Heading back toward our own hotel, we passed through a small park across from the hotel, where we couldn't help but notice a large, illuminated ferris wheel. These wheels seem to have sprung up in a number of large cities that we've seen in our travels - the most famous one is probably the London Eye. This is like that, except it's called the Sziget Eye. Catchy.